Savory Items You Should Add To Monkey Bread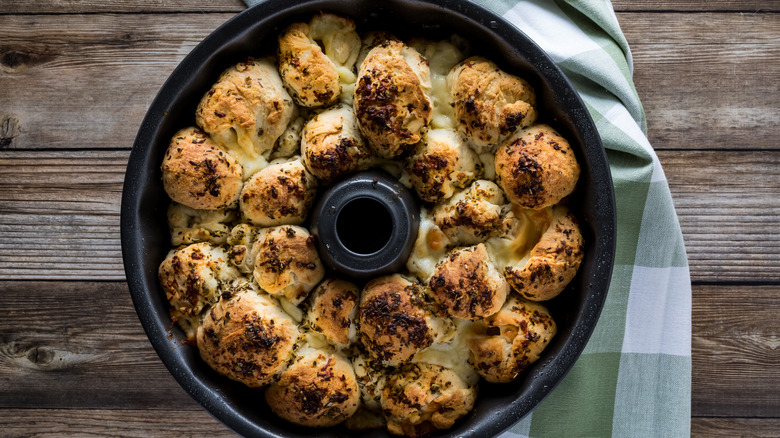 Carey Jaman/Shutterstock
Most monkey bread recipes are super-sweet and served as indulgent desserts, such as this one with butterscotch pudding. Forget sticky-sweet bites and instead delve into the appetizing world of pull-apart savory monkey bread. Imagine grabbing a hot roll with stretchy mozzarella or biting into a golden crust with baked-on Parmesan. Meaty, herby layers and flavorful spices and seasonings create moreish monkey bread bakes that look amazing and are easy to share. If you've never tried monkey bread before, it's basically pull-apart bread rolls baked together in a bundt tin. This creates a baked bread ring, and the space in the middle is ideal for adding some other savory ingredients or a dip. While you can make the bread dough yourself, ready-made biscuit or pizza dough is ideal. 
You can chow down on monkey bread at brunch with breakfast-style ingredients or serve up stuffed monkey bread on a buffet table for everyone to dig in. And you can complement the savory ingredients with a dip. From a country-style bread ring to a more sophisticated bundt tin offering, everyone loves monkey bread. 
Let's take a look at some savory items you should add to monkey bread. You'll have to be persuaded to make sweet monkey bread again after trying these sensational savory versions.
Everything bagel seasoning
Don't you just love it when a recipe takes inspiration from another well-known food? An everything bagel seasoning monkey bread is a perfect example. You can transform that classic bagel taste into a pull-apart, doughy bread. And what's more, you need only three ingredients: a can of biscuit dough, some everything bagel seasoning, and some butter. That's it. Each biscuit should make four balls. Dip the dough balls in melted butter and roll them in the seasoning before pressing them lightly in a greased bundt tin. Then bake. 
The coating of poppy seeds and sesame seeds looks too tempting, with the onion and garlic adding flavor. And if you want to really impress, you could make your own everything bagel seasoning instead of using a store-bought one such as Trader Joe's Everything but the Bagel Sesame Seasoning Blend. This is a wonderful monkey bread to serve for a leisurely family brunch or breakfast gathering, and it sure beats making lots of individual bagels. You don't need to overthink what to serve with it either. Smoked salmon, lox, and cream cheese are good enough for bagels and for bagel-esque monkey bread. Go for it, and throw in some capers, onion, tomato, and cucumbers, too. And since you are celebrating, why not add a classic brunch cocktail with a classic Aperol spritz?
Pizza toppings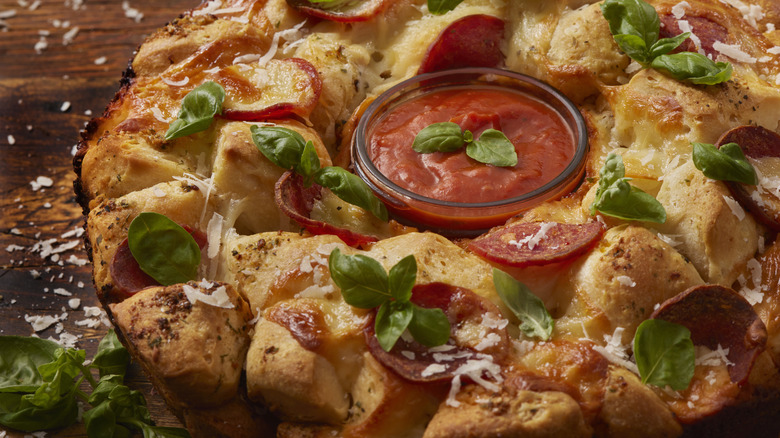 Lauripatterson/Getty Images
If you're going to embrace the concept of savory monkey bread, then why not create one that's the ultimate meaty, cheesy bite? The idea of pizza monkey bread sounds indulgently over the top, but if you think about it, it makes sense. After all, a pizza is a doughy base with pepperoni and cheese, so all you're doing is swapping out the crust for some balls of biscuit dough. Crispy bits of cheese with tangy Parmesan and gooey molten mozzarella, a juicy marinara sauce, and salty bites of meat are swooped up each time you grab a monkey bread ball. Use either flaky biscuit dough or regular. You can also cover the dough with pesto in place of the tomato sauce if you'd like. 
Try layering a bundt pan with the dough, mixed with oil, garlic, cheese, and Italian seasoning, followed by a layer of sauce, cheese, and pepperoni. Create two layers so the ingredients all meld together. An easier version is to use ready-made pizza rolls in place of the dough, adding mozzarella cheese between them in the pan. Once baked, pour pizza sauce on the top like frosting and sprinkle on some grated Parmesan. Another version is to mix butter-coated dough balls with grated mozzarella and Parmesan, plus pepperoni, and bake. Serve the marinara sauce as a dip for the cheesy monkey bread. 
Garlic and herbs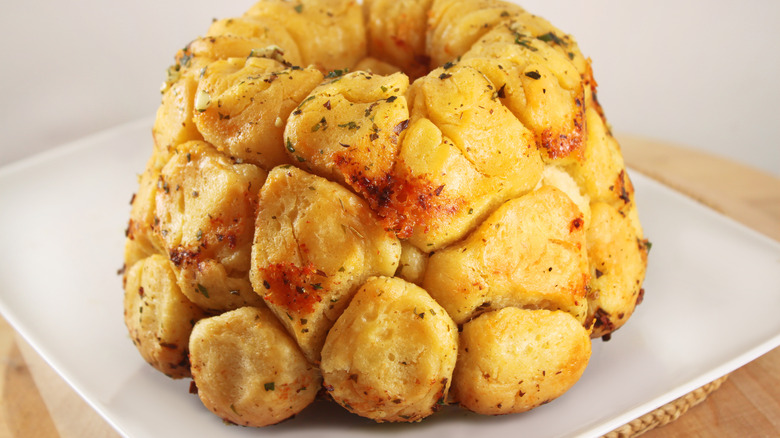 geniuscook_com/Shutterstock
If you take a bold ingredient such as garlic and add it to monkey bread, you don't need a whole lot else. Less is definitely more when you create garlic bread. Letting a few flavors shine is what makes this marvelous savory monkey bread so magnificently moreish. It's the norm to roll flaky biscuit dough balls in melted butter to make monkey bread. Just add some garlic powder and Italian seasoning and then have a marinara or pesto dip on the side for a yummy snack or appetizer.
A more gourmet version is to make your own bread. Cover the homemade dough balls with chopped fresh parsley and chives as well as roasted garlic. Add garlic bulbs to a baking tray, pour on some glugs of olive oil, and wrap in foil to roast. The flavor will sweeten, and any acrid garlic taste will disappear. A variation might be to use biscuit dough and dried herbs, but add crushed garlic to the butter. Vary the amount of cloves you use depending on how garlicky you want your monkey bread. Serve it with a classic Italian dish such as creamy carbonara or dip it into melted cheese and tomato sauce atop a chicken Parmesan.
Cheese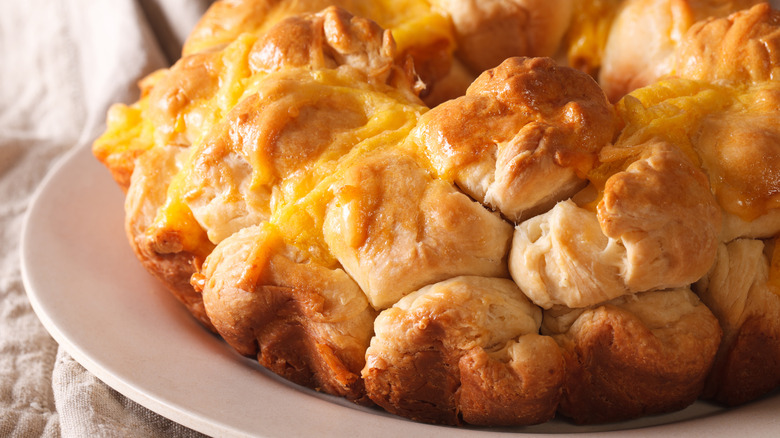 AS Foodstudio/Shutterstock
If you need convincing that cheese monkey bread is da bomb, then there really are no words. The question is not whether to add cheese — duh! — but what kind of cheese to add, how, and with what other ingredients? Grilled cheeses always taste better at a restaurant, but you can make spectacular cheese monkey bread at home. Mix grated cheddar cheese into a homemade dough. Then double down on the cheesiness by coating the balls with a mix of cheddar cheese, Parmesan, and fresh herbs.
Lean into Italian cuisine flavorings with pizza dough balls transformed into a pecorino cheese and black pepper savory monkey bread. Mozzarella gives the bread a stringy cheese quality, and it's divine when served with a peppery dip. If you are using quarters of biscuit dough to make your bread balls, roll each one around a cube of Colby Jack cheese for a melt-in-the-mouth center. Add Parmesan, garlic, herbs, and seasonings to melted butter for a cheesy Italian crust. Try folding shredded three-cheese pizza cheese into the dough before making balls. Add these to a cast-iron skillet in a single layer, instead of creating a monkey bread bundt cake shape. Cover with more grated cheese and add some thyme, olive oil, and salt. For garlic and Parmesan monkey bread, add garlic powder, fresh herbs, and an egg to melted butter and coat the dough balls. Add a layer of cheese with minced garlic mixed in between layers of the balls and on top.
Seeds and nuts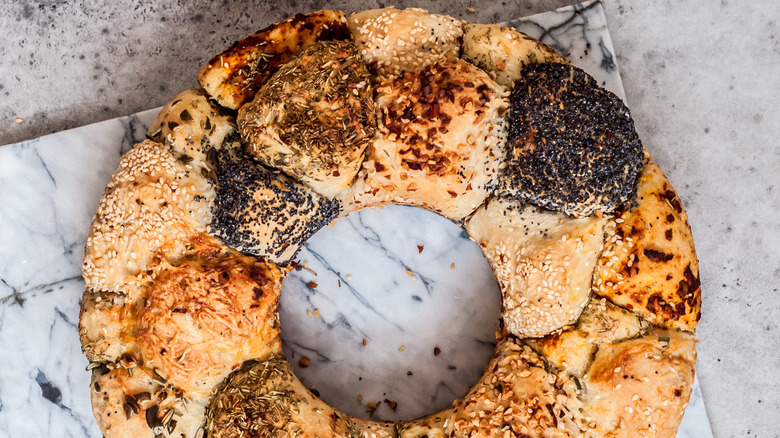 Tatiana Vorona/Shutterstock
Turn savory monkey bread into a visual feast by alternating coatings on individual dough balls before baking. Some breads are indulgent with lots of gooey cheese and decadent toppings. However, you can also make a more rustic, wholesome-looking ring with some nuts and seeds. They also create different textures, tastes, designs, and colors. After dipping dough balls in melted butter with garlic, dip them in poppy seeds, sesame seeds, flaked almonds, or a spicy pistachio mix. 
Add some salty Parmesan-coated balls and spicy chili paste ones to lift the nutty flavors. If you want a vibrant pop of color, then you can roll a few of the balls in a herby mix such as parsley and chives. To keep the flavor more consistent, choose one main ingredient instead. For example, you could coat each of the monkey bread dough balls with toasted sesame seeds. This is delicious served warm with melted butter poured over the top. 
Za'atar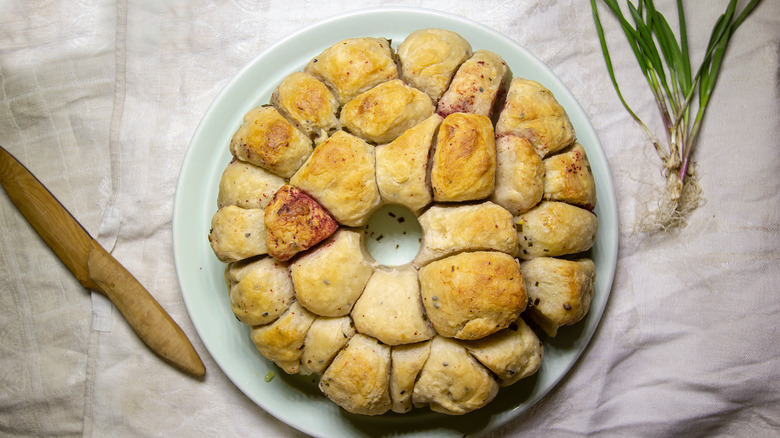 YULIYA KIRILLOVA/Shutterstock
Not so long ago, most home cooks hadn't heard of the Middle Eastern spice za'atar. But now it's having more than a moment. It has become a spice rack regular in kitchens across the country. The blend of toasted sesame seeds and sumac with oregano, thyme, and marjoram creates an earthy, herby, fragrantly citrus aroma and taste. It gives dishes a savory and subtly sweet umami essence that works perfectly with pull-apart monkey bread. Use challah bread dough to make this monkey bread and serve it with a creamy labneh or Greek yogurt dip with olive oil drizzled on top for a Lebanese-style dish.
An attractive pull-apart bread shows swirls of the spicy mix in the dough. Spread olive oil mixed with za-atar on round flattened dough balls, layer them on top of each other, and roll them into pinwheel designs. Place these in a dish with the circular pattern facing upward and brush with an egg wash. 
Bacon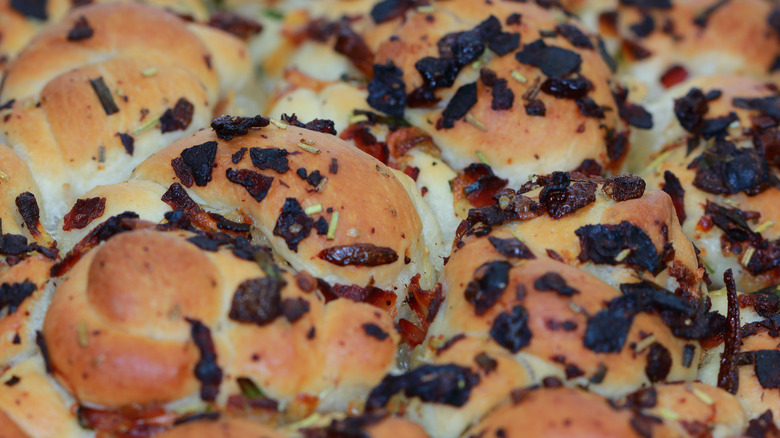 zdenek_macat/Shutterstock
When you want to upgrade from a simple, British-style bacon butty, make monkey bread instead. Crunchy bits of bacon taste so good eaten with the soft, doughy balls of the pull-apart bread. It's a great way to change up a weekend breakfast or brunch and means that instead of frying bacon, you can focus on making the best scrambled eggs instead. Add a layer of crumbled bacon between and on top of the dough balls. To enhance the flavor, and bring out the sweetness of the bacon, coat the monkey bread in melted butter with brown sugar and cinnamon. 
Grilled cheese with bacon is a match made in foodie paradise. And it translates into monkey bread with a mixture of grated Parmesan cheese and chopped-up cooked strips of bacon. Instead of layering the ingredients, mix the meat and cheese into quartered biscuit dough. Feel free to add other flavors too with some chopped onion and green pepper. If you prefer savory monkey bread that's as sweet as can be, then make a maple syrup and brown sugar sauce to contrast with bacon bits, and add to sugar-coated dough balls. 
Olives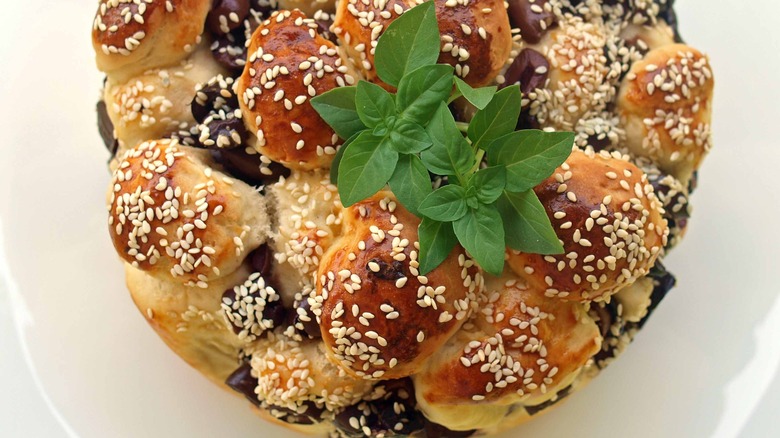 PhoebeG/Shutterstock
In Spain, it's the norm to start a meal with some fresh bread with aioli and a bowl of olives. And olive bread such as focaccia made with chopped green olives exudes Mediterranean carb-filled charm. And if you really want to wow for an al fresco lunch in the sun, then a savory monkey bread with olives is simply stunning. Black Kalamata olives and white, crumbly feta epitomize the taste of Greek cuisine, as do dough balls rolled in garlicky olive oil before being baked in the oven. Brush the top of the bread with olive oil just before serving to give it a glistening sheen and wonderful richness. Sesame seeds also look attractive and add a nutty taste to the outside of the bread. 
If you love the mild taste of green olives and the briny quality of black ones, then use both. And rather than coarsely chopping them, mince them before mixing them into the biscuit dough. That way. you'll get a little olive blast in every bite. Add grated Parmesan, minced garlic, and Italian seasoning to give your monkey bread some cheesy, herby, garlicky flair. 
Peppers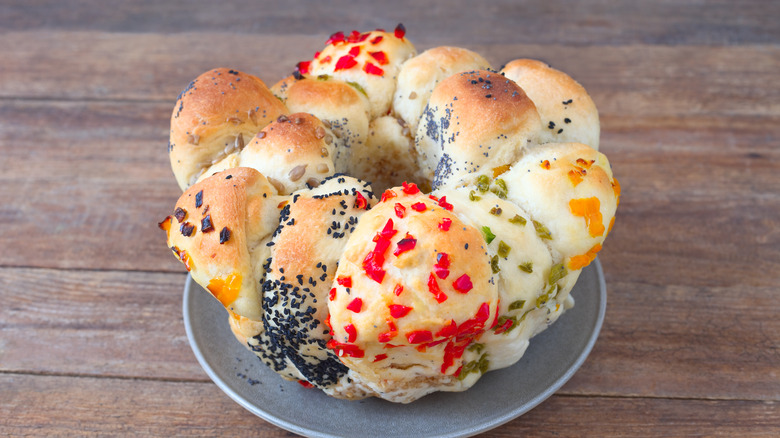 rainbow33/Shutterstock
Colorful red, green, and yellow peppers can turn monkey bread into a work of culinary art. And you can always coat some of the doughy balls with black sesame seeds and poppy seeds to create a textural contrast. You can slice up a few jalapeños to make pepper monkey bread too. In fact, why not have some more fun and mix jalapeños poppers in with the bread? Alternate the dough balls and frozen poppers over a couple of layers and add some grated Monterey Jack. This cheesy layer will complement the cream cheese-filled peppers perfectly. Ranch dressing makes a great dip for this quirky and savory monkey bread.
If you don't have any poppers, then combine cream cheese with shredded cheddar, diced jalapeños, and minced garlic. Add some of the mixture to the middle of each ball of dough and completely cover it so that it doesn't leak out. Sprinkle even more cheddar and peppers between the dough balls along with some fresh parsley and shallot. You can also layer jalapeño slices and grated cheddar between the dough balls for Mexican-style monkey bread. Chili pepper and roasted garlic are a delicious combo on monkey bread too. Imagine breaking off hot chunks of bread, straight out of the oven, and dipping them in some homemade soup. Fold dough around grated cheese and diced red Spanish peppers then coat the dough with melted butter and spices. Once baked, you can decorate with pepper slices and more cheese. 
Chicken Alfredo
Creamy chicken Alfredo has to be one of the all-time favorite pasta dishes. It promises forkfuls of velvety pasta in a sauce made from whipping cream and cream cheese with lots of Parmesan grated in as well. You might have enjoyed it with a side of garlic bread too. Take all those flavors and reimagine them as monkey bread. It's not as crazy as it sounds when you think about it. Skip the pasta and toss dough balls in Alfredo sauce with mozzarella, cheddar cheese, and Parmesan. Add shredded cooked chicken, fresh parsley, olive oil, and an egg. Bake in a bundt tin and serve with more Alfredo sauce for dipping. Oh my!
Rather than roast some meat beforehand, you might prefer to grab a store-bought rotisserie chicken instead. It's certainly going to make this Italian-style monkey bread easier and quicker to make. There's nothing wrong with using ready-made sauce, but you might want to try a copycat Olive Garden Alfredo sauce recipe. And you can add Alfredo sauce to pizza dough balls, with cheese and chicken, and Italian seasoning, and skip the cheddar. Another option? Rather than mix all the ingredients together, pour the sauce on top of the dough, and add a layer of chicken. Start with a layer of mozzarella and Parmesan for a cheesy top when you turn your monkey bread out. This indulgent monkey bread is exactly what you need when you want some cheesy, creamy carby comfort food. 
Meatballs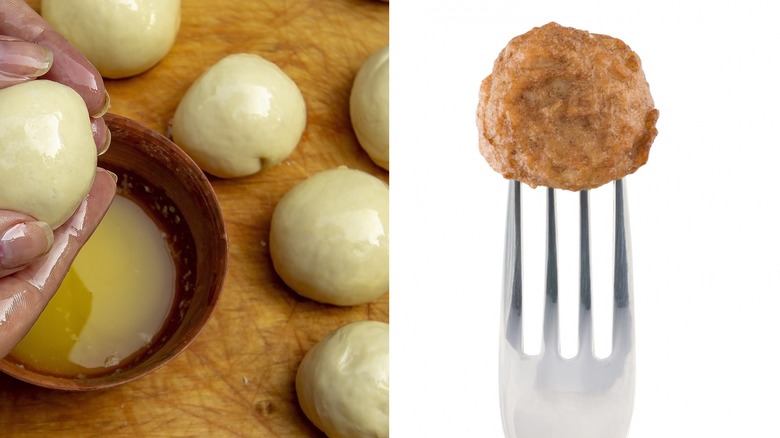 Yuliya Kirillova & Shingopix/Getty
Bread is often served on the side as a filling carb rather than taking center stage. But why not make more of a meal of it, quite literally, by baking some meatball-stuffed monkey bread? How mouthwatering does that sound? You don't have to turn this into an Italian dish either. Instead, add layers of halved cooked meatballs along with rounds of biscuit dough, chunky salsa vegetables strained from their liquid, and mozzarella cheese into a bundt tin for a Mexican-themed recipe. Then serve your finished monkey bread with sour cream, taco sauce, and scallions, plus a dipping sauce made from the liquid from the salsa. 
If you like the idea of pull-apart bread but don't want to be rolling dough, then split, without separating, Hawaiian sweet rolls instead. Add meatballs, marinara sauce, and mozzarella, plus Parmesan cheese and sautéed green bell pepper and onion. Brush the bread with melted garlic butter for a golden, crisp exterior. You can still call this monkey bread — just — although they are more like sliders. Meatballs are perfectly shaped to fit inside dough balls though, so it makes sense to add a meaty morsel inside each one. Why stop there? Stretch out the dough so that you can squeeze in mozzarella cheese and sliced pepperoni for the full Italian culinary experience. Brush the top of the bread with melted butter with garlic bread seasoning. Instead of piling up the dough, add a single layer to a Dutch oven.  
Sundried tomatoes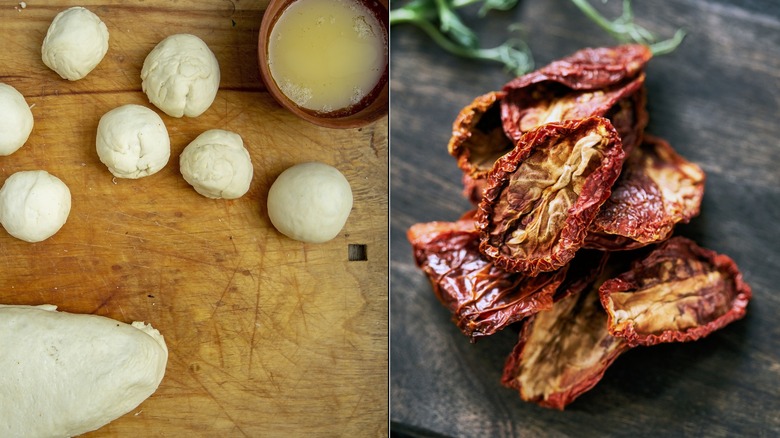 Olivia /Getty & undefined
One of the simplest yet most delicious sandwiches you can make is a cheese and tomato one. You don't need fancy ingredients when flavors pair so well. But you can still elevate a culinary idea and in this case create a cheesy, sundried tomato monkey bread. Use uncooked loaves, and cut them up to make bread rolls instead. Coat these in melted butter and Parmesan and add to your greased bundt pan. Throw in some sundried tomatoes, grated mozzarella, and chopped chives. The tomatoes are like jeweled bursts of color and sweetness. Get rid of any oil marinade the tomatoes come with or your monkey bread may turn out soggy. 
You can make this with dough balls too. Add all the ingredients into the tin rather than coat the bread. If you can't source any sundried tomatoes, you could use a jar of sundried tomato pesto. Add some Italian seasoning and minced garlic between the rolls in the bundt tin for a tasty boost. You can also flavor olive oil by adding sundried tomatoes with garlic, herbs, and salt. Use this to dip dough balls in before cooking. That way, you'll get the taste of the tomatoes without big bits inside the monkey bread. 
Onions
You don't need to overstuff monkey bread for it to be a savory favorite or add luxurious ingredients to make it special. The dough balls pull apart, promising pillowy soft bread that's so good to eat without anything added at all, except perhaps some butter to make the outside golden and rich-tasting. Adding any food that's got a distinct taste makes all the difference and becomes the star of your savory monkey bread. One affordable salad vegetable that works well is green onion. And thick-cut bits of cooked bacon, cheddar, and Monterey Jack cheese are also tasty goodies to add to the mix too. Make monkey bread for breakfast by tossing the doughy balls with green onions, sausage, bell pepper, bacon, and cheese. Or what about a green onion furikake seasoning monkey bread with a teriyaki sauce dip to sample an Asian-influenced monkey bread? 
French onion monkey bread is a popular version of this pull-apart carb delight. Imagine the taste of French onion soup with bread and cheese, and you should have some idea of just how outrageously good this savory monkey bread tastes. Caramelized onions, cooked in beef stock, add a sweet smokiness with some saltiness. Fresh thyme brings a fragrant essence. Parmesan and Swiss cheese complete the flavor profile. If you're making this for a dinner party, add four dough balls per portion to a muffin tin to make mini monkey breads. They're so cute, plus the garlic caramelized onions and nutty-tasting Gruyère are knockout.