Aldi Shoppers Are Loving These 7-Layer Dessert Bars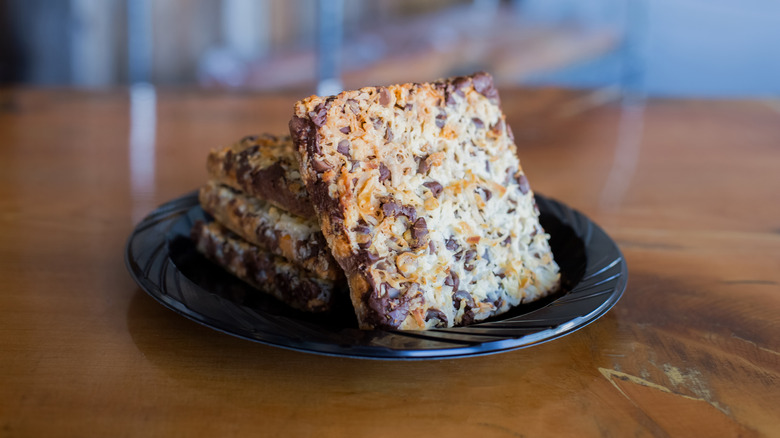 Shutterstock
There are plenty of Aldi desserts that should be stocked in your kitchen, but the grocery chain is always rolling out new products. If you've been paying attention to the sweet treats coming to Aldi this May, you might have had your calendar marked for when 7-layer dessert bars hit stores. Well, they've arrived, and the reviews are glowing.
So what exactly are in these dessert bars? They're basically a magic cookie bar. According to the package in the photo posted in the Aldi subreddit, the 7-layer dessert bars have a graham cracker crust topped with coconut flakes, pecans, butterscotch, and chocolate chips.
If you're wondering what the other layers and ingredients are, one Reddit commenter says that there's butter and sweetened condensed milk in these treats as well. The package says there are eight bars per container, so you can share with your friends (but we understand if you want them as a treat all to yourself!).
Here's what Aldi fans are saying about the dessert bars
There's a reason why magic cookie bars are a classic: because they're full of different types of sweetness and texture.
One Reddit commenter left a review saying, "These little things are pretty good! The cookie (crust) at the bottom is nice and soft and you can really taste the coconut and the chips. Was looking for something different and glad I found these!" That commenter also said that the price was a little steep but they still enjoyed the taste. 
Many Aldi shoppers reminisced that these 7-layer bars reminded them of their mom's magic cookie bars or even "Hello Dollys," as one poster called them. As Aisle of Shame described them, these bars bring back fond memories of bake sales.
However, one commenter said that they were "underwhelmed" by the bars, but they also mentioned that they snagged the last box off the shelves, so it looks like Aldi shoppers are grabbing them quickly. If you can't find these dessert bars, you can add one of Aldi's underrated desserts to your cart or look for vegan cake.