This Ingredient Takes Giada De Laurentiis' Corn On The Cob To The Next Level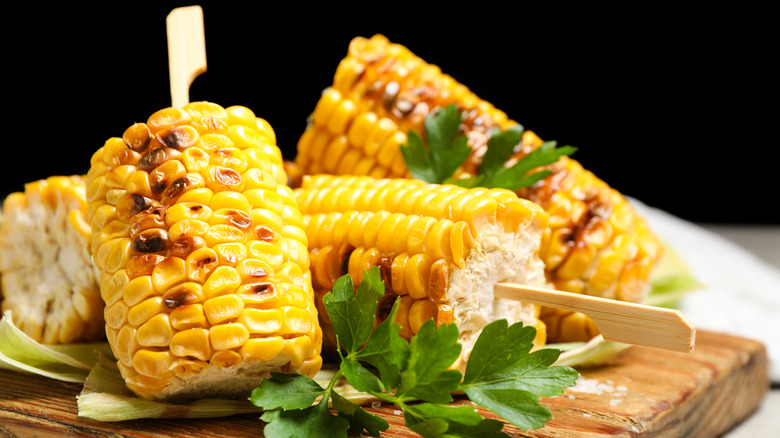 Shutterstock
Picture what's on your plate at a summertime barbecue. Maybe some saucy ribs, a refreshing wedge of watermelon, and sweet, bright yellow corn with nothing but butter and salt. Does corn on the cob really need cheese? No, but like most foods, it isn't hurt by a generous sprinkling of crumbly, savory, umami-rich Parmesan. At least that's how Giada De Laurentiis sees it. The Italian cook's new recipe on Giadzy, her lifestyle website and online marketplace for Italian pantry products, completes the classic cookout side with the King of Cheeses.
De Laurentiis' recipe for garlicky corn on the cob with Parmesan cheese, like many Italian recipes, starts with a pan of olive oil. Cook a couple of cloves of minced garlic in the oil until fragrant, then remove from heat and stir in some grated Parmesan, chopped parsley, and salt. Follow the recipe's recommendation to boil the corn on the cob until crisp tender, or char it on the grill, then brush it with the garlic mixture and sprinkle with extra cheese.
Other ways to perfect cookout-ready corn on the cob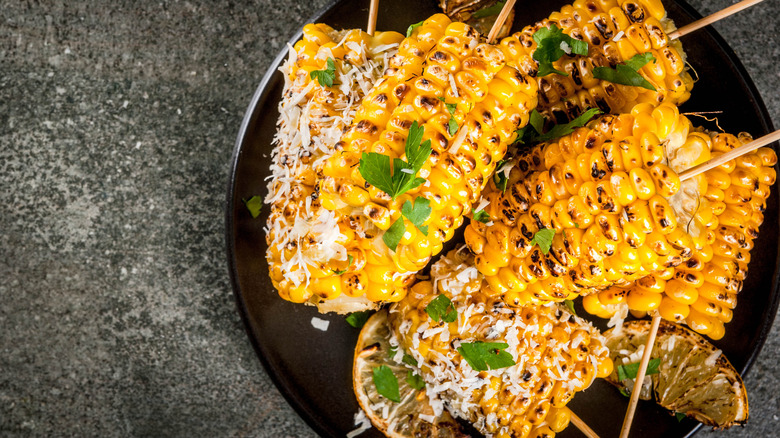 Shutterstock
The best corn on the cob starts with high-quality corn. Choose good corn on the cob by checking for large ears and bright green, tightly wrapped husks with fat kernels and non-shriveled tassels, then store your haul properly in a sealed bag in the refrigerator. Now that you have a beautiful stash of vegetables, make sure you avoid common corn cooking mistakes, like rinsing cooked corn under cold water or rendering it mushy with too much time in boiling water.
Chef and recipe developer Jason Goldstein, as he explained for Mashed, prefers to grill corn on the cob for its quick cook time and satisfying charred flavor. For the easiest topping, grab a stick of butter and rub it on each ear along with a pinch of salt. You can also add lime, Cotija cheese, and chili powder, elote-style, or crumble it into a taco salad, Goldstein suggests. If you can't finish every kernel, make sure you save the leftovers for easy cornbread or corn casserole.