Easy Semolina Pudding Recipe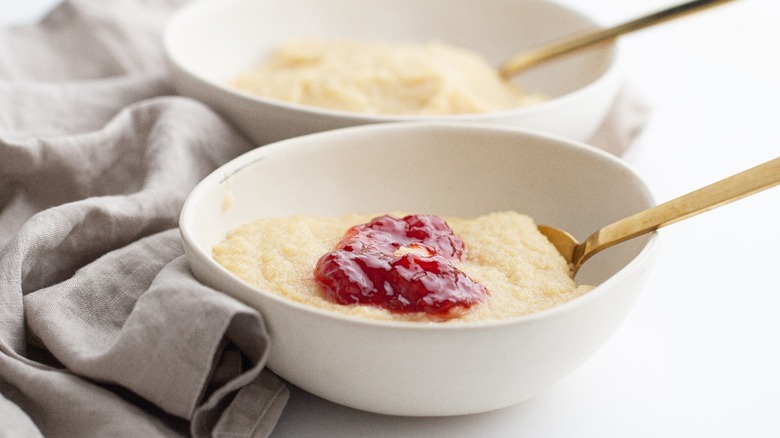 Susan Olayinka/Mashed
Let's get real: Every menu needs to give serious consideration to a sweet ending. Puddings, with their sweet richness, make dessert time comforting and delicious. Whether it's the milk, the touch of sugar, or the fresh-from-the-stove warmth of the dish, pudding always proves to be absolutely delightful, and the presentation is always one to be proud of. Recipe developer Susan Olayinka of The Flexible Fridge offers this version of semolina pudding that is so simple, you probably already have the ingredients in the cupboard to make it. All you need to put it together is milk, sugar, vanilla extract, cinnamon, a dash of jam, and semolina. That's it!
If you're unfamiliar with semolina, the substance is easy to find — look right next to the flour in your grocery store. Semolina is a coarse ground grain that creates couscous, pasta, and ... puddings. "Semolina is so quick and easy to make," says Olayinka. "It will save you when you don't have chocolates or ice cream in the house." So it's a great option for unexpected guests or an unplanned movie night that obviously needs a great dessert served right smack in the middle for a perfect intermission surprise for everyone.
For a little background, milky semolina puddings apparently became popular during World War II, although other versions are made in Eastern Europe, including richer recipes that include butter and eggs. Olayinka likes to swirl in a bit of strawberry jam to liven up the color and flavor. This recipe is a keeper!
Gather the ingredients to prepare this easy semolina pudding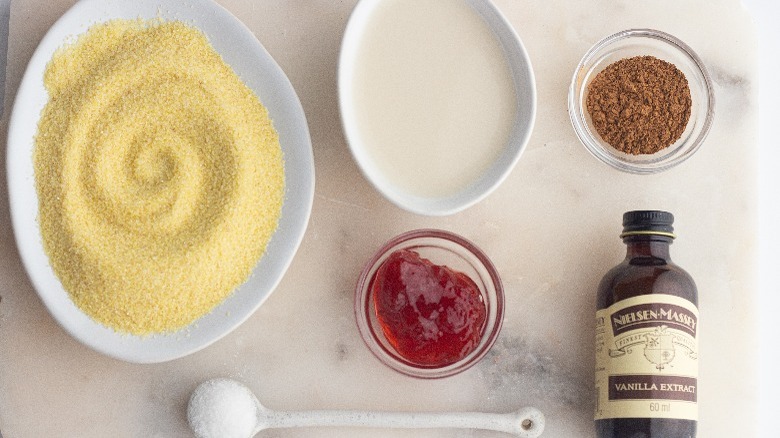 Susan Olayinka/Mashed
Olayinka enjoyed eating semolina pudding for a sweet treat during her childhood in Ghana. She actually prefers them over porridge. (Yes, semolina is good for that, too.) The ingredients for her recipe are simple: 2 cups of milk, ½ cup of semolina, 3 tablespoons of sugar, ½ tablespoon of vanilla extract, ⅛ teaspoon of cinnamon, and 2 tablespoons of strawberry jam. The tasty and filling dish can also use other liquids. Feel free to swap out other milk varieties like oat, almond, hemp or coconut milk, if you prefer them. You can also use other jelly flavors or actual fruit as topping. Kick it up with some sliced strawberries or fresh blueberries. Sliced peaches would be delicious as well, or prepare it with a seasonal flair like using crisp, sliced apples that you pick up from the orchard in the fall. Your guests will be quite pleased and impressed with your extra touches, and so will you!
Boil the milk in a pot over medium heat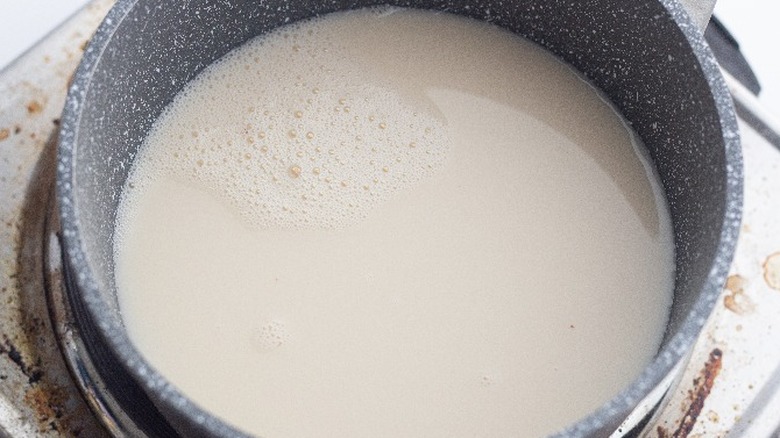 Susan Olayinka/Mashed
The next step of the process is to boil milk over medium heat. The best way to do this is using a small saucepan with high edges, like a milk (which often also includes a lip for easy pouring) or petite pan, that allow the liquid to bubble without spilling. Spilling creates the ultimate dreaded mess, so definitely avoid that. You also want something that's not too big and unwieldy so you can ensure even heat distribution. Pour the 2 cups of milk into a saucepan, and bring it to a boil. You'll do this whether the milk used is the goat, almond, hemp, coconut, or cow variety.
Add the other ingredients to the milk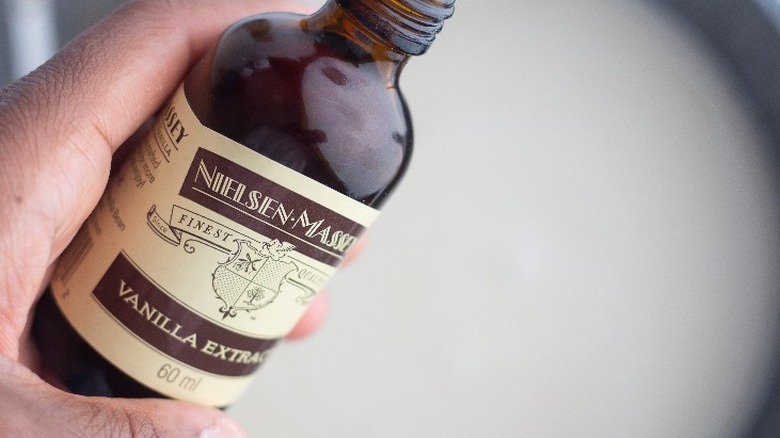 Susan Olayinka/Mashed
Once the milk is hot and bubbly, it's time to add all the other ingredients. Put in the ½ cup semolina, 3 tablespoons of sugar, ½ tablespoon of vanilla extract, and ⅛ teaspoon of cinnamon, stirring continuously as you do so. Some versions of this recipe use lemon extract or juice for a tarter version. You can go with whatever makes your tastebuds happy! Be creative and have fun with it, because that's what dessert time is all about.
When making this dish, you'll want to stir the pudding really well — especially when including the semolina. The end result should be a nice, smooth pudding without any grainy lumps. So mix, mix, and mix some more! Resist the temptation to leave the kitchen too quickly do another chore. This pudding only takes a few minutes to whip up, after all, so give it the attention it deserves. You will be happy that you did.
Turn down heat, and simmer until the pudding thickens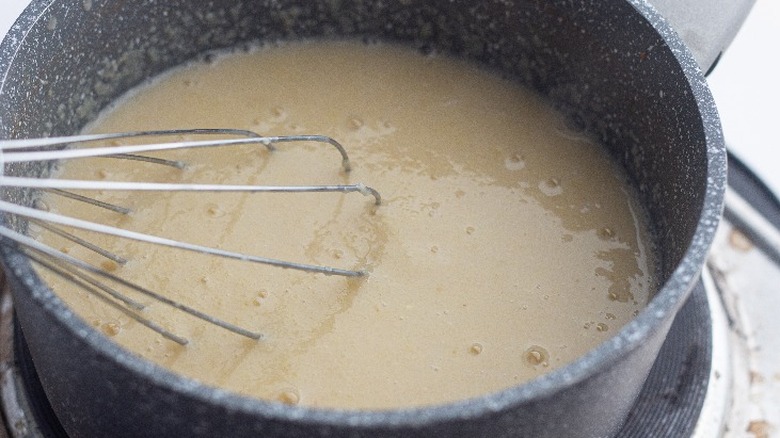 Susan Olayinka/Mashed
Once all the ingredients are blended together well, you can adjust the heat to a lower setting. Simmer for three to four minutes until the pudding looks creamy and thick. Soon enough, your dish will be ready to remove from the stove.
If you find that the pudding looks thin and runny, just let it remain on the stove using the low heat for a few more minutes. The dessert should thicken with the additional heat to just the right form. Keep stirring the pot to ensure that nothing sticks to the bottom of the pan and burns. When a good consistency is reached, remove the container from the stove. Your kitchen is going to be smelling really yummy right about now, and you are almost done, so give yourself a pat on the back!
Have fun adding the finishing touches to your semolina pudding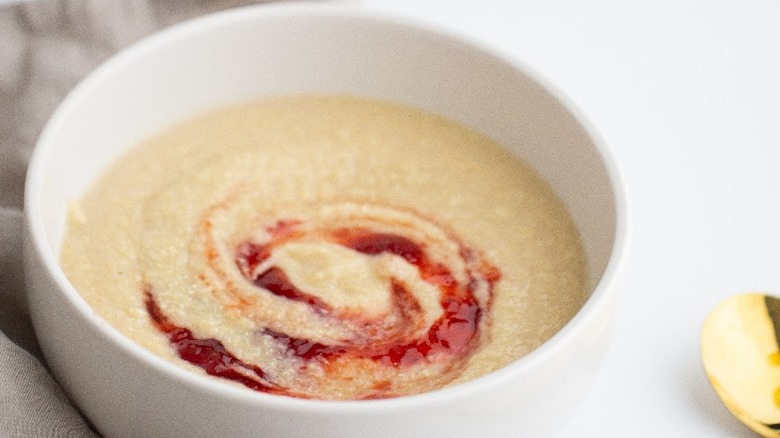 Susan Olayinka/Mashed
Now comes the best part. Pour the semolina pudding into two serving bowls, and swirl some strawberry jam on top. Olayinka also recommends adding fresh fruit such as strawberries, raspberries, blueberries, etc, instead of jellies.You can even add a dash of granola on top for crunch, or if you're feeling really decadent, some shaved dark chocolate. Then eat up! "This should be really consumed immediately," advises Olayinka. 
You can consume this pudding warm or cold, depending on your preference. Either way, you don't want to store it too long in the refrigerator, because it can become hard and clumpy. But that's alright, since the dish is so easy to whip up, you can always make another batch.
If you'd like to get a bit fancy for your dessert presentation when having dinner guests, pull out some nice dessert dishes or even cosmo glasses to serve your pudding individually. If you had decided on strawberries, slice a few extra and put them on the side of your glass or bowl. The same goes for blueberries or peaches. You will have an amazingly appetizing Pinterest-worthy dessert at your fingertips. So relax and enjoy all of the compliments ... and pudding!
Easy Semolina Pudding Recipe
Be sure to swirl in a bit of strawberry jam to liven up the color and flavor of this easy semolina pudding.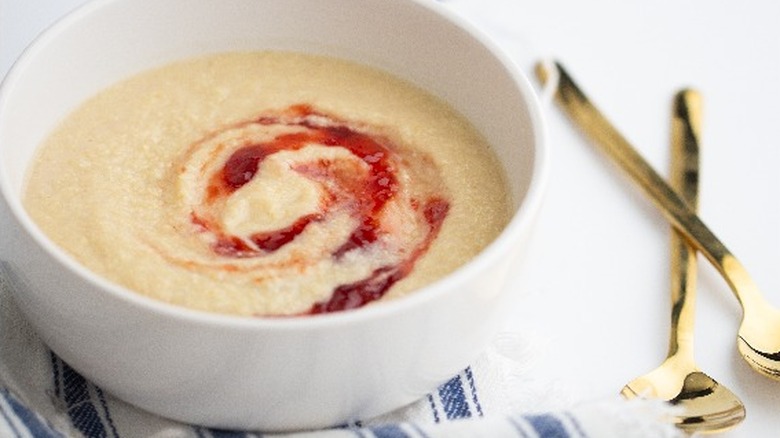 Ingredients
2 cups milk
½ cup semolina
3 tablespoons sugar
½ tablespoon vanilla extract
⅛ teaspoon cinnamon
2 tablespoons strawberry jam
Directions
Turn the stove's heat to medium.
Pour the milk into a saucepan, and bring it up to a boil.
Add the semolina, sugar, vanilla extract, and cinnamon, and stir continuously.
Bring the heat to low immediately, and simmer for 3 to 4 minutes until it is creamy and has thickened.
Pour the semolina pudding into serving bowls, and swirl in some strawberry jam.
Serve, and enjoy!
Nutrition
| | |
| --- | --- |
| Calories per Serving | 437 |
| Total Fat | 8.4 g |
| Saturated Fat | 4.6 g |
| Trans Fat | 0.0 g |
| Cholesterol | 24.4 mg |
| | |
| --- | --- |
| Total Carbohydrates | 75.2 g |
| Dietary Fiber | 1.9 g |
| Total Sugars | 41.1 g |
| Sodium | 112.2 mg |
| Protein | 13.1 g |