Why Food Network Fans Think Alex Guarnaschelli Should Have A Different Show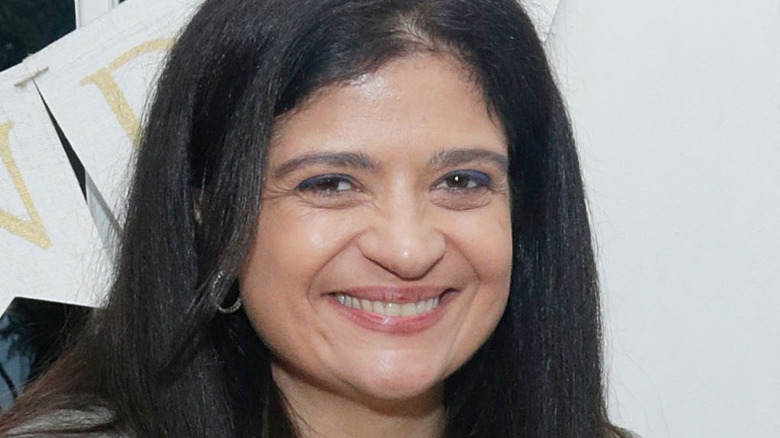 Lars Niki/Getty Images
Alex Guarnaschelli, of "Iron Chef" and "Chopped" fame, was a star in the restaurant world long before her television career launched. After graduating from Barnard College (via Cooking Channel), the 49-year-old went to work for famed restaurateur Larry Forgione. At his insistence, Guarnaschelli headed to France to spend some of her early career studying at La Varenne Culinary School in Burgundy. According to her biography on Food Network's website, Guarnaschelli went on to work in Paris at the prestigious Restaurant Guy Savoy and Butte Chaillot.
After returning to the U.S., Guarnaschelli worked alongside the famous Daniel Boulud at his eponymous restaurant, Daniel, before she decided to experience the Los Angeles restaurant scene, taking a job at Joachim Splichal's famous Patina restaurant. She returned to New York in 2000 to open Splichal's first East Coast venture. In 2003, Guarnaschelli became executive chef at the acclaimed Butter in New York City, where she, to much acclaim, created a classic American menu. She was an early adopter of the idea that using local ingredients produced the best dishes. She is still the executive chef at Butter, as well as of The Darby, also in Manhattan.
Guarnaschelli launched her TV career in 2008 with the show "Dear Food Network" (per her IMDB page), and, of course, she won "The Next Iron Chef: Redemption" in 2012. She has had a recurring role as a judge on "Chopped" since that year. Guarnaschelli has dozens of other credits, including "The Kitchen" and "The Worst Cooks in America."
Redditors want to see Alex Guarnaschelli actually cook
All of this begs the question: What's Alex Guarnaschelli doing hosting "Supermarket Stakeout"? Couldn't her talents be put to better use? This was the discussion in a Subreddit called "Iron Chef Alex Guarnaschelli deserves a better show. She's awesome and Supermarket Stakeout sucks." If you haven't seen it, here's how "Supermarket Stakeout" works (per Food Network): Four chefs compete in a pop-up kitchen outside a grocery store. Each round has a theme, and "the chefs must size up shoppers as they exit the store and attempt to negotiate for their grocery bags." The least successful chef gets sent home each round, and the last chef standing wins a year's worth of groceries.
One Redditor missed Guarnaschelli on "Worst Cooks In America," where she "seemed to truly enjoy herself." Another effused, "Give her her own channel. I will watch all the Alex shows." "Her old show, Alex's Day Off was great," said another Redditor who still makes pizza in a cast iron skillet, as Guarnaschelli once demonstrated. They want her to share her expertise, as she did on "The Kitchen." "She'd be great on a Secrets of a Restaurant Chef type show ... experienced, professional chefs demonstrating solid recipes and techniques," suggested one commenter.
Another opined, "I feel like hosting shows such as Supermarket Stakeout and the likes should be left to the non-chef Food Network personalities. We want chefs to shine where they're really good at — cooking." We wouldn't mind more of these shows either.