43% Agree These Are The 2 Best Halloween Treats That Aren't Candy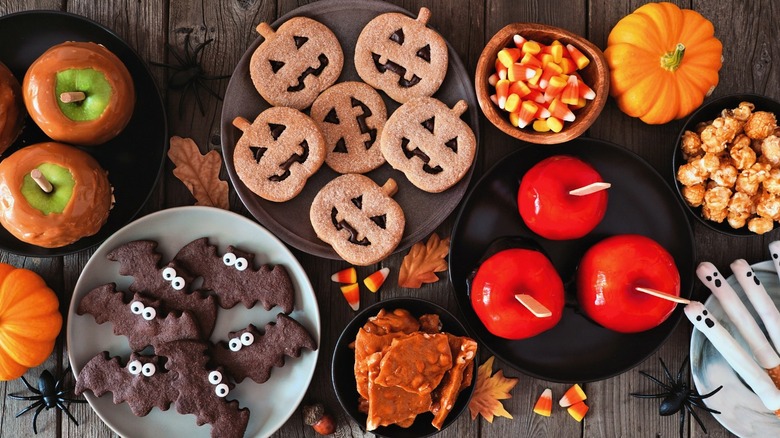 JeniFoto/Shutterstock
When it comes to trick-or-treating on Halloween, it's hard to think about anything other than candy. Fun-size versions of favorite candy bars, little packages of candy corn, spooky candies you only see this time of year, the list goes on. But what about Halloween treats that fall outside the candy realm? Mashed asked 604 respondents in the U.S. about what they thought the best non-candy Halloween treats were.  
One non-candy Halloween treat that respondents like is pretzels. Tiny packs of spooky-shaped salty snacks are a common sight now from makers like Utz. However, considering they came in the lowest in the poll at 6.62%, pretzel love on Halloween is lukewarm at best. 10.60% say that cupcakes are a favorite holiday treat, and there's plenty of ways to spookily decorate them. They really only work for parties, though: Halloween baked goods aren't likely to be tossed into trick-or-treat buckets. Perhaps this is why cupcakes rank second from the bottom. However, Halloween-themed cookies ranked a bit better, with 18.87% of respondents voting them the best non-candy treat. 
20.70% of those polled voted for fruit snacks as the best treat — surprising, since they don't really have that once-a-year allure held by other Halloween treats. (And according to Today, fruit snacks have lots of sugar and little nutritional value.) But which non-candy treats reign supreme?
One of the top treats is pretty old school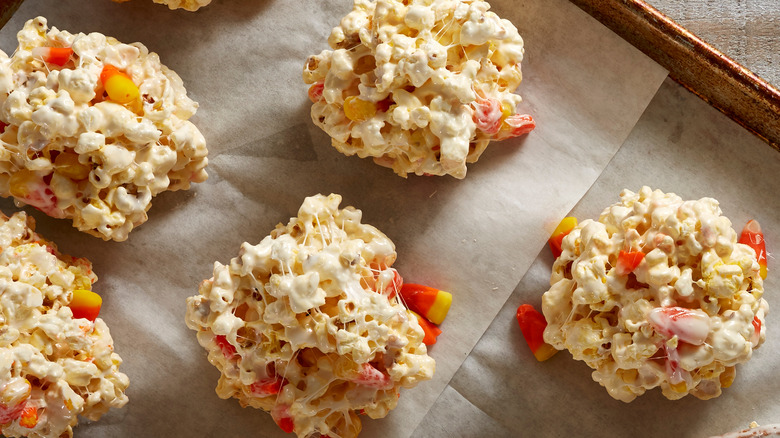 Jennifer Tatum/Shutterstock
The top two treats took over 43% of the votes and one of them is a vintage sweet: Popcorn balls, with 21.52%. According to Tori Avey, homemade popcorn balls (held together by sweet, sticky caramel) have been a Halloween favorite since 1861. Though accepting homemade treats from strangers isn't exactly a thing anymore, popcorn balls are still a fun choice for parties. Plus, there are premade versions too, from brands like Kathy Kaye. 
Narrowly edging out popcorn balls as the best non-candy Halloween treat is brownies, gobbling up 21.69% of the votes. Perhaps respondents are thinking about those Little Debbie Halloween brownies. They have a cute pumpkin on top, and are easy to hand out to trick-or-treaters. There are plenty of Halloween homemade brownie recipes, too — our recipe for spooky ghost brownies involves white chocolate chips and gooey marshmallows for a treat that's scary good. Happy Halloween!