Emeril Lagasse's Spider's Lair Taco Dip Will Wow Your Halloween Guests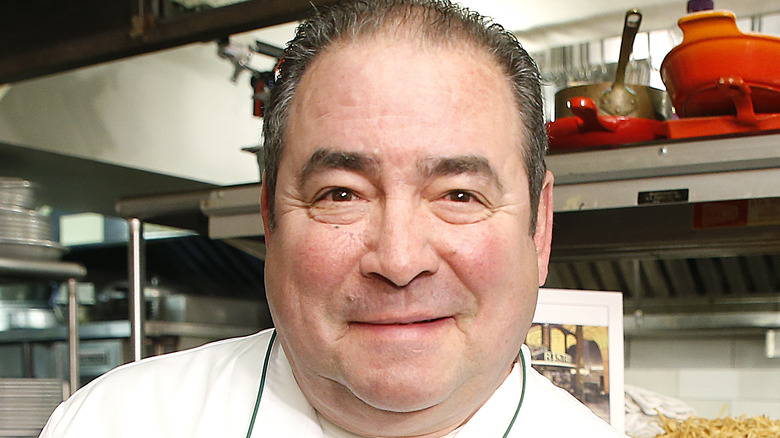 John Lamparski/Getty Images
When planning the perfect Halloween party, there's a lot to think about, like the most contest-winning costumes, the spooky decorations, and, most importantly, the most frighteningly delicious menu. You can brew up a potent potion (think: blood-moon punch and zombie cocktails) or serve creepy culinary concoctions, like candy eyeballs or Martha Stewart's "poisonous" caramel apples. Just type in "Halloween food" on Pinterest and you'll be greeted with thousands of scary snacks and sips to choose from. And that doesn't even include all of the Halloween-themed goodies you can find in almost any aisle of the grocery store this time of year.
Not sure where to start for your own ghoulish get-together? Emeril Lagasse has a few ideas. He recently shared a photo of one of his best Halloween creations on Instagram: Spider's Lair Taco Dip. Here's what you need to know about the spooky snack and how you can whip it up yourself at home.
It only takes a few minutes to prepare
If you're in search of a tasty treat to add to your line-up of finger foods or appetizers, look no further than Emeril Lagasse's Spider's Lair Taco Dip. "Just a few extra minutes is all it takes to make this simple layered taco dip into something that screams Halloween," the celebrity chef explains on his website, where you can find the full recipe. The base is layers of sour cream, refried beans, salsa, cheese, and guacamole — perfect for dunking tortilla chips or raw veggies. As for the "spider web?" Emeril uses sour cream in a pastry bag to pipe the design on top. And, of course, you can't forget the plastic spider for added effect.
Those who have made it give the Halloween-themed taco dip high marks. "It's my go-to every year," one person commented on Emeril's Instagram post. Others were wowed, calling the dip amazing, cool, or yummy. An enthusiastic user declared, "This is absolutely perfect for a fun Halloween outing. Thanks."