Fans Are Loving These Heartwarming Pics Of Joanna Gaines And Her Sister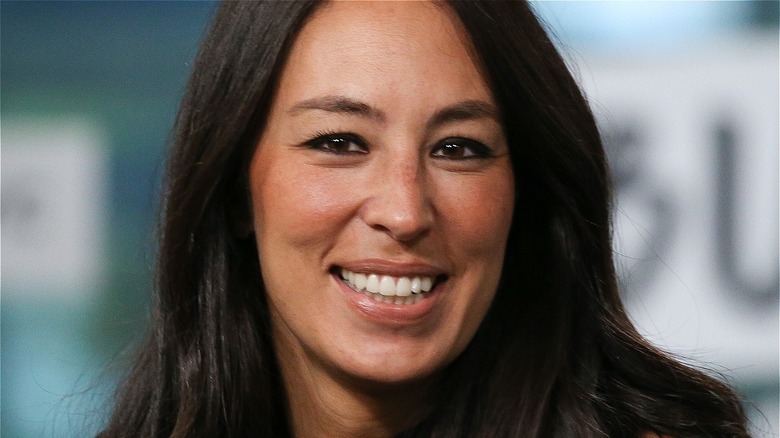 Rob Kim/Getty
Joanna and Chip Gaines are one of reality TV's most popular couples. They won audience's hearts for how down-to-earth and genuine they were in their hit series "Fixer Upper," and many fans have loyally followed them to Discovery+, where the sweet duo's very own Magnolia Network offers lifestyle programming with shows like Andrew Zimmern's "Family Dinner" and Joanna's own cooking show, "Magnolia Table."
The Gaineses not only have a proven flair for design and food, they are also extremely savvy businesspeople. In addition to their very own TV network, Waco's most famous residents have a successful product line at Target as well as several retail businesses in their hometown. Per Vox, these include Magnolia Market, which sells the Gaineses' signature line of home décor items; Magnolia Press coffee house; a pastry shop called Silos Baking Company; and a full-service restaurant, Magnolia Table.
Does the retail gene run in the family? Maybe. Last spring, Joanna's sister Mikey McCall opened her own plant boutique, Ferny's Retro Plant Shop, in a refinished 1967 camper trailer (via KCENTV). At the time, Gaines Instagrammed a photo of herself and Mikey, writing that her little sister has "waited patiently to step out and pursue this creative and quiet stirring in her heart. But today she's going for it!" If Mikey looks familiar to you, you might recall she and husband David were featured on an episode of "Fixer Upper" in 2018 (per HGTV).
Fans feel the sisterly love
According to Married Celeb, Joanna Gaines' sister, Mary Kay ("Mikey") McCall is the youngest of Jerry and Nan Stevens' three daughters (their other sister is Teresa Criswell). Like Chip and Joanna, Mary Kay and her husband David also live in Waco and have a large family with six kids, one more than the Gaines have.
Gaines shared some sweet photos on Instagram this week of herself and Mikey dressed in adorable matching retro-style work shirts. The post was promoting Magnolia Market's Silobration event, where McCall has a Ferny's Retro Plant Shop booth set up to sell her houseplants. Silobration is an annual festival held at Chip and Joanna's marketplace The Silos, where local vendors sell their creations.
"These are the moments I live for right here," Gaines wrote. "There's nothing like watching your baby sister's dream come to life. So proud of you sweet Mikey and the beautiful business you've created."
The four photos exude sisterly love, and Joanna's fans are here for it. Fan Cottonnclove commented: "Such a sweet way to celebrate your sister! Yall are the cutest!!" "Way to encourage little sister's dreams," remarked jennakay10. Carlislewideplankfloors commented: "Love this! Family and friends is what life is all about! Congratulations to your sister!" Mmindy.makinghouseahome added, "How wonderful!...@joannagaines Aren't baby sisters just the best?!" Some fans tagged their own sisters in this relatable post. If you have a sister, why not do the same?