Trader Joe's Fans Are Freaking Out Over Its Wintry Blend Coffee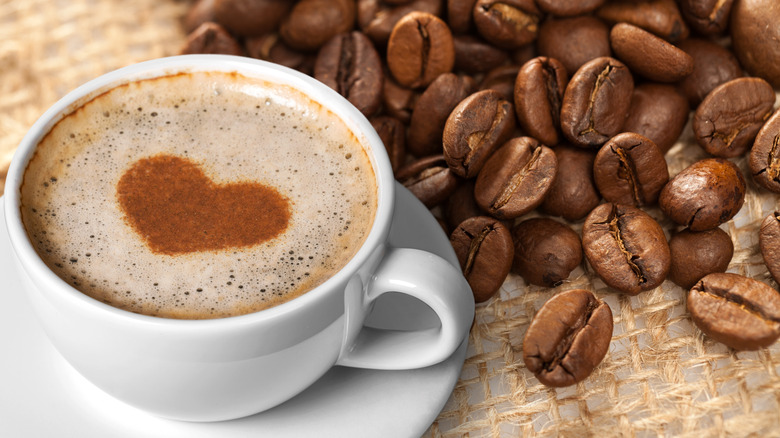 Billion Photos/Shutterstock
Once the weather starts getting colder, there's nothing better than starting off your morning with a warm beverage. Of course, Trader Joe's is filling its shelves and aisles with plenty of seasonal goodies, which includes delicious drinks. Fans of the grocery chain are psyched for a returning salted hot caramel cocoa, but that's not the only winter drink that's coming back.
Recently, Instagram user @traderjoeslist posted a photo of Trader Joe's Wintry Blend coffee, and fans filled the comments with excitement. According to the photo, the packaging on the coffee says that this medium dark roast coffee is "flooded with spices," and in the caption, @traderjoeslist says that the spices include cinnamon, cloves, and peppercorns.
Spiced drinks are one of our favorite parts of winter, and if you like Trader Joe's Wintry Blend, we recommend this spiced brown sugar latte. But even if you don't like coffee, we've got a spiced drink for you. This spiced apple cider is made in an Instant Pot!
What are people saying about Trader Joe's Wintry Blend coffee?
Based on the comments section of @traderjoeslist's Instagram post, this is absolutely a seasonal must-buy for anyone who loves coffee. One commenter wrote, "It's so amazingly delicious," while another Instagram user and Trader Joe's customer said, "Love this coffee!! Stocking up now!" Plenty of other people were expressing their love for this coffee and tagging their friends about it.
But the great reviews aren't just limited to this one Instagram post. Jeremy Glass wrote a review of Trader Joe's Wintry Blend coffee on MyRecipes that sings the praises of this coffee blend. Although Glass says the Wintry Blend isn't the "fanciest nor smoothest cup of coffee," it sounds like that the joy of this coffee comes from the association with a festive holiday season. At the end of the review, Glass says, "The combination of cinnamon, peppercorns, and white cloves coats your insides with nostalgia from past holidays and transports you into your childhood bed ... It's a first-class ticket to the holidays that only takes a few minutes and some milk and sugar to redeem."
Now that this coffee is on your radar, will you pick it up the next time you're at Trader Joe's? While you're there, don't forget to look out for this candy cane green tea, another seasonal favorite of Trader Joe's fans.