These Are The Only 3 Times Each Year Shake Shack Serves Corn Dogs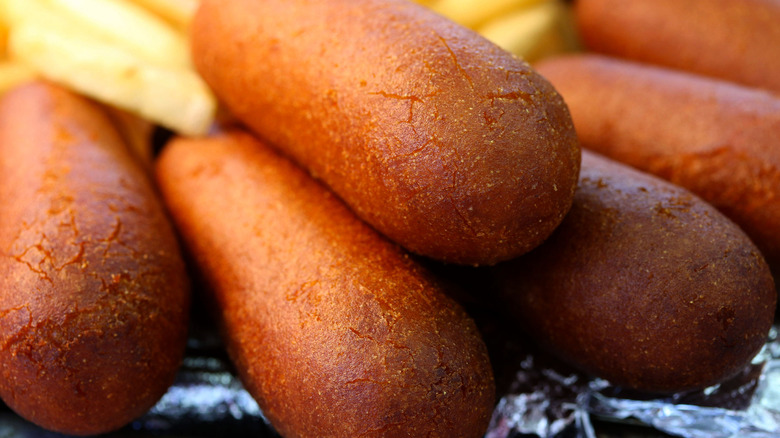 nancykasz/Shutterstock
It's hard to go to Shake Shack and order anything besides one of its delicious burgers. The chain's menu boasts many decadent options, like the bacon-heavy SmokeShack and the limited-time Black Truffle Burger. Even the classic ShackBurger makes for a satisfying meal, especially when paired with a custard-based milkshake and crinkle-cut fries.
According to Mental Floss, Shake Shack's burger patties are provided by the meat wholesaler Pat LaFrieda. They're a carefully curated mixture of brisket, chuck, skirt steak, and short rib, which, if you've sampled one at any of the restaurant's 275 locations worldwide, you know is a winning combination (via Investopedia). However, burgers aren't the only claim to fame for this New York-based chain. Interestingly enough, the beloved burger joint actually started out as a hot dog cart located in Madison Square Park in New York and honors its humble origins by offering customers the option of chowing down on a flat-top hotdog that many find to be quite good. So good, in fact, that one reviewer on Trip Advisor claimed it to be the "best hotdog" they'd ever eaten.
Shake Shack also celebrates its roots by selling another hot dog-based favorite: a corn dog, though the carnival staple is only available for purchase three times a year.
Shake Shack celebrates these 3 holidays with delicious corn dogs
A burger craving is something that should never be suppressed. However, if you happen to be dining at Shake Shack on a select few days of the year, it may be worth it to skip the savory sandwich in favor of one of the delicious corn dogs. According to Mental Floss, the chain's battered hot dogs on a stick are only available on Memorial Day, Labor Day, and the Fourth of July. Though if you're busy celebrating the trio of holidays at a barbeque, you may find that your nearby Shake Shack location will have them for an extra day or two as well. In 2012, for example, The Daily Meal reported that the chain's Fourth of July corn dogs were available from July 3 to July 5. In 2014, the outlet reported that you could celebrate Labor Day with a Shake Shack corn dog from August 30 to September 1.
Shake Shack's elusive corn dog has run for around $4.50 a pop in the past (via Foodbeast). We'll admit that's a little pricey, but these aren't any old corn dogs, either. Shake Shack makes them with all-beef Vienna hot dogs that are dipped in a house-made corn batter, fried to perfection, and come with a side of tasty sweet relish as well. Make sure to mark your calendars for its 2022 return.