Tim Hortons' 2021 Holiday Menu Is Here And It's All Things Peppermint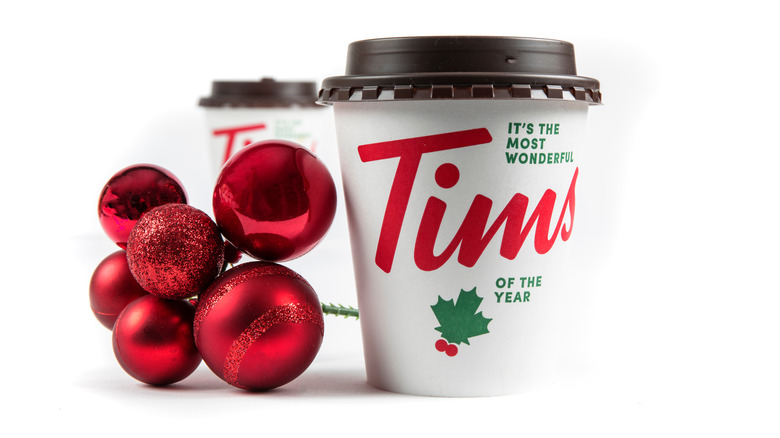 sockagphoto/Shutterstock
While we might usually be hanging onto the edge of our seats waiting for Starbucks holiday cups to return each year, we can't forget about the other coffee chains. For example, Dunkin's 2021 holiday lineup includes its Peppermint Mocha Signature Latte and Toasted White Chocolate Signature Latte, and Dutch Bros even released a winter drink that has a fruity twist. And now, Tim Hortons has announced its holiday menu, and for peppermint lovers, it's a dream come true.
In a press release through AP News, Tim Hortons stated that besides the new food and drinks, fans can also expect to be able to buy themed merchandise from the chain to give to their coffee lover friends and family members. Plus, Tim Hortons also has their own festive cup designs with "heart-nosed reindeer, holiday trees with a coffee cup base, and donut-shaped ornaments, wreathes and snowmen." But enough about the merch and designs — let's get down to what exactly Tim Hortons' winter seasonal menu has to offer.
What items are on Tim Hortons' 2021 holiday menu?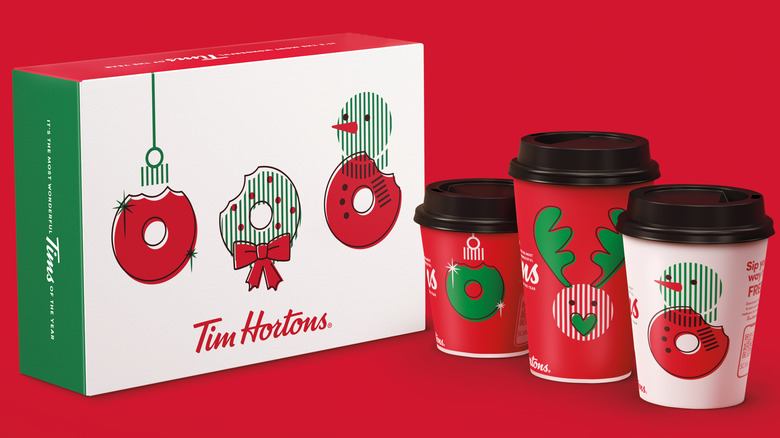 Tim Hortons
There are four items to look out for on Tim Hortons' 2021 holiday menu, and nearly all of them include peppermint, which is definitely an iconic holiday flavor. According to the press release on AP News, the three drinks include a Peppermint Hot Chocolate, a Peppermint Mocha Latte, and a Peppermint Frozen Iced Capp (the latter combines peppermint syrup and Tim Hortons' version of frozen coffee). Of course, this wouldn't be complete without whipped cream and peppermint pieces. And if you're looking for something to eat, check out the Holiday Tree Donut, which is filled with Venetian cream and has green fondant. Which item are you the most excited to try? Whether you need your morning caffeine fix or just want a snack on the go, you can always find something festive at Tim Hortons.
If you love peppermint, Tim Hortons isn't the only place you need to visit — Aldi's peppermint bark creamer is back in stores, and Costco's peppermint bark is in stock for the season.