Instagram Is All Over This Sweet Trader Joe's Peppermint Combo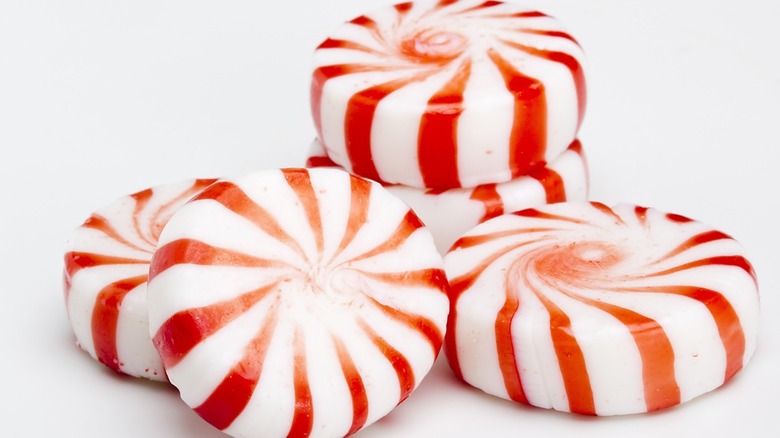 Constantine Pankin/Shutterstock
Now that Thanksgiving is over, many people are in full-on Christmas mode. And if you're on the hunt for seasonal treats, Trader Joe's is the place to go. The quirky national grocery retailer is renowned for its festive holiday releases — and the 2021 lineup is just as amazing and just as eagerly awaited as last year's. There's the cult-favorite Trader Joe's Jingle Jangle, a blend of goodies like chocolate-covered pretzels, caramel popcorn, and peanut butter cups. There are adorable mini gingerbread people coated in white fudge frosting. There's even candy cane tea for those who like a cuppa.
For more droolworthy holiday food inspo, turn to any one of Trader Joe's' fan accounts on social media. One of those, @traderjoesobsessed, recently shared a photo on Instagram of a confectionary creation they came up with by combining two of Trader Joe's seasonal treats. Here's the dessert duo they invented and why people are freaking out about it (hint: there's candy cane ice cream involved!).
People love the idea of pairing peppermint bread with peppermint ice cream
Instagram fan account @traderjoesobsessed proved that the only thing better than one Trader Joe's holiday dessert is two Trader Joe's holiday desserts combined. The Instagrammer recently posted a picture of Trader Joe's Chocolate Peppermint Loaf — which comes in a baking mix that can be used for bread, cookies, and cakes — topped with a hefty scoop of Trader Joe's Candy Cane Joe-Joe's ice cream, which is a blend of vanilla and peppermint ice cream with hunks of Joe-Joe's (which are like Oreos) mixed in. 
"The combo was amazing," they wrote in the caption. "The textures and flavors were spot on. We also add a tablespoon of sour cream and follow the instructions on the box to make the cake extra moist." 
Based on the comments, people are very into the minty, chocolate-y creation. "Oh my!! That looks amazing!!" one person wrote, with a string of heart eyes. If you want to make the dessert yourself, check your local Trader Joe's for both special-edition treats. They only cost $2.99 each!