12 Types Of Salad Dressings And When You Should Use Them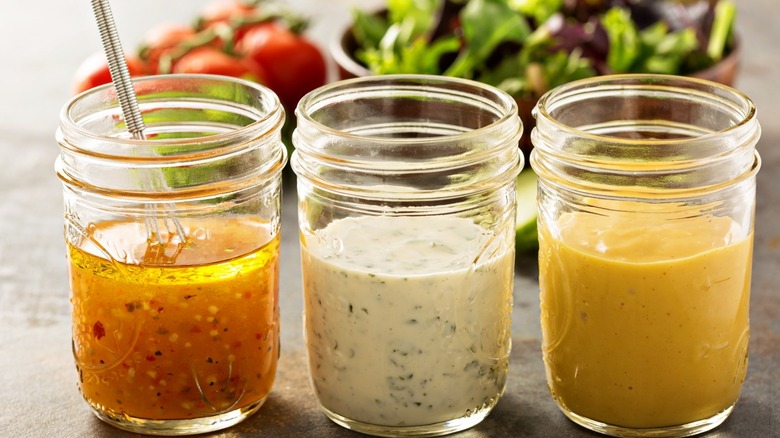 Elena Veselova/Shutterstock
Whether you're getting fit or just looking for a lighter meal option, salad is a way to combine fresh ingredients with bold flavors. There's no wrong way to make a salad — make it as healthy or as decadent as you want! However, it's worth mentioning that as much as crisp lettuce and market-fresh vegetables are key components, it's the salad dressing that ties it all together and brings harmony to the ingredients. It's also the salad dressing that can take a salad from a straightforward weeknight meal to one that's impressive enough to serve to company.
If you've been looking for a sign to experiment with your own salad dressings, this is it! To give you some inspiration during your next salad quest, we have rounded up 12 salad dressings. Some are more commonly used, and others offer unique flavors, but they're all worth trying. Here are 12 salad dressings and when you should use them.
Oil and Vinegar / Vinaigrette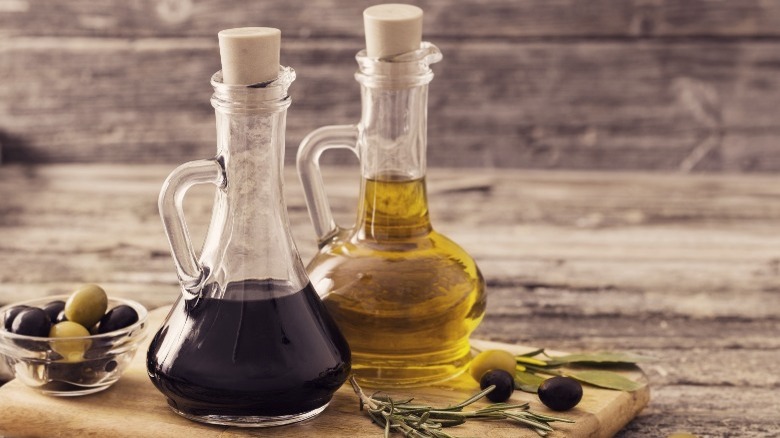 Maya Kruchankova/Shutterstock
Simple is often better, and in the case of oil and vinegar as a salad dressing, that couldn't be more accurate. This classic combination is a more subtle one, letting the other flavors shine through. If you have made a trip to the farmer's market for fresh ingredients that you don't often use, oil and vinegar are a wonderful way to highlight that produce.
In its simplest iteration, a vinaigrette is simply oil and vinegar. However, you can get as creative as you want and add your own selection of spices and herbs to make a variation all your own. Many salad dressings contain sugar, so this is the ideal salad dressing for those who don't quite have a sweet tooth. Besides your salad, it works well drizzled over mostly anything — mozzarella, cooked veggies, raw veggies, bread, and protein. If you have a batch of this prepared, you'll never run out of ideas for it.
Vinaigrette is almost impossible to mess up. Just stick to an oil to vinegar ratio of 3:1 and let your imagination take over!
French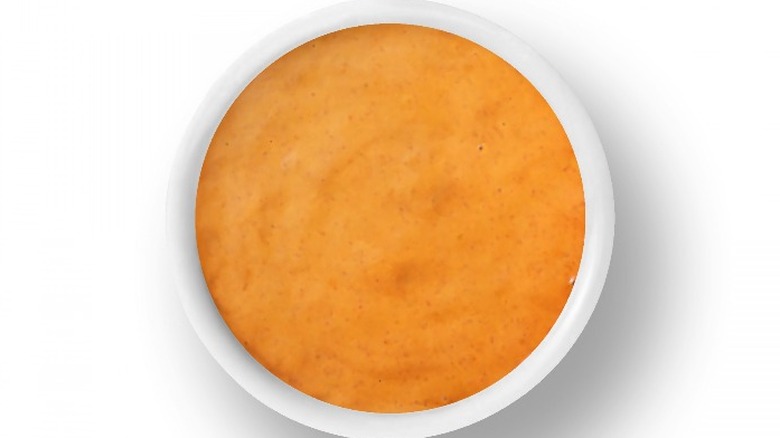 Derek Brumby/Shutterstock
There's a whole host of salad dressings named after other cultures, but none is as bold as French dressing. In early 2022, the US Food and Drug Administration (FDA) loosened regulations on what constitutes the dressing, so now there are no stringent rules of what French dressing is. If you're making your own version, no need to even worry about that. Culinary Hill's version of the dressing comes together in just a few short minutes and contains ketchup, sugar, white vinegar, olive oil, celery seed, chili powder, dried mustard, onion powder, paprika, and salt.
French dressing is sweet and slightly tangy, so it's no wonder that it spices up simple salads. However, it can also tie together a sheet pan dinner. Just add to chicken and mixed vegetables like potatoes, broccoli, and onions, and bake. It also works well on those days you have leftover vegetables or lunchmeats. Just spread some French dressing on toasted bread, and build the sandwich of your dreams, complete with the sweetness of French dressing.
Caesar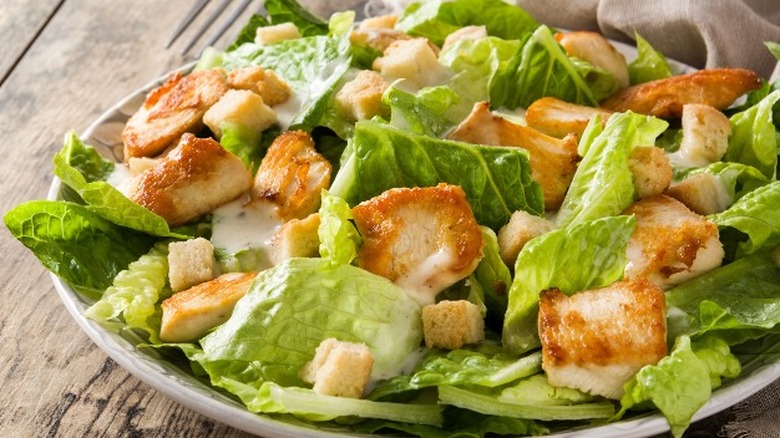 Etorres/Shutterstock
Caesar dressing is always a fun party trick to show just how easy it is to disguise the taste of anchovies for the fish averse. This dressing is a classic one that has a salty and rich flavor profile that works well with the classic Caesar salad.
To make a Caesar dressing, stock up on garlic, egg (yolks), lemon juice, dijon mustard, salt, pepper, olive oil, and anchovies. It's a rather straightforward dressing to make, but once you've blended it, the possibilities are endless. If you've got a hankering for simplicity, just enjoy it with some croutons, parmesan, and of course Romaine lettuce.
Despite its exotic name, the Caesar Salad is the brainchild of Caesar Cardini, according to the BBC. Cardini was facing a dwindling kitchen supply and made the salad from what he had on hand. Guests were thrilled and the salad became a mainstay in restaurants around the world.
The Caesar Salad is so universal that it's an easy win for even the pickiest of eaters, but if you do want to dig into some Caesar dressing without the salad, it makes a lovely topping for cooked proteins like chicken and fish.
Honey Mustard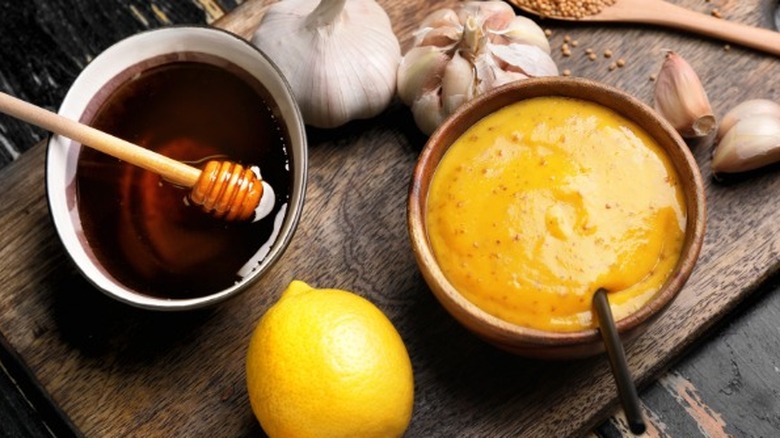 Pixel Shot/Shutterstock
The beauty of honey mustard and its brilliant combination of ingredients is that it works just as well as a glaze for proteins as it does with a fresh salad. The appeal of sweet and salty boils down to science, but the end result is anything but complicated. Tangy mustard and succulent honey work just about anywhere. It works with protein — either as a marinade or as a dip for the breaded variety. Then, of course, it works as a salad dressing. However, one of our favorite ways to enjoy honey mustard is drizzled over a bowl for an extra kick to your at-home concoction.
To put together your own honey mustard dressing, just mix equal parts honey and mustard with vinegar and oil. You can even add a little garlic, as in this BBC version. If you've been looking for an easy dressing to jazz up your at-home meals, this will help get you out of that rut.
Ranch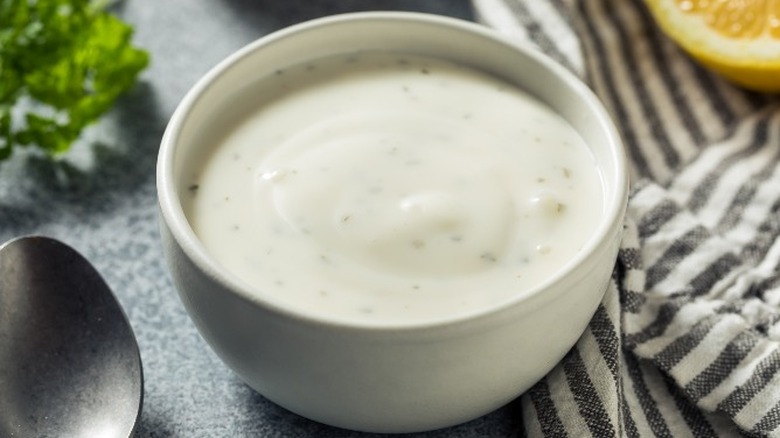 Brent Hofacker/Shutterstock
Somewhere along the way, Americans became obsessed with ranch dressing. It's not much of a mystery since the creamy dressing blew up in the late 1980s when it was a go-to sauce on everything, including burgers, according to Slate. Interestingly, it was also a sneaky workaround when mayonnaise was deemed unhealthy.
As a salad dressing, however, the ranch is perfect for your dream Tex-Mex salad. The spicy flavors are cooled down by the ranch, but as iconic as ranch dressing is, it's a relatively new discovery that dates back to the 1950s. The addition of dried herbs was a way for Steve Henson to leverage flavor without relying on hard-to-come-by fresh herbs.
The dynamic qualities of ranch dressing have made it a hit for the last 50 years, but if you needed a reminder... everything works well with ranch dressing. You'll need a well-stocked kitchen to make your own batch of ranch dressing, but it's more than worth it. A Cookie and Kate recipe calls for sour cream, buttermilk, mayonnaise, parsley, cilantro and/or dill, chives, garlic, lemon juice, salt, and pepper. It's not the quickest salad dressing, but it might be the most rewarding.
Italian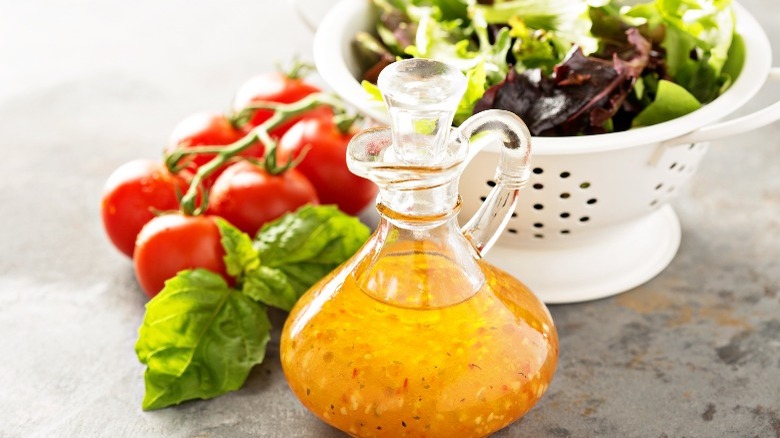 Elena Veselova/Shutterstock
While you can go for a more amped-up Italian dressing like the version made popular by Olive Garden, at its core, Italian dressing is simple to put together. Just mix lemon juice, white wine vinegar, dijon mustard, honey, oil, and some herbs, namely fresh parsley, dried oregano, and thyme (via Love and Lemons).
This tangy dressing was actually invented in the United States in Massachusetts in 1941 in what we know today as Ken's Steak House (via Spiceography). Ken and Florence Hanna began bottling the dressing after demand skyrocketed, and since then, it's been a staple on North American tables. Italian is delectable atop a bright green salad with red peppers, cucumbers, shredded carrots, and grilled chicken. If you do want to get more mileage out of your dressing, try using it as a marinade for chicken, shrimp, or tofu. It also works wonders as the flavor base of a summertime pasta salad. Just add pasta, chopped vegetables of your choice, and voila!
Sesame Soy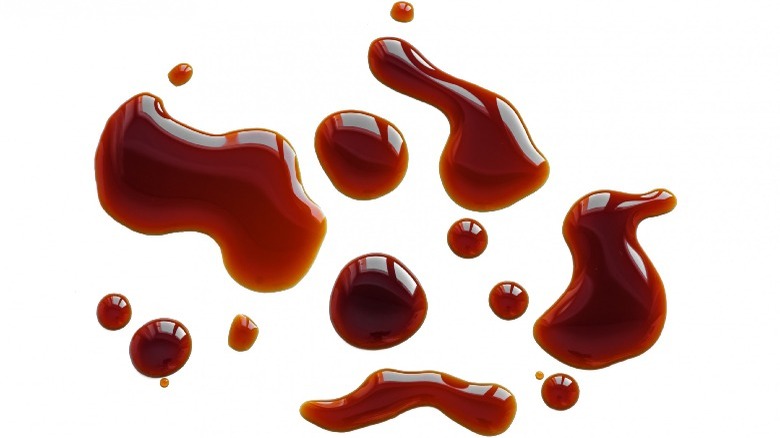 Oksana Mizina/Shutterstock
Every home chef needs a few key ingredients that they can reach for when they're low on inspiration. Soy sauce is one of them for its bright umami notes and bold salt content. Now you've used soy sauce in stir-frys and rice, just add sesame oil, white vinegar, olive oil, and honey to transform it into a delicious Asian salad dressing.
Recipe Tin Eats showcases an easy-to-follow recipe that can be used for green leafy salads, but also slaws and noodle salads. Of course, if you make this salad dressing in bulk, you can also use it as a marinade and just add to it what you need. In case you were wondering, you can use this as a dip for any kind of sushi or egg roll as well, but why stop there? This salad dressing is also the perfect dipping sauce for grilled shrimp and chicken.
Tahini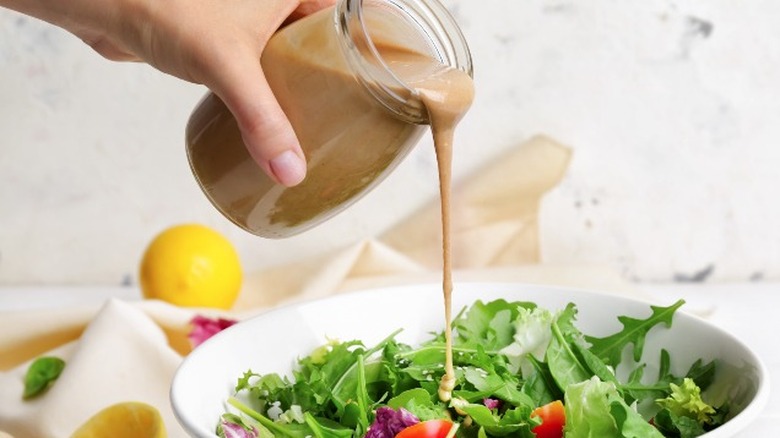 Pixel Shot/Shutterstock
Tahini has more than earned its spot as a salad dressing option. It adds vegan creaminess and umami to dishes. However, you can add a bit of yogurt for a richer, rounder dressing. Additionally, you can add in some lemon juice, dijon mustard, maple syrup, and water to make it into a looser style of dressing. Minimalist Baker even has a 3-ingredient tahini dressing to cut down your time in the kitchen.
Tahini is a paste made from just sesame seeds olive oil and is rather easy to make from home. It works well in a variety of dishes unrelated to salad (cookies! and baba ghanoush!), but we do think salad dressing is one of the best ways to experience the full depth of tahini. Whether you're letting the flavor of tahini shine on its own or adding a few extra ingredients, it will spruce up even the dullest of salads.
Sweet chili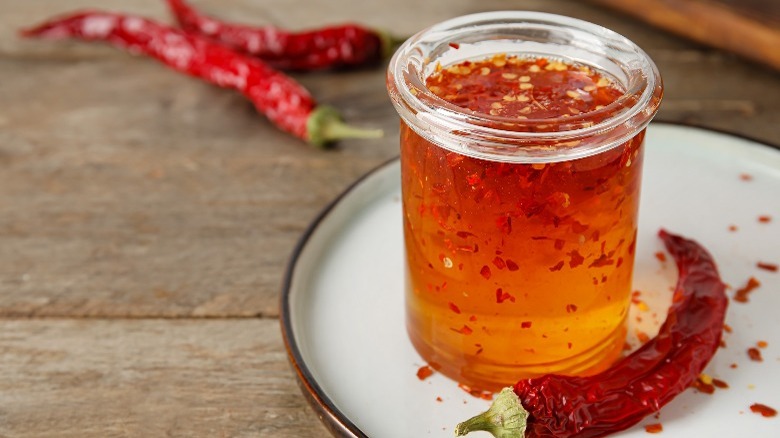 Pixel Shot/Shutterstock
Sweet chili is a pretty common flavor of dipping sauce for food like chicken wings, egg rolls, and chicken nuggets. If you just skip the corn starch, though, you'll have a looser sauce that spices up your salad.
Humans have been using some form of hot sauce since 7,000 BC, according to Whalebone Magazine. Aztecs used it for medicinal purposes but also for cooking. By 1,500 AD, chili oil was common in Africa, Asia, Europe, and the Caribbean.
If you want to make a sweet chili salad dressing, you'll be thrilled to learn that it does wonders on simpler salads. Of course, you can go all out with greens, crispy chicken, sesame seeds, green onions, and carrots. However, if you just want to throw some greens, edamame, and bean sprouts in a bowl with a drizzle of sweet chili dressing, you won't be disappointed. Whether you want to dial into the flavors of your ancestors or just have a craving for some heat, sweet chili oil is a wonderful dressing to consider.
Blue cheese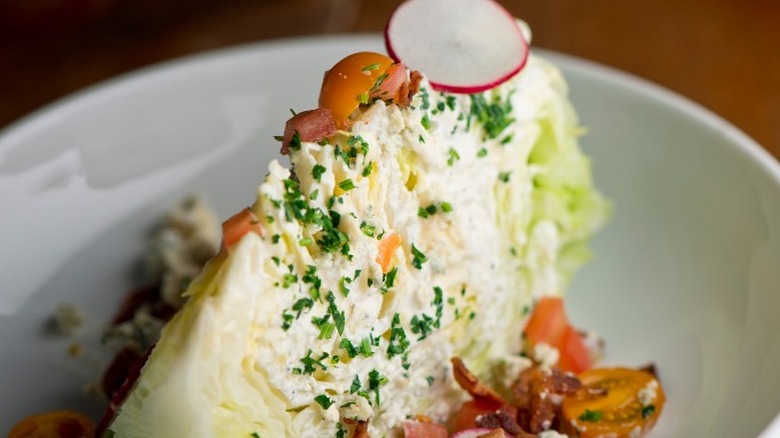 Marie Sonmez Photography/Shutterstock
Blue cheese dressing is perfect. There's not much convincing that needs to be done when it comes to blue cheese. If you're the type of person who doesn't fancy the flavor, have you tried it drizzled over an iceberg lettuce wedge salad? This is one of blue cheese's signature presentations: just take a wedge of lettuce and top with bacon crumbles, blue cheese dressing, and chives.
If you have a hankering for something easier to prepare, just enjoy it as a dip for your buffalo wings, crudités, or chips. For as complex as blue cheese dressing tastes, it's really quite simple to enjoy. Best of all, it's also pretty simple to whip up at home. This blue cheese dip recipe that calls for blue cheese crumbles, sour cream, mayonnaise, lemon juice, salt, and pepper works well as a salad dressing — just add a splash of water to thin out the consistency into a pourable dressing.
This beloved dressing actually doesn't have much of a storied past. It was first mentioned in Fannie Farmer's 1918 cookbook, but by the 1930s, it was already soaring in popularity in North America (via Taste Atlas).
Russian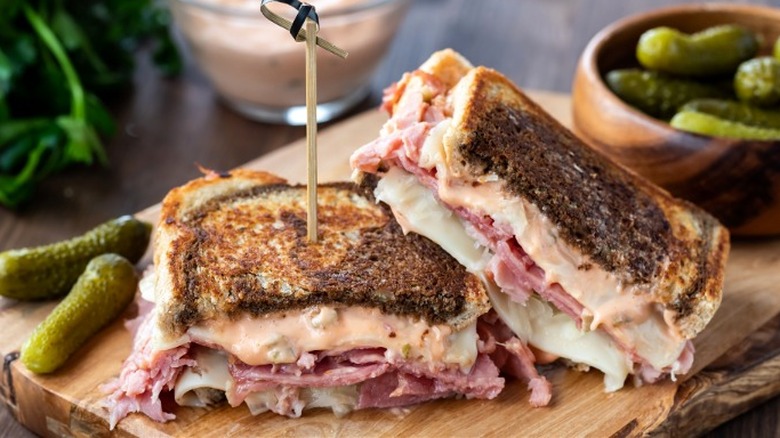 Toasted Pictures/Shutterstock
That first bite of a Reuben sandwich is nothing short of perfect. When the toasted rye, corned beef, Swiss cheese, and sauerkraut come together, it is an explosion of flavors that's interesting and comforting all at once. However, this sandwich would be nothing without Russian dressing.
Russian dressing is comprised of mayo, ketchup, relish, and lemon juice. It's creamy, sweet, and rich and when made properly is a balanced spread that's neither too sweet nor too tart. You can also add horseradish to take this dressing's intrigue factor up a notch.
Russian dressing, which shares its name with the largest country in the world, wasn't in fact invented in Russia. The version we know today was actually created in Nashua, N.H. by James E Colburn in 1924 (via the Washington Post). There seems to be a camp of food historians who believe the French introduced the creamy vinaigrette-style dressing to Russians in the 19th century, according to Food Timeline.
No matter the true roots of this salad dressing, one thing is for sure — it's the perfect spread for many kinds of foods. It works on sandwiches to help provide some moisture to otherwise dry bread, but it also works as a dip for fries, chicken fingers, mozzarella sticks, and the like. If you'd like to add some more greens, you can always enjoy Rusian dressing over a salad, as it may have originally been intended.
Balsamic Vinaigrette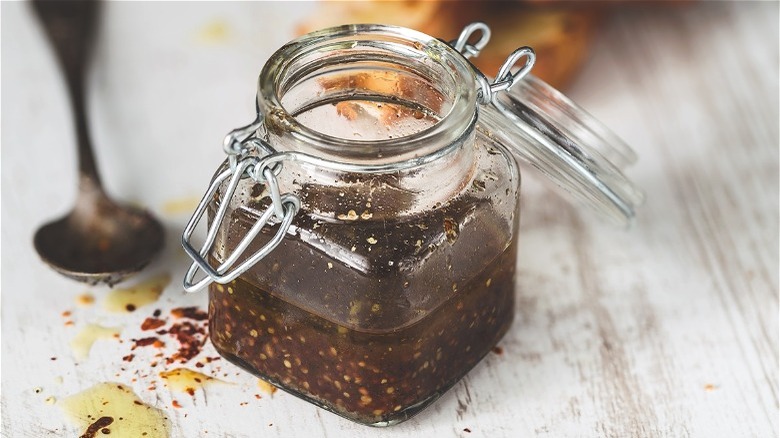 Alphonsine Sabine/Shutterstock
Balsamic vinaigrette is one of those classic flavors that are versatile, yet underrated. As a salad dressing, this might be as good as it gets. You can quite literally add this to any salad you create. Because balsamic vinegar is so readily available, it's a simple way to add some flair.
As a salad dressing, balsamic vinaigrette is just balsamic vinegar, olive oil, dijon mustard, honey, and garlic. A sprinkle of salt and pepper makes each of the flavors stand out that much more. It really is the right amount of tang and sweetness.
Balsamic vinegar is an Italian condiment that must be made in either the Modena or Reggio regions of Italy, according to Gourmet Blends. It is made from sweet grapes that are boiled into a syrup and then slowly cooked in copper pots until the water content decreases by half. The remainder is put into wood barrels with an older vinegar to help convert the young liquid into the vinegar we love. Balsamic vinegar was first referenced in 1046 when it was used as a miracle cure. Although it might not have medicinal properties, it can certainly help to revive a sad salad.