50% Agree This Is The Worst Sandwich At Burger King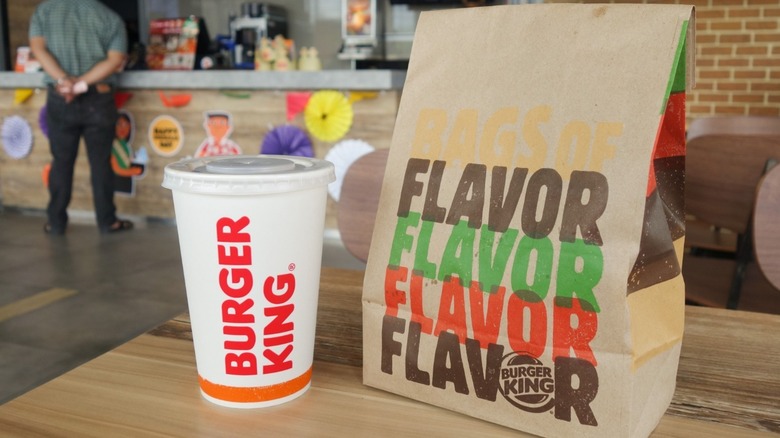 Tuangtong Soraprasert/Shutterstock
When it comes to Burger King, the most iconic option on the menu is probably the Whopper. But what if someone who hated burgers made the curious life choice of ordering from a place with the word "burger" in its name? Well, there would still be other things to choose from, like all the other sandwiches. However, some might say the chain has had highs and lows in the non-burger department.
The sandwich monarch's menu has been home to fan favorites like the Italian Chicken Sandwich, which was brought back temporarily last year. But there's also no denying that Burger King has also had some flops in its long history, like its Meatloaf Sandwich or the enormous Omelet Sandwich. Even now, there could be sandwiches that aren't exactly winning some BK fans over.
Mashed polled 557 people in the United States and asked them what they thought was the worst sandwich at Burger King. Survey respondents chose between several non-burgers: the Ch'King, the Spicy Ch'King, the original chicken sandwich, and the Big Fish. Here's what customers thought about the offerings.
Survey respondents aren't big on the Big Fish
With 50.45% of the votes, survey respondents said that Burger King's Big Fish (described by BK's website as a panko-coated square of Alaskan Pollock with pickles, tartar sauce, and a "brioche-style bun") is the worst sandwich on its menu. This echoes the result of another Mashed survey that found McDonald's customers' least favorite sandwich was the Filet-O-Fish. So whether there are similarities in the survey samples or broader trends in preferences, these fast food fish sandwiches might not be reeling in as many respondents as other sandwiches.
The Spicy Ch'King got the second-highest percentage of the votes, as 26.57% of people indicated that out of the four options, this spicy sandwich was their least favorite. The Original Chicken Sandwich received 15.44% of the votes, and only 7.54% of people said that the Ch'King sandwich was the worst Burger sandwich.
What makes the Ch'King and the original chicken sandwich different from the "worst" options? While we don't have explanations from pollees, it's worth noting that neither of these sandwiches is fishy or spicy. The Ch'King sandwich includes fried chicken, pickles, and a mayo-based sauce on a potato bun, per Burger King's website. The Original Chicken Sandwich has chicken with shredded lettuce and mayo and comes on a sesame seed bun. 
People haven't just shared their opinions on the worst sandwich. Here's what respondents think is the best item on Burger King's menu.