The Unusual Rule Former McDonald's Locations In Russia Are Implementing
Correction 7/14/22: The headline of this story has been changed to reflect that McDonald's is not currently operating in Russia.
In response to Russia's military aggression against Ukraine, McDonald's temporarily suspended its Russian business in March, per CBS News. And in May, McDonald's pulled the plug on its Russian business altogether, inking a deal to sell its 850 Russian restaurant locations to Russian franchisee Alexander Nikolaevich Govor, per a McDonald's press release. That deal closed in June, with more than 215 restaurants previously operating as McDonald's, re-opening as the rebranded "Vkusno i Tochka," which, as you might have heard, translates into English as "Tasty, and that's it" (TATI), per The Moscow Times.
Many people received the news enthusiastically, with Moscow's Mayor Sergey Sobyanin appearing at the metaphorical ribbon-cutting to praise TATI for helping to promote business and job opportunities for Russians, per The New Voice of Ukraine. The presumption, as Sobyanin put it, was that everything will "be the same as before." In fact, McDonald's has a vested interest in that being the case; it has an option at the end of 15 years to buy its business back from Govor, per Reuters. Moreover, with the revamped Russian McDonald's new logo, consisting of a small orange sphere followed by two yellow backslashes, looking like a deconstructed "M" (per BBC News), many felt optimistic. 
Optimism is waning, however, as the "sham McDonald's," as The New Voice of Ukraine puts it, implements new rules that hark back to the past — and not in a good way. 
The new McDonald's has people seeing red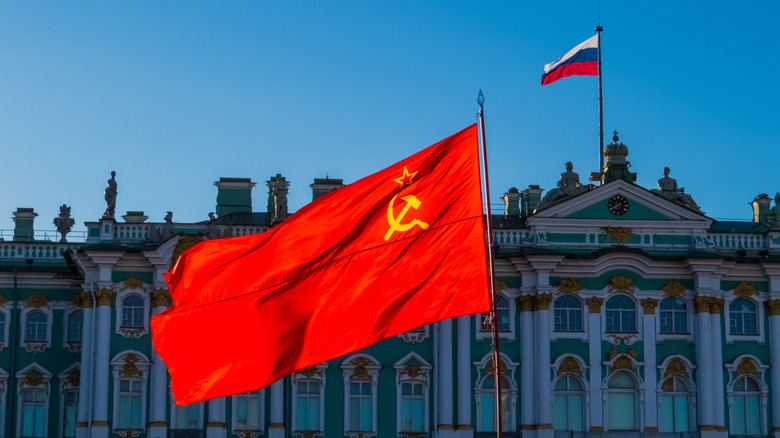 Diego Fiore/Shutterstock
When McDonald's entered Russia in 1990, the Soviet Union was still the last communist regime in Eastern Europe, per History. That reality translated into challenging circumstances for Soviet citizens, according to those interviewed by Russia Beyond in 2020. Such circumstances included the government-sponsored rationing of food, which was in short supply (and, generally speaking, of questionable quality), per The New York Times. Accordingly, when McDonald's shuttered its Russian locations in March, some feared it was a harbinger of Russian cultural and economic regression, per Bloomberg. Naturally, the re-opening of McDonald's as TATI seemed a hopeful step in the right direction. But the news from Russia is not good. 
First, in a move hauntingly reminiscent of the old days of food rationing, TATI pulled the plug on French fries for the foreseeable future, per BBC and The Washington Post, both of which attribute the move to a global potato shortage. That said, Russia's Agriculture Ministry promptly denied a potato shortage exists. "There are potatoes — and that's it," was the aptly worded statement the Ministry gave to the pro-Russian media outlet Telegram (via BBC), which may remind some of the information deficit for which Soviet Russia was famous, per Russia Beyond. Then various media outlets reported the burgeoning Eastern European franchise has been serving their burgers with a side of bugs and mold (at no extra charge), per Newsweek. 
If that sounds regressive, wait until you hear the latest rules Russian McDonald's is implementing.
Tasty, and no photos or electrical outlet usage
According to The Moscow Times, an independent (as opposed to government-sponsored) news outlet for Russian news, the new iteration of McDonald's in Russia has posted a list of restrictions applicable to dining at some of the former McDonald's restaurants that have rebranded in Russia as Tasty and that's it (TATI). These restrictions include a ban on the use of restaurant electrical outlets, presumably for charging phones, but perhaps for other uses as well. The restrictions also include a prohibition on taking photographs and videos without the approval of management. It's unclear how many TATI locations have adopted these restrictions, but Russian news outlet Podyom reports that visitors observed postings of such restrictions at a TATI location in central Moscow. 
"The ban indeed exists," a TATI spokesperson confirmed to Podyom, via The Moscow Times. "It's related to safety and [avoiding] other visitors from being photographed." 
It's not clear at this time how it is that TATI management imagines that restricting the use of electrical outlets may support a safer dining experience. Nor is it clear how requiring customers to ask for permission to take photos and videos may do so. Perhaps information will be forthcoming from the fiduciaries of McDonald's Russian good will for the next 15 years, er, TATI Management. Or, perhaps not — but in that case, no news will be its own form of news.