Blue Moon Has The Ultimate Trip Giveaway For Music Fans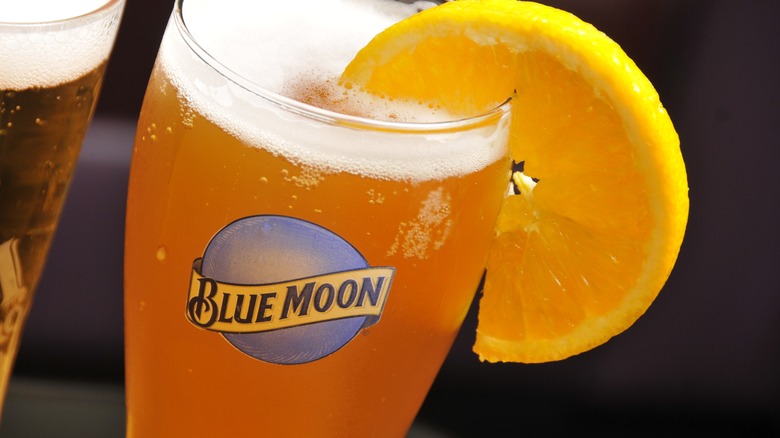 Wirestock Creators/Shutterstock
Food and music go together like peanut butter and jelly. We don't know exactly why they pair so well together, they just do. To wit, in the past year, we've seen Jeni's Splendid Ice Cream revive its collab with Dolly Parton, giving fans of this frozen dessert both a yummy treat and an exclusive digital music download. And then there are those fast food meals branded and promoted by artists like Jack Harlow and KFC and Popeyes teamed up with Megan Thee Stallion for a new hot sauce.  If you can't get enough of these music-food collabs, get ready for another one because Blue Moon beer has announced a collaboration and music experience in partnership with rock band Mt. Joy.
According to the Mann, Mt. Joy is a five-person Indie band that hails from Philly and has released a new album titled "Orange Blood." Per an announcement on Instagram, to celebrate the release of the band's new music, the Blue Moon Brewery has crafted a new brew that reflects the spirit of the songs. The result is Orange Blood Moon lager and if you want to be one of the first to taste test this beer, Blue Moon is holding a sweepstakes to give you the chance to do so, along with taking in the new music of Mt. Joy in person. Here's what you need to know.
Get ready for Red Rocks
According to Blue Moon's website, you can enter a sweepstakes for a chance to win what the beer company has dubbed "the ultimate trip to Denver." The winner, along with a person of their choosing, will be treated to airfare, accommodations, and two tickets to see Mt. Joy perform their new music at famed Red Rocks on August 17, as well as at Mission Ballroom in Denver on August 18. What to expect? NPR calls Mt. Joy's new music both "joyous" and "contemplative" and will have you thinking about traveling.
Additionally, if you are the chosen one, you will get to "hang with the band" and take a tour of Blue Moon RiNo Pilot Brewery. You will also have a chance to drink Blue Moon's new Blood Orange lager which is only being offered at the concerts and the brewery for a limited time, per the website. Of course, there are a couple of caveats to entering this sweepstakes. While no purchase is necessary, you must be 21 to enter and you can only enter once per day. The winner will be selected on August 9.