Valerie Bertinelli's Post For Her Mom Has Instagram Tearing Up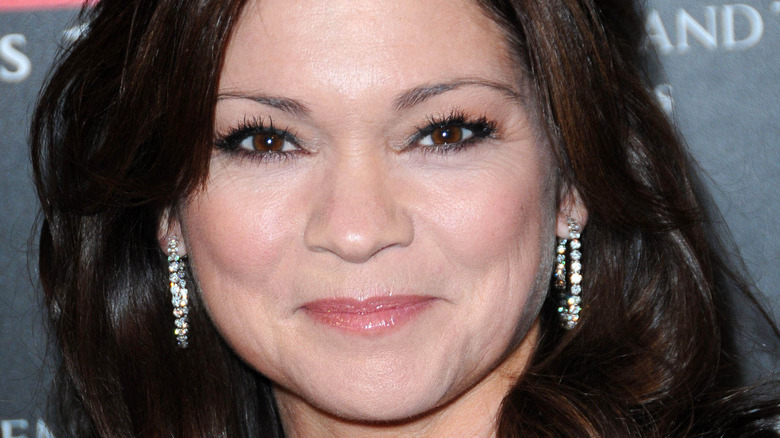 s_bukley/Shutterstock
Back when Valerie Bertinelli got her first big showbiz break as the adorable, wise-cracking Barbara Cooper on the long-running television series, "One Day at a Time," she was a shy 15-year-old so lacking in confidence that she found it challenging to project her voice enough to satisfy the director (via Showbiz CheatSheet) "Even though to me it sounded like I was screaming my lines, it still wasn't loud enough," Bertinelli recalled. Although personality is, in large part, believed to be "set" by first grade, per Live Science, that doesn't mean there isn't room for change (via a paper published in the European Journal of Personality). And, so it is that as Bertinelli experienced more of life and more of showbiz, she grew increasingly adept at expressing herself with confidence and underwent a kind of transformation through the years, according to The Wall Street Journal.
In fact, Bertinelli is arguably now one of the most expressive celebrities on social media, openly sharing her emotions even at the risk of making herself vulnerable. For example, she shared her excitement over new projects and her many emotions about publishing her 2022 memoir, "Enough Already." She has also shared about her weight loss struggles and grief over the death of her ex-husband, Eddie Van Halen. Now, the now-extraordinarily expressive Bertinelli has posted a throwback photo of her mother that has Instagram tearing up and sharing their own feelings on having a mom and being a mom.
Once again, Valerie Bertinelli summons all the feels
On August 23, 2022, Valerie Bertinelli posted a throwback photo of her late mother, Nancy, along with herself and two of her siblings, via Instagram. The other sibling, Mark, died accidentally at 17 months old. In an interview with People, Bertinelli opened up about the tragedy, which happened before she was born, and which her parents kept from her for years. Bertinelli spoke frankly, not only about how the loss of a brother she never met affected her childhood but also about how she now recognizes that her mom (and dad, for that matter) did the best they could under the difficult circumstances. This latest Instagram post carries a similar message. 
Bertinelli doesn't mention Mark in the caption, and yet his absence, as well as her sympathy for what her mother must have gone through in the aftermath of Mark's death, is poignantly evoked. "I miss you Mom. I know you did your best," Bertinelli wrote. "I don't think you fully understand until you're a parent yourself (exhales)." Ending with an expression of gratitude ("#GratitudeCheck"), Bertinelli's post hit home for many, as evidenced by the commentary, which included such affirmations as, "They all do their best. It's our job, as their children, to understand and accept that" and "So true, a different understanding when you become a parent." Less than 20 hours since Bertinelli's post, nearly 30,000 people have hit the like button — even as the tears continue to roll.