The Unusual Ice Cream Topping That's Gained A Cult Following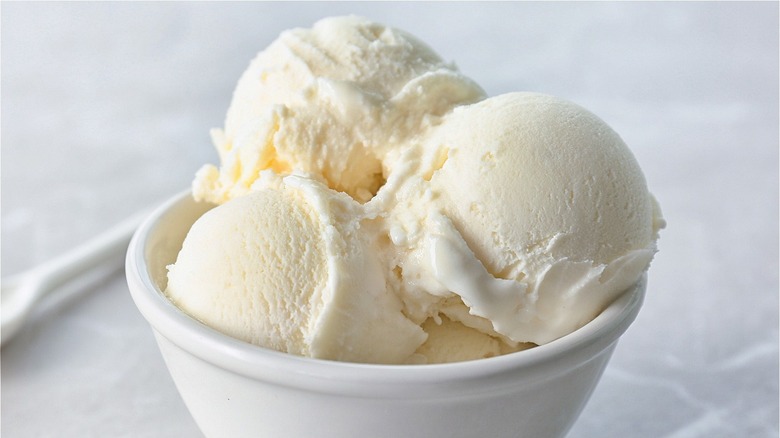 New Africa/Shutterstock
We may receive a commission on purchases made from links.
According to Ina Garten, "No one remembers what you made for dinner ... but they ALWAYS remember dessert!" Although it was her friend Anna Pump who actually made the comment, the Barefoot Contessa is credited with that pearl of wisdom that has shaped how many entertain. Lockstep with Garten, hosts surprise their guests with simple comfort food for dinner, then wow them with dessert. While experienced bakers with time on their hands may choose to create the latest trendy dessert, the rest of us cling to Garten's other catchphrase, "Store-bought is fine."
Amongst the numerous options you can pick up at the grocery store, ice cream is consistently a crowd-pleaser, the LBD (little black dress) you always have stashed in the freezer. The frozen food aisle is crammed with quality ice cream, gelato, yogurt, and non-dairy options in flavors well beyond chocolate, vanilla, and strawberry. Served in a cup, on a cone, or (if you thought ahead) layered in a cake, nostalgic ice cream is a blank canvas begging to be accessorized.
While nothing is wrong with sprinkles as a topping, humanity has come too far to stop there. According to The Kitchn, people are dressing up good old-fashioned store-bought ice cream with unusual toppings like balsamic vinegar reductions or fruity olive oil. But for the ultimate ice cream topping that checks every box — salty, sweet, crunchy, creamy – look no further. And please don't blame us for the unusual cravings you are about to experience.
Popcorn ice cream sundaes
Over the last few years, as people were experimenting with different flavor combinations (remember chocolate-covered bacon), someone (a genius) combined plain vanilla ice cream with salty/sweet kettle corn, and the result is magical. While Garten provides a recipe for homemade salted caramel ice cream sundaes topped with homemade caramel corn in her 2018 cookbook "Cook Like a Pro," YouTube and TikTok have popcorn ice cream sundae videos dated well before its publication.
For a simple, store-bought version of this "I just gotta have it" dessert that will indeed wow your guests and thrill your family, begin by placing a scoop or two (or three) of your favorite vanilla ice cream in a shallow bowl. Yes, of course, you can make homemade ice cream like Garten, but if you need it now, buy a pint and stay focused. Drizzle the ice cream with caramel sauce, like Smucker's, then top the sundae with lightly chopped honey-roasted peanuts and a handful of kettle corn for the mic drop (via My Recipe).
Several manufacturers create snack packs of kettle corn like Angie's "Boom Chica Pop" and Skinny Pop. But if you're lucky enough to have a farmer's market that sells freshly made kettle corn, go for it. You will not be disappointed. The combination of caramel sauce with honey-roasted peanuts and popcorn brings back the excitement of opening a box of Cracker Jack as a child — without the inevitable and immediate disappointment from the prize. You're welcome, and enjoy!