Aldi Donut Sticks Are Back For Yet Another Sweet Fall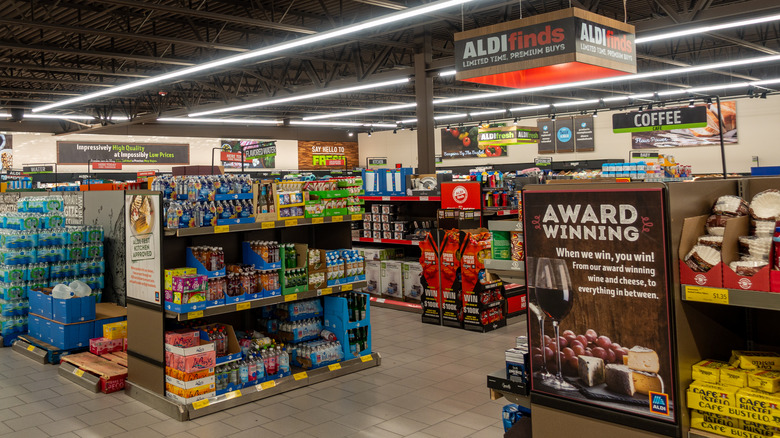 Joni Hanebutt/Shutterstock
Fall is well underway and cozy comfort foods and drinks just keep coming. It seems as if every fast-food chain has unveiled a fall menu, from McDonald's pumpkin pie to Chick-Fil-A's autumn spice milkshake. Grocery stores have jumped on the fall food train as well, offering a variety of fall-inspired items. Trader Joe's is constantly surprising shoppers with unique items and this year was no different with the release of pumpkin cheesecake croissants. Not one to be left out, grocery chain Aldi also releases new products for the fall season.
Aldi lists all of its new seasonal items on its website and includes everything from alcohol to candles. While Aldi has plenty of savory fall treats, it's the sweets and desserts that have piqued customers' interest. Aldi's pumpkin spice sandwich cookies and fall cheesecake sampler have delighted customers, and are only some of the sweet treats available for the holiday season. This year, Aldi is surprising customers with a returning fan favorite that is both a breakfast treat and dessert.
Stock up on these donut sticks while you can
Aldi is re-releasing its cinnamon donut sticks this season (per Aisle of Shame). Bake House brand cinnamon donut sticks first made an appearance in October 2020 and fans were hooked. The donut sticks resemble a crescent roll or biscuit dough and come with a tube of frosting. Several customers enjoyed the donut sticks as a breakfast treat, kind of like a play on a cinnamon roll. The sweet treat also makes a great dessert or anytime snack.
Each tube contains eight servings and is sold for $1.99, which is a bit higher than the 2020 price of $1.49 per can (via Delish). While the package recommends cooking the donut sticks on the stove with a bit of oil, the Aisle of Shame community recommends cooking these in the air fryer. The air fryer method involves laying the donut sticks on the tray and baking at 360 degrees Fahrenheit for 4 to 5 minutes. Once the sticks come out piping hot, simply coat them with frosting and enjoy. 
If you're interested in enjoying these for breakfast, one Aisle of Shame fan suggested cooking the sticks in a waffle maker. For the last two years, the donut sticks were only released for a limited time, so you may be inclined to get 'em while you can.