Stanley Tucci Once Made Ina Garten A Martini At 9 A.m.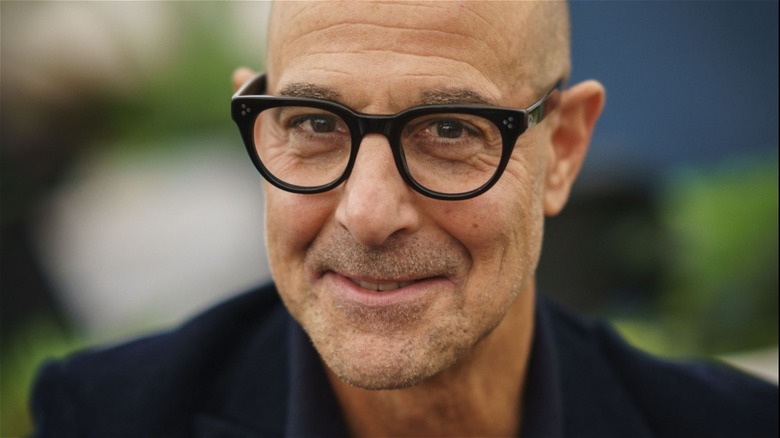 David Levenson/Getty
We may receive a commission on purchases made from links.
Stanley Tucci and Ina Garten are the duo we didn't know we needed until 2021 when the pair got together for the first time to celebrate the life and contributions of the legendary chef Julia Child for "The Julia Jubilee," adding one more reason to thank Child. Tucci and Garten, both beloved for their contributions to the arts, struck social media gold when their cocktail hour videos went viral during the height of the pandemic. Garten's choice of drink came in the form of a comically large pink Cosmopolitan, while Tucci created the perfect Negroni.
During the 34-minute interview via Zoom, Tucci and Garten clearly hit it off, bonding over their shared love of food, entertainment, and of course, Julia Child. Although Garten mostly steered the conversation, Tucci snuck in his appreciation for her celebration of Barefoot Contessa's 20 years on television, calling her "effortless to watch" and "amazing" before ending the conversation with a pact to cook together in the near future. 
Now airing its second season, Garten called upon her new bestie, Tucci, while filming the third season of her show "Be My Guest with Ina Garten" on the Food Network. During a recent interview with the New York Times food reporter Julia Moskin at the paper's food festival, Garten shared details of the year-old dinner date, including the 9 a.m. martini, that set the tone for the rest of the day.
It's 5 o'clock somewhere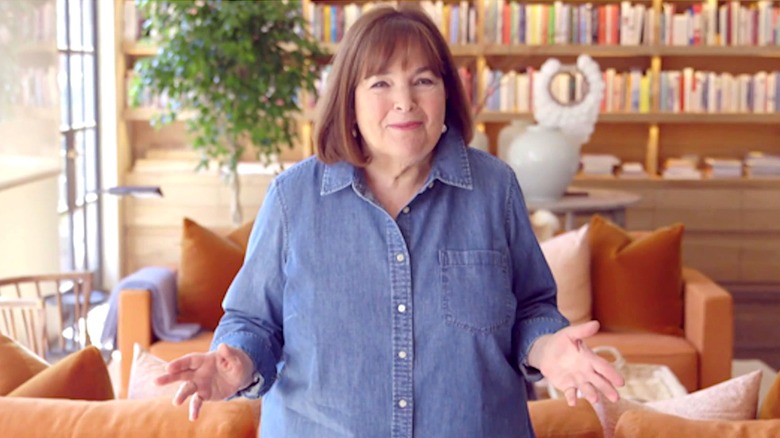 Daytime Emmy Awards 2021/Getty Images
During The New York Times Food Festival of 2022, headliner Ina Garten shared her food evolution and future projects with a crowd of foodies. Simultaneously promoting the chef's 13th cookbook "Go-To Dinners" and Garten's new season of "Be My Guest with Ina Garten," Garten name-dropped the celebrity guests she shares her kitchen with on the next four-episode season, which included her new BFF Stanley Tucci. Garten revealed to Julia Moskin that the actor got things started by whipping up (normal-size) martinis for the two "at nine o'clock in the morning" during the filming of the episode where Tucci and Garten prepare a seafood pasta recipe Tucci selected. Garnished with an olive and a lemon peel, the morning cocktail left Garten to comment, "The rest of the day was really easy." 
Martinis are important to Tucci, who dedicates chapter 14 to the elixir in his memoir "Taste: My Life Through Food." While on set, the former bartender brings along a "portable martini kit" where he enjoys "trailer-tinis" with the cast and directors of his films. After filming, Tucci likes to deposit all the "anxiety and emotional discomfort" he harnesses while filming into the martini glass and credits the first sip with "instantly soothing" him and his guests.
A perfect dry martini
While Ina Garten didn't elaborate on how Stanley Tucci prepared the perfect martini, there is a recipe for a dry martini — as Tucci prefers it to be — in his memoir, where he coats the glass with vermouth and then strains it out before adding gin or vodka. Tucci stirs the frosty cocktail before straining the clear liquid into a glass, garnishing it with "either one or three olives, never two." Tucci believes the cocktail will make you "become a new person." Featured in Tanqueray's ad campaign for their "No. 10" gin, Tucci has taken to his Instagram to prepare gin martinis, adding to his Negroni fame, using more of James Bond's preferred method, "shaken, not stirred," and leaving in the vermouth for a wetter, cloudier cocktail. 
Not that anyone is judging, but the early morning cocktail seems to be a trend for Garten, posting that infamous viral cosmopolitan in the morning and later surprising Hoda and Jenna at 10 a.m. with giant Cosmos on their hour of the "Today" show. Tucci has proven he's a Barefoot Contessa fan by posting photos of Garten's dishes that Tucci can't get enough of, calling the celebrity chef "brilliant" on Instagram, and crediting his wife for nailing her Tomato and Goat Cheese Crostata. Although Garten shared that her next book project will be a memoir, fans of the duo are hoping for more projects to bring the foodies together; perhaps Garten can tag along as Tucci continues "Searching for Italy."