Shaq Thinks Loaded Hash Brown Waffles Are His 'Greatest Contribution'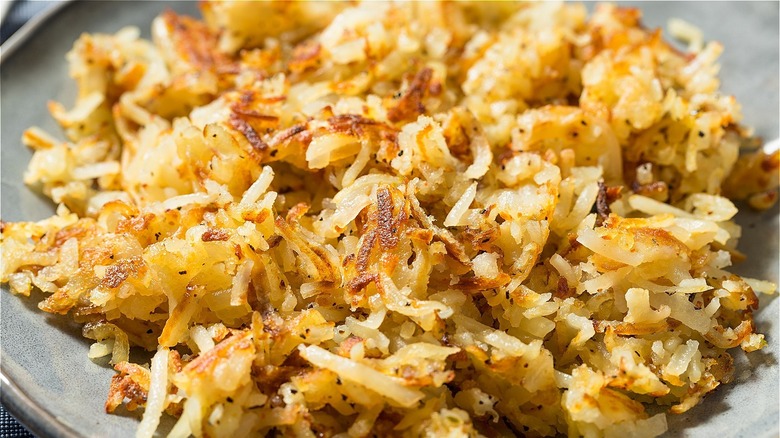 Brent Hofacker/Shutterstock
We may receive a commission on purchases made from links.
Shaquille O'Neill is the very definition of a modern Renaissance man. While he made his bones as a basketball player, he's long since branched out into acting, music, entrepreneurship, and even law enforcement. His real passion, however, may lie with the food industry. It comes as no surprise that a man who stands over 7 feet tall loves to eat and packs away a hefty amount over the course of a day. Shaq's interest in food doesn't end in his own kitchen, however. Over the years he has owned Krispy Kreme and Five Guys franchises and is now launching his own Big Chicken chain. He's also hosted a TV show called "Learning to Cook With Shaq." Oh, and of course let's not forget the way he's influenced the culinary lexicon — without Shaq, there'd be no such thing as a Shaq-A-Roni pizza, much less the concept of Shaqflation.
With all these accomplishments under his super-sized belt, how could Shaq possibly pick the most important one? Would it be his record-breaking NBA contract, his multiple MVP awards, his Hall of Fame induction, his platinum record (1993's "Shaq Diesel"), or the time he took part in a Battle Royale at Wrestlemania 32? While all of these things are nice to have on a resume, Shaq feels that his true claim to fame might well be a loaded potato waffle recipe that he's included in his cookbook.
Shaq's savory loaded hash brown waffles
Oh, did we forget to mention Shaq's contribution to world literature? According to Amazon, he has authored eight books in all, with the real standout being "Shaq's Family Style: Championship Recipes for Feeding Family and Friends." This cookbook is full of Southern-style classics like shrimp and grits, cornbread, and barbecue chicken, but one particular recipe, Shaq says, "might be one of my greatest contributions to the world." So what is this amazing recipe for which the entire earth owes a debt of gratitude? It's a little something called Loaded Potato Waffles.
Shaq says these wonder waffles were designed to be cooked in his SHAQ 2-in-1 Nonstick Rapid Waffle Maker & Skillet, but we're pretty sure a regular waffle maker would work just as well. Basically, what you're doing here is mixing a bag of frozen hash browns with shredded cheddar, cooked bacon, sliced scallions, salt, and pepper, plus some flour, baking powder, and a few eggs to bind it all together. This is your waffle batter, which you then cook as you would any other type of waffle. Top the waffles with sour cream and chives and prepare to experience nirvana ... or at least a darn tasty breakfast. Come to think of it, that's not such a minor accomplishment, after all. Thanks, Shaq! You really are the Champion of Breakfasts.