Celebrities Who Love McDonald's As Much As The Rest Of Us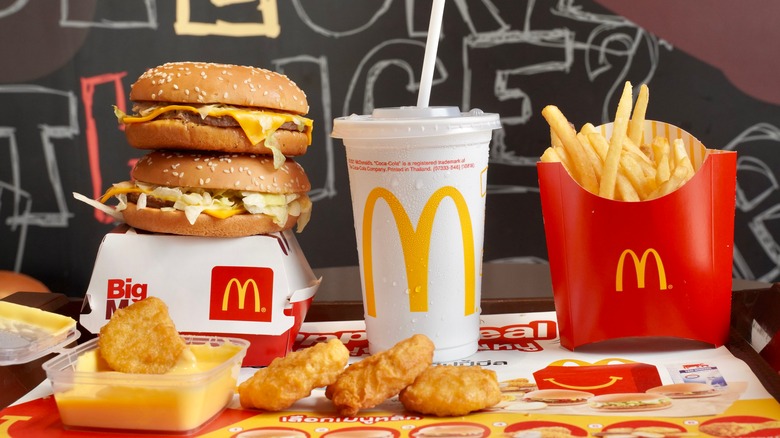 PJiiiJane/Shutterstock
Fast food cravings are universal. There's just something about sinking our teeth into juicy burgers, savoring crispy fries, and washing it all down with an ice-cold soft drink that brings pure satisfaction. And guess what? Celebrities are no exception! Despite their fame, fortune, and access to gourmet cuisine, many of Hollywood's elite have openly professed their love for a fast-food icon: McDonald's. From the self-proclaimed "selfie queen" Kim Kardashian to the multi-talented Selena Gomez and even the lightning-fast Olympic champion Usain Bolt, these celebrities have been caught red-handed, embracing their love for all things McDonald's. It's a reminder that, at the end of the day, fame and fortune can't diminish the simple pleasure of a satisfying meal from the iconic golden arches.
But what makes McDonald's so irresistible to these superstars? Is it the familiarity of childhood memories, the convenience of grabbing a quick bite on set, or simply the tempting allure of having their own celebrity meal featured at McDonald's? We'll explore the reasons behind their unabashed devotion to the fast-food giant and share their favorite menu items that keep them coming back for more. So, whether you're a devoted McDonald's enthusiast or curious about the guilty pleasures of the rich and famous, grab a seat, get comfortable, and join us on this savory journey as we unveil the celebrities who love McDonald's as much as the rest of us. Prepare to have your cravings ignited and maybe even inspire a trip to your nearest drive-thru!
Kim Kardashian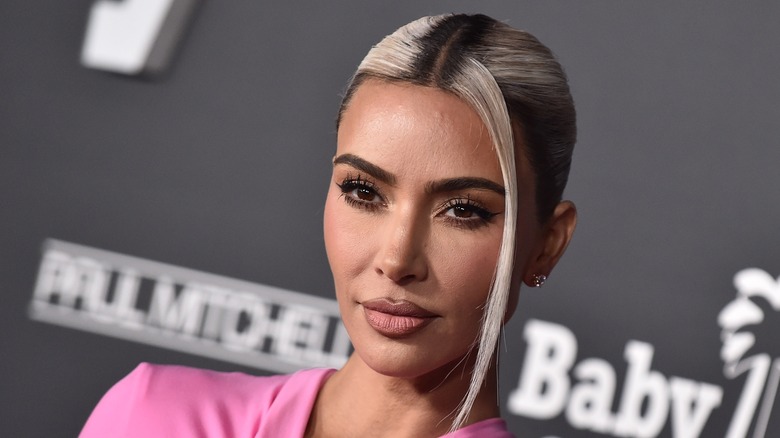 DFree/Shutterstock
Kim Kardashian's love for McDonald's is undeniable, and her genuine affection for the iconic fast-food chain has been showcased in various instances. Not only has Kim openly expressed her adoration for McDonald's classic fries, which she considers her favorite menu item, but she's also shared her typical McDonald's order with McDonald's, consisting of small fries, chicken nuggets dipped in honey, and a cheeseburger. 
McDonald's itself has acknowledged Kim's devotion to the brand. In a special gesture of appreciation, she was gifted a Givenchy wallet filled with McDonald's gift cards, highlighting the impact that Kim truly will take any chance to grab something from McDonald's. To further prove her love for McDonald's, candid photographs at a gas station captured Kim K enjoying a chocolate sundae from the fast-food chain while pumping her own gas. Between her favorite fries, unique orders, and appreciation for a sundae, it's clear that Kim's love for McDonald's is authentic and relatable.
Kanye West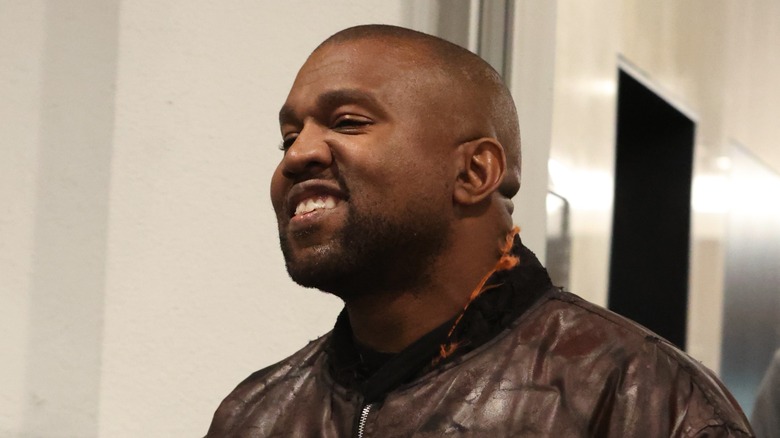 Mega/Getty Images
When it comes to food, it seems like even the biggest stars have their fast-food favorites. Kanye West, aka Yeezy, is no exception. The King of Cool has a soft spot for the world-famous golden arches of McDonald's and has been known to drop some major news about them in the past. In fact, he's also known to make some pretty epic orders while indulging in the fast-food chain's offerings. During a visit to Sweden in 2021, Kanye's order consisted of a Chicken Tasty sandwich (not available in the US), large caramel Frappé, medium fries, large chocolate milkshake, six barbecue dipping sauces, and a three-pack of hot wings.
But this isn't the only time Kanye has publicly showcased his love for McDonald's. He even appeared in a Super Bowl ad for the chain, driving through the drive-thru in one of his signature tanks. And if you think that's all, think again. Kanye has also taken to social media and even in print to share his admiration for McDonald's. "McDonald's man / McDonald's man / The French fries had a plan" he wrote in his poem for Frank Ocean's magazine, "Boys Don't Cry." In 2022, he wrote a reference to his song, "Gold Digger," which talked about McDonald's fries on his Instagram. It's clear that there's something about the fast-food giant that resonates deeply with the rapper and his taste buds. Who knows, maybe he'll go down in history as one of the chain's most loyal customers.
Selena Gomez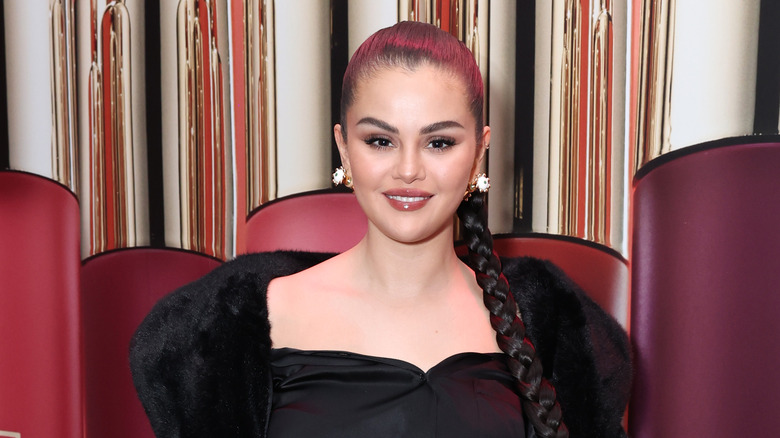 Cindy Ord/Getty Images
Selena Gomez, the talented singer and actress, is no stranger to indulging in her guilty pleasure — McDonald's. Although her trainer encourages her to eat healthily while on tour, Selena doesn't shy away from the occasional splurge, especially at one of the world's most iconic food chains. It's no surprise that Selena is a fan of the Happy Meal, as she has shared her love for it on Instagram. In a video, she can be seen enjoying a burger and confessing to a friend that she had another one just the previous week. However, Selena's appearance on "The Late Late Show" gives us more insight into her typical McDonald's order.
Selena's go-to order at the drive-thru is a number seven, which comes with medium fries and a Coke. For those unfamiliar with McDonald's menu, the number seven is the Ranch BLT sandwich, which can be customized with either grilled or crispy chicken. While leading a healthy lifestyle is important, Selena believes in the value of balance and treating oneself from time to time. Mcdonald's seems to be her indulgent choice when it comes to satisfying her cravings.
Jennifer Lawrence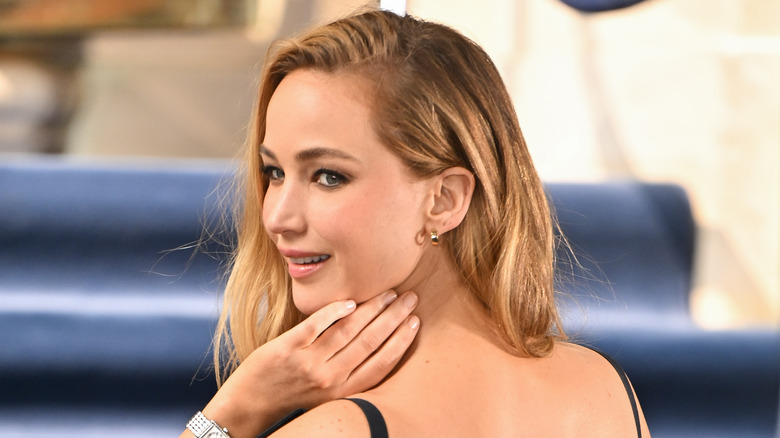 James Devaney/Getty Images
Regarding Hollywood stars and their guilty pleasures, Jennifer Lawrence proves that even the A-listers can't resist the allure of a good fast-food meal. The talented actress, known not just for her talent but also for her down-to-earth personality, has openly expressed her love for the iconic golden arches of McDonald's. During the 2013 Oscars, while caught up in the excitement and pressure of the event, hunger struck Jennifer at the worst possible time. With cameras flashing and interviews underway, her rumbling stomach couldn't be ignored. Ever the relatable celebrity, she didn't hesitate to mention her craving for McDonald's during a red carpet interview, saying, "I got in the car and I was starving. The [ceremony] is four hours long... and could see the McDonald's right there, so." The aroma of those freshly cooked fries wafting through the air surely had her salivating.
Jennifer Lawrence's favorite indulgence at McDonald's remains a mystery, but her mention of the need for McDonald's ketchup gives us a clue. Could it be that she's a fan of the classic Big Mac or maybe can't resist the allure of a scrumptious Quarter Pounder with Cheese? According to what we know from her publicist, she wanted a Happy Meal that night. Jennifer Lawrence's down-to-earth attitude and relatable love for McDonald's reminds us all that, regardless of fame or fortune, sometimes nothing beats sinking your teeth into a juicy burger or indulging in some crispy golden fries. 
Chrissy Teigen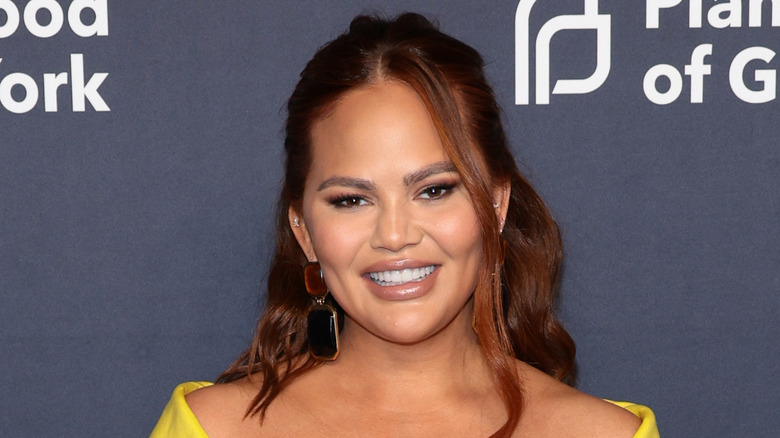 Dimitrios Kambouris/Getty Images
In 2018, Chrissy took her love for the fast-food giant to the next level when she became the new face of McDonald's Dollar Menu. Her unabashed obsession with the chain was no secret, and the brand quickly took notice. Afterward, Chrissy made her much-awaited debut in a sponsored tweet promoting McDonald's 123 Dollar Menu, then went on to star in a commercial that aired during none other than the Golden Globe Awards! She was seen treating herself to a scrumptious Sausage McMuffin with egg and getting her hands on some goodies from the new Dollar Menu items.
On top of being a model and influencer, Chrissy is also a culinary connoisseur. With her wildly popular cookbook, "Cravings," and her website, Cravings by Chrissy Teigen, it's no wonder McDonald's picked her to represent its new and improved menu. Her passion for food was on full display as she promoted the chain's tasty and affordable options. Though Chrissy's stint with McDonald's came to a close, it's clear that her love for the fast-food chain has not diminished one bit. So, what does Chrissy Teigen order when she visits McDonald's? Well, she's a breakfast-all-day kind of person and loves herself some Sausage Egg McMuffins. 
Travis Scott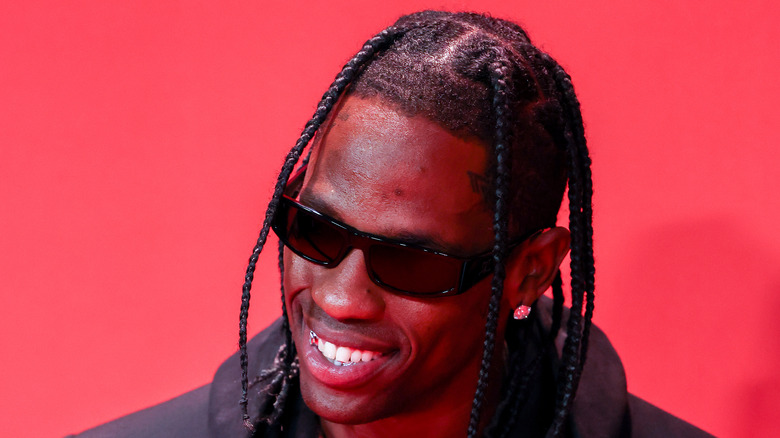 Pierre Suu/Getty Images
You know what's sizzling? The collaboration between rap superstar Travis Scott and fast-food giant McDonald's. Scott teamed up with Mickey D's to offer fans a taste of his favorite meal, available for a limited time nationwide. For just $6, you can sink your teeth into the Travis Scott Meal, a masterpiece that starts with a juicy quarter pounder topped with cheese, extra lettuce, and crispy bacon. While the menu option seems a bit divine, it's also rooted in sentimentality. Bacon holds a pretty special meaning to him, a sentimental connection to his father. And who can blame him? Bacon is like a symphony of crispy, savory deliciousness.
The Travis Scott Meal also comes with a medium order of those golden fries we all adore and, wait for it, a tangy BBQ sauce to dip them in. Oh, and don't forget to wash it all down with a refreshing Sprite. It's like a flavor combination that's been etched into Scott's very soul since his childhood. This collaboration not only puts his personal flavor preferences in the spotlight but also showcases his creativity and unique style. It's a meal fit for music royalty and a culinary adventure that'll leave you craving more. This is the meal that will have you saying "Sicko Mode" in the best way possible.
BTS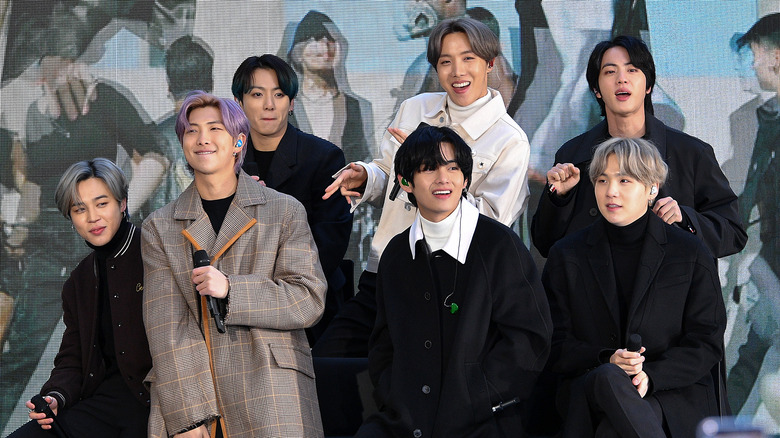 Dia Dipasupil/Getty Images
BTS has shown their love for McDonald's on multiple occasions. In fact, the fast-food chain has become somewhat of a staple in their diet during their busy tour schedules. In interviews, BTS members have expressed their fondness for McDonald's menu items, particularly the McNuggets and fries, and stated that McDonald's is a place that holds lots of memories for them. In a video for the brand's "BTS Meal" release, the members shared their go-to orders and even demonstrated their dance moves with McDonald's meals as props.
BTS's appreciation for McDonald's is evident not only in their collaboration but also in the selection of limited-time sauces for the BTS Meal. These sauces were handpicked by BTS, inspired by McDonald's South Korea, and were specially designed to enhance the flavor of the classic Chicken McNuggets. The Sweet Chili Sauce, with its blend of sweet, sour, and spicy flavors, and the all-new Cajun Sauce, offering a fiery combination of hot mustard, chili, and peppers, add an extra kick to the meal. Overall, the popularity of the BTS Meal played a crucial role in boosting sales for McDonald's, resulting in a surge in same-store sales by 25.9%.
Michael Jordan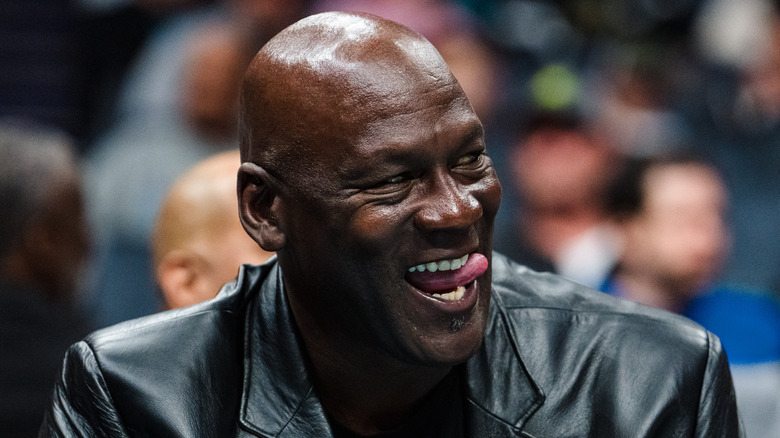 Jacob Kupferman/Getty Images
Did you know that basketball legend Michael Jordan had a surprising love for McDonald's? Not only did he enjoy the fast-food chain, but it was also a regular part of his diet, as revealed by his former teammate Charles Oakley. In an interview with Boss Hunting, Oakley shared that "MJ ate McDonald's every morning for breakfast. And before games, he'd eat steaks." Jordan's affinity for McDonald's went beyond his personal indulgences. The fast-food giant recognized his love for their brand and created a special meal in his honor called the McJordan Special. This iconic limited-time offering featured a Quarter Pounder with bacon and barbecue sauce, served with fries and a drink. The McJordan Special became a testament to Jordan's influence and popularity both on and off the basketball court.
Alongside his deep appreciation for the golden arches, Jordan has also been involved in various public relations campaigns for McDonald's. One notable example is the McDonald's anti-drug campaign, where he utters a pretty iconic line, "Stop it. Get some help." His association with McDonald's goes beyond his love for the food — it extends to his willingness to use his platform to promote important messages. In fact, Michael Jordan's dedication to McDonald's is so strong that he was known to come back to the ball game just to enjoy a burger named after him — the legendary Michael Jordan's McBacon Deluxe.
Paris Hilton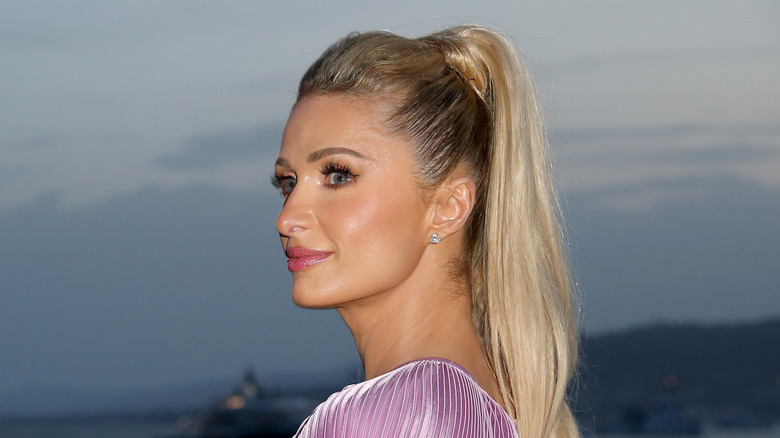 Adam Berry/Getty Images
Paris Hilton, known for her lavish lifestyle, has a surprising love for fast food that may intrigue her fans. The socialite has expressed her fondness for McDonald's on multiple occasions and holds a special place in her heart for their delicious menu items. In an episode of her reality show "Paris in Love," Hilton and her brother Barron Hilton were captured enjoying a meal at McDonald's. Despite being health-conscious, Hilton still indulges in her fast food cravings while trying to make healthier choices. During their McDonald's visit, Hilton ordered a hamburger, medium fries, and the number 4a meal, which included a crispy chicken sandwich and Sprite. This demonstrates her desire to strike a balance between her love for classic McDonald's items and her commitment to making wholesome choices.
In an exclusive interview with Paris Hilton, we got her to unabashedly proclaim her love for McDonald's, highlighting their fries and milkshakes as her favorite items. She even attempted to recreate the famous McDonald's fries at home, a vegan burger, and a vegan milkshake on her show "Cooking With Paris." While Hilton admitted that her homemade version didn't quite match up to the original, she deserves credit for her culinary experimentation. Ultimately, for Paris, McDonald's is just a convenient drive-thru away, always ready to satisfy her fast food cravings.
Kylie Jenner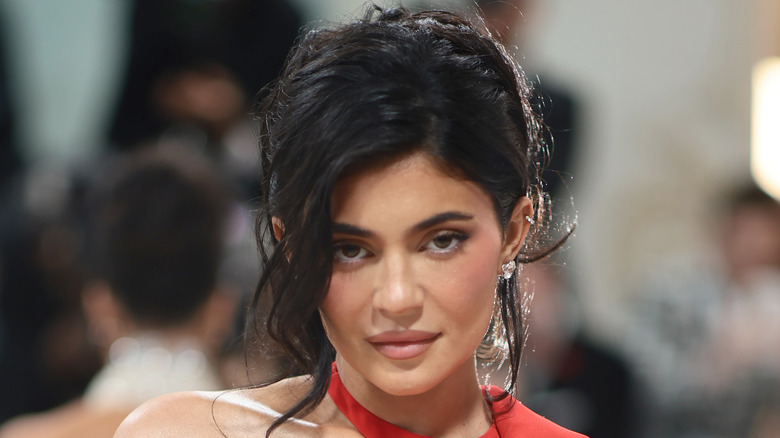 Dimitrios Kambouris/Getty Images
Kylie Jenner is another Kardashian who's publicly professed her love for McDonald's. Jenner took to Instagram to share her excitement about filming a McDonald's themed YouTube video collaboration with her sister, Kendall Jenner. During the shoot, the duo indulged in a night of drinking, naturally leading to a craving for some fast food. In her Instagram Stories, Jenner mentioned, "Honestly guys, I haven't been to McDonald's in a really long time. The last time I went to McDonald's was, like, two weeks before I had my daughter, so this is really big for me because I love McDonald's."
To satisfy her cravings, Jenner and her friend Maguire Grace Amundsen hit up a local McDonald's drive-through. Jenner specifically requested a 10-piece spicy chicken McNugget and asked the McDonald's employee for other recommendations. Their order also included cinnamon rolls, a Filet-O-Fish, and french fries, clearly showing Jenner's enthusiasm for enjoying a range of McDonald's menu items. Later in the evening, Jenner even gave a score of 10 out of 10 to some of the McDonald's items they had ordered. She rated the cinnamon rolls a bit lower at 9 out of 10, suggesting her discerning palate and enjoyment of the fast-food chain's treats. So, it's safe to say that Kylie Jenner is not only a successful entrepreneur and reality star but also a fan of McDonald's, just like many of us.
Mindy Kaling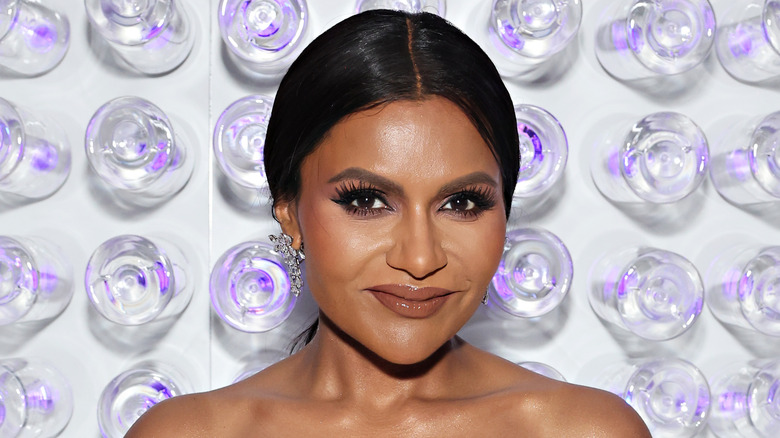 Cindy Ord/mg23/Getty Images
Mindy Kaling, the brilliant talent behind "The Mindy Project" and "The Office," is pretty much like us in more ways than we realize. Not only is she a talented comedian, writer, and actress, but she's also a self-professed fast-food junkie who isn't afraid to indulge in some McDonald's treats. During "The Mindy Project" season 3 wrap party, Kaling surprised her crew and cast with a McDonald's feast that included Happy Meals, Shamrock Shakes, and of course, Big Macs. The "Junk Food Queen" has also shared her fondness for the chain on social media, and she's not afraid to show it off! But, it's not just about indulging in the fast-food giant's delicacies; Kaling's generosity knows no bounds, as evident in her propitious treat to her team.
In an exclusive interview with Mashed, Kaling dished all the secrets of her love for McDonald's. While she loves everything on the menu, she hilariously quipped, "I like McDonald's because they've done a lot to make healthy options for people if they want, like salads and whatever, but I don't eat those." While she's probably the most outspoken fan on our list, she stays humble. In 2017, Kaling teamed up with McDonald's in an ad where she never said their name. At the time, she tweeted, "I partnered with a brand w/o being able to say the name of the brand. Is that normal? If so, can I be paid in fries?" If only.
Katy Perry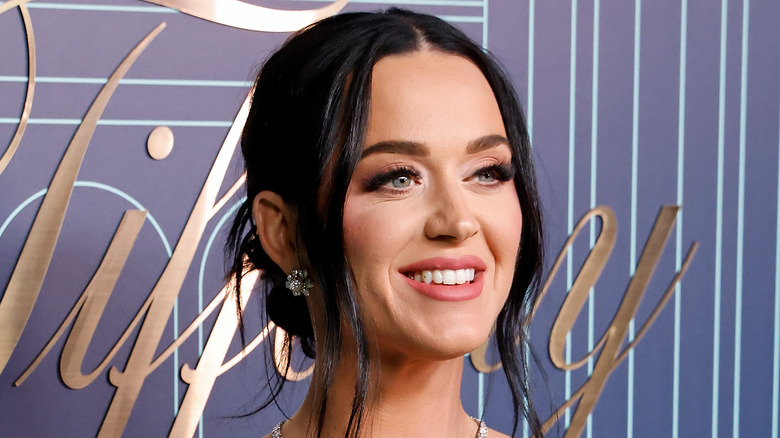 Taylor Hill/Getty Images
It's not hard to see why Katy might love McDonald's. The singer has always been known for her bold and playful sense of style, so it makes sense that she would be drawn to the quirky, fun-loving vibe of the iconic fast-food chain. Plus, for someone who is always on the go and performing in different cities worldwide, McDonald's is a quick and convenient option for a tasty bite. In 2014, Katy Perry made heads turn when she arrived at a press conference in Tokyo wearing a McDonald's-inspired outfit. The singer rocked a red Moschino dress adorned with hearts and golden arches, paying tribute to the fast-food chain that so many of us know and love. But that's not the only time Katy has professed her love for McDonald's. 
After absolutely slaying her performance at Radio 1 Big Weekend in 2017, Katy Perry didn't waste a single second before satisfying her hunger cravings. The superstar made a beeline straight to McDonald's. While the exact location was shrouded in mystery, leaving fans to wonder which lucky McDonald's had the privilege of serving Katy Perry herself, we do know one thing. Katy loves her hamburgers and drinks from McDonald's. 
Rita Ora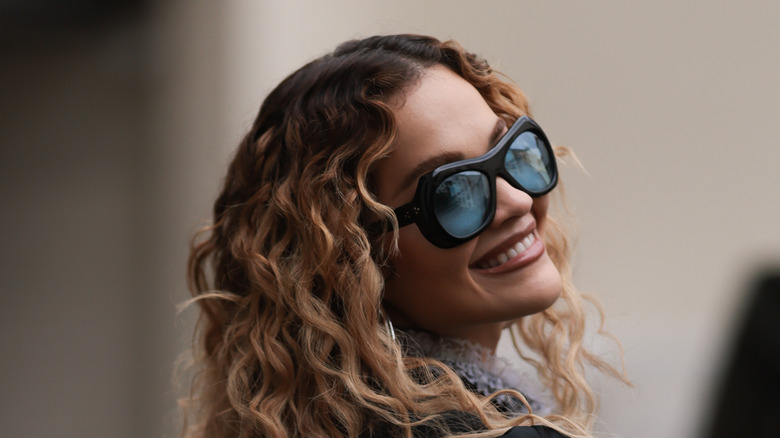 Jeremy Moeller/Getty Images
Rita Ora's affinity for McDonald's is no secret. When satisfying her fast-food cravings, Rita doesn't let fancy events or star-studded gatherings get in her way. For instance, while other celebrities were strutting down the red carpet during the BAFTAs, Rita opted for a different kind of indulgence. She decided to skip the glitz and glam in favor of a mouthwatering McDonald's feast. Who can resist the allure of a juicy Big Mac and piping hot fries? Her love for McDonald's doesn't stop there. In fact, she took her passion to the next level in 2014 when she boldly wore a fashion-forward McDonald's uniform-inspired outfit, turning heads and sparking conversations about her unique fashion choices.
It's also been reported that Rita Ora was spotted enjoying McDonald's in the back of a taxi after partying with friends Daisy Lowe and Nick Grimshaw. It seems that regardless of the occasion or company, Rita has no qualms about digging into one of her favorite guilty pleasures. She shows that even in the midst of glamour and fame, she can still embrace the simple joy of fast food. It's a reminder that sometimes, a delicious McDonald's meal is all you need to satisfy your cravings and make the most of any moment.
Usain Bolt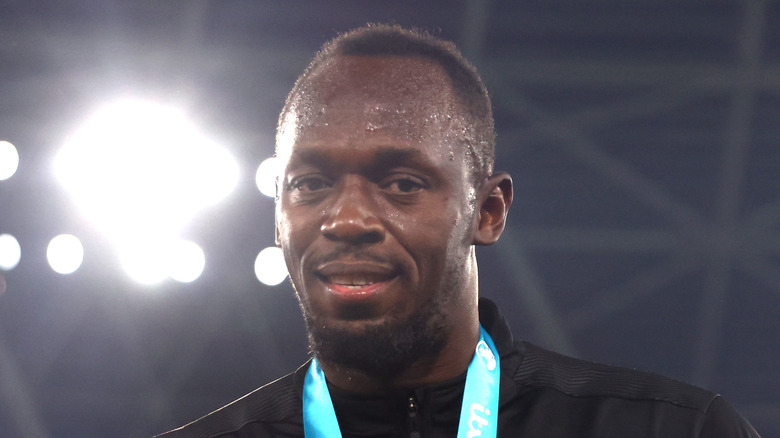 Alex Pantling/Getty Images
Usain Bolt is not only the fastest man on earth but also a big fan of the fast-food giant McDonald's. During the 2008 Beijing Olympics, Bolt's remarkable performance was fueled by an impressive amount of Chicken McNuggets — we're talking over 1,000 of them! In his autobiography, Bolt confessed to the world that his love for McNuggets started with a box of 20, but as he continued to train hard leading up to the Olympics, he found himself consuming up to 100 McNuggets per day! Additionally, he also indulged in fries and apple pies between meals to satisfy his appetite for McDonald's. Overall, if there's one thing we do know about Usain Bolt, his love for McDonald's chicken nuggets is real. Even in 2016, he was seen chowing down on some McNuggets following his triple-triple gold in 2016.
Worried about his health and obsession with McDonald's nuggets? Don't fret! According to a nutritionist in conversation with Telegraph, Usain Bolt's seemingly unusual diet during the Olympics may not have been as detrimental to his performance as it appears. Fulham FC nutritionist and Essential Nutrition founder, Caroline Farrell, explained that while deep-fried food like chicken nuggets is not the ideal source of protein for athletes, it does provide a significant amount of protein.
Cardi B & Offset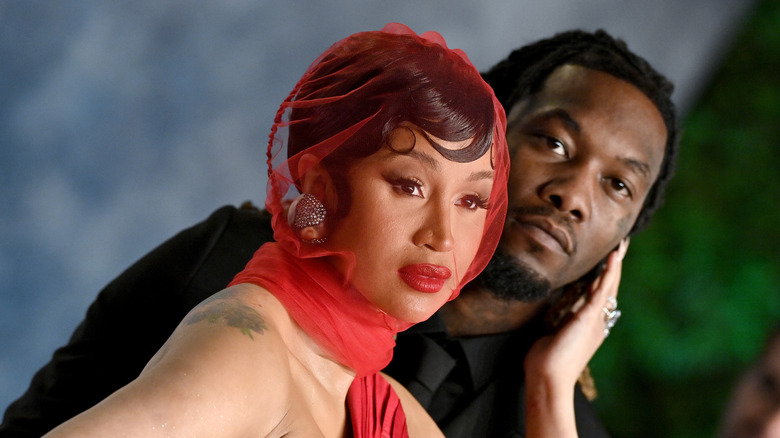 Axelle/bauer-griffin/Getty Images
When it comes to McDonald's, Cardi B and Offset are not only chart-topping musicians but also avid fans of the fast-food giant. The power couple took center stage in a McDonald's ad promoting a special meal they designed. As the ad unfolds, Cardi B and Offset share their personal favorite McDonald's meals. Cardi B's go-to order features a mouth-watering cheeseburger topped with tangy BBQ sauce and a refreshing large Coca-Cola. Meanwhile, Offset's preferred choice is the classic Quarter Pounder with Cheese, paired with a large Hi-C Orange Lavaburst drink. Of course, no McDonald's experience is complete without a generous serving of their famous golden fries and a scrumptious hot apple pie.
Cardi B, known for her charismatic personality, expressed her excitement about the collaboration, stating, "Whether it's going for a date night or grabbing a bite after late-night studio sessions... I'm always asking Offset to take me to McDonald's. And now, Offset and I have a meal named after us! I want all my fans to try it — especially with that BBQ sauce." McDonald's has garnered tremendous success by partnering with popular musicians and artists to curate celebrity meals, and Cardi B and Offset have certainly made their mark with this special collaboration. Their status as influential figures in the music industry adds a unique touch to the McDonald's experience, enticing fans and food lovers alike.