14 Ways To Upgrade Cream Of Mushroom Soup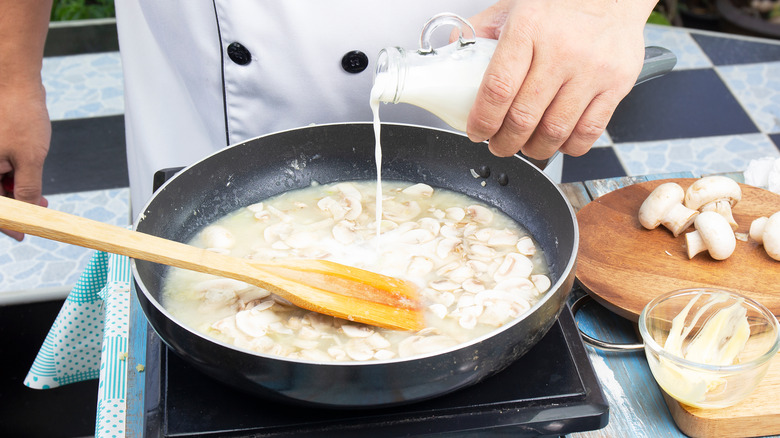 kungverylucky/Shutterstock
A can of cream of mushroom soup makes for a convenient lunch, but homemade soup is an even better option and isn't a huge culinary challenge. Whether it's chunky and rustic or blitzed into smooth perfection, it promises a comfort-food bowl for lunch or supper. To make cream of mushroom soup, you really don't need many ingredients. Tweaks here and there to recipes can seriously enhance the flavor, taking an everyday-style soup to a gourmet level. Small changes count, such as the type of mushrooms you add to the way you cook them, and some clever ingredient extras can also elevate your efforts. If you want, you can deepen the mushroom flavor and give the soup a creamier taste and texture. 
Here are a few ways to upgrade cream of mushroom soup, and some of them are real game changers. Why not try them all individually or combine them and create your own unique recipe?
1. Use heavy cream or whipping cream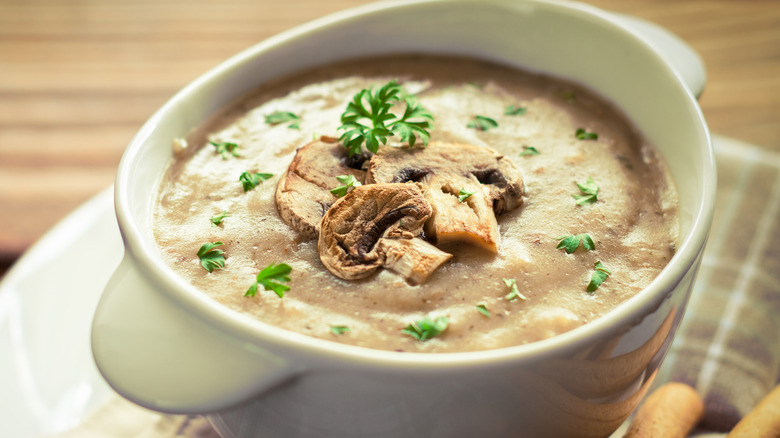 Kajakiki/Getty Images
One ingredient can make baby bella mushroom soup deliciously decadent – heavy cream. A bowl of sautéed mushrooms in an herby vegetable broth is given a luxurious upgrade with a cup of heavy cream stirred into the pan once it's off the heat. If you're feeling alarmed at the indulgence, then you could add a cup of whole milk instead. Whipping cream has a slightly lower fat content than heavy cream and is also added to mushroom soups to give them a creamy taste. Be wary of swapping out cream for half-and-half or low-fat milk, however. Not only will you lose the richness of the flavor, but these ingredients aren't as resilient to heat in the same way. You may end up with a grainy, milky consistency rather than a velvety, smooth one. Instead of downgrading your soup, maybe serve smaller portions. 
There is another option if you really don't want to add high-fat cream. Combine a little cornstarch with some milk or regular cream before mixing it into your soup. It can turn a watery mushroom soup into a thicker, creamier soup. If you're making a wild mushroom soup you can add potatoes and less heavy cream and you'll get the same silky consistency. Then, you can add runny crème fraîche for a creamy, sour finish.
2. Boost the flavor with porcini mushrooms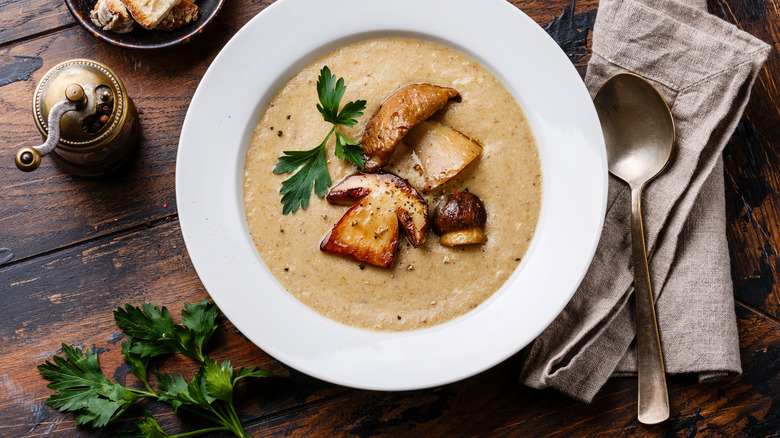 Natalia Lisovskaya/Shutterstock
There's nothing wrong with button mushrooms, but if you want to elevate the earthy intensity of cream of mushroom soup, then upgrade the mushrooms you're using. Make a creamy soup with porcini mushrooms, and a simple bowl of soup is transformed into a five-star dish that's bold yet delicate with nutty notes. This variety of mushrooms is known as a cep. If you can't find fresh porcini mushrooms, or they are a little on the expensive side, then source some dried ones. They don't lose any of the taste or nutrition when dried. Just know that a serving of dried mushrooms is equivalent to 10 times the quantity of fresh mushrooms.
You've got the option of upgrading a sage and walnut mushroom soup by adding some dried porcini mushrooms. You can also use dried porcini powder for an extraordinary flavor boost. For an umami-rich cream of mushroom soup made with white mushrooms, add some rehydrated porcini mushrooms that you've soaked in boiling water. Up the sensational savory taste by adding tamari soy sauce and white miso paste to the broth. What brings all the ingredients together is blending them to create a smoother consistency. Add the heavy cream and let the mix simmer for 10 minutes so it permeates the flavors of the porcini mushrooms.
3. Combine different mushrooms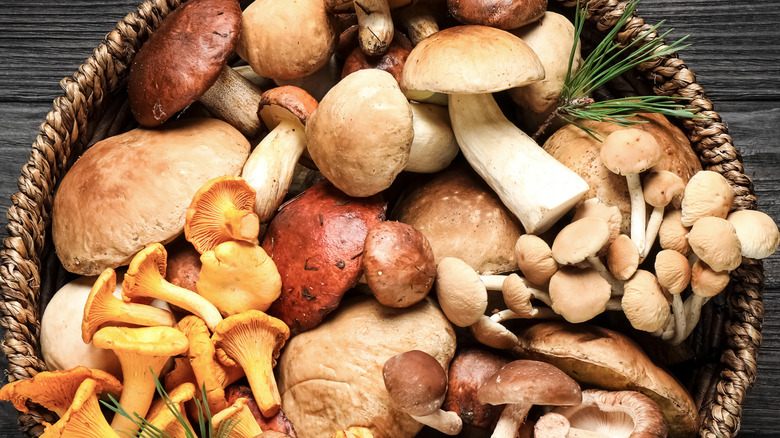 New Africa/Shutterstock
Blending mushroom soup not only makes the consistency wonderfully silky, but it boosts the flavor. Naturally, what also makes a big difference is not how you make the soup, but also what mushrooms you make it with. There are a rich variety of mushrooms to choose from, each with its own unique flavor. For example, Swiss Brown mushrooms give soup a more mushroomy taste compared to the white mushrooms that you might see in abundance at the store. Swiss Browns also darken the color of the soup. Using both these mushrooms intensifies the flavor without making the creaminess of the soup look dark and unappealing. 
Cremini or baby bella mushrooms are robust enough for soup and have a stronger flavor than white mushrooms, too. Portobello mushrooms are larger, and you may see them at the store without their stems. They are actually the same mushroom as cremini and white mushrooms but have matured for longer. Their appeal is their meaty taste and texture that gives cream of mushroom soup a richer taste. Another great-tasting mushroom to use to make a wild mushroom soup is shiitake. This variety promises a woody flavor that stands out in all its umami glory. You could try making a soup with dried wild mushrooms that you rehydrate and use along with the water they are soaked in, then add some fresh mushrooms to put it over the top. 
4. Top with croutons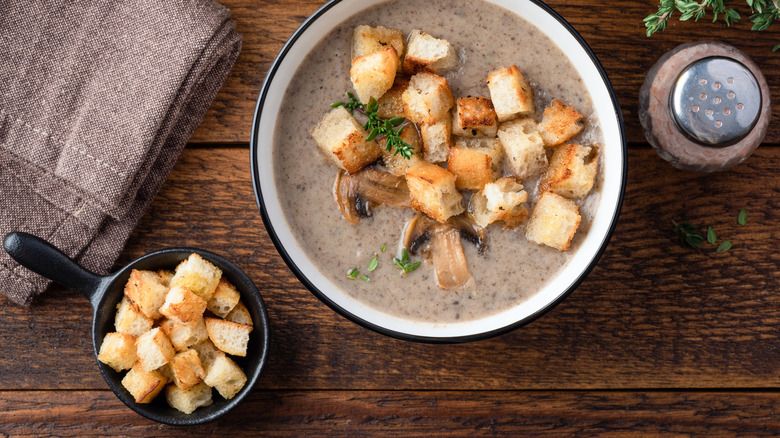 Vladislav Noseek/Shutterstock
 Crunchy cubes of carby croutons are an upgrade to the most flavorful cream of mushroom soup. With a generous spoonful of croutons on top, there's no need to bulk up on bread. If you're serving a creamy mushroom soup at a dinner party, then toasted croutons are a splendid alternative to bread rolls. They look great and are easy to make your own homemade croutons. 
All you need is some French bread, as well as olive oil and seasonings. Hand-torn bread gives your soup a rustic look, but if you prefer, you can cut the loaf into neat, uniform squares for a more sophisticated finish. Bake the croutons in the oven, and season with salt and pepper. You can also add other flavorful ingredients such as Parmesan cheese. Rosemary, basil, cayenne pepper, and paprika all make ideal seasonings. Instead of garlic powder, you can grate fresh garlic into olive oil and toss the crustless cubes of soft bread in this mixture before cooking them in the oven. Add parsley to olive oil in a pan with some butter. Sauté the croutons in the herby pan and spoon onto bowls of cream of mushroom soup when they crisp up.
5. Drizzle with infused oil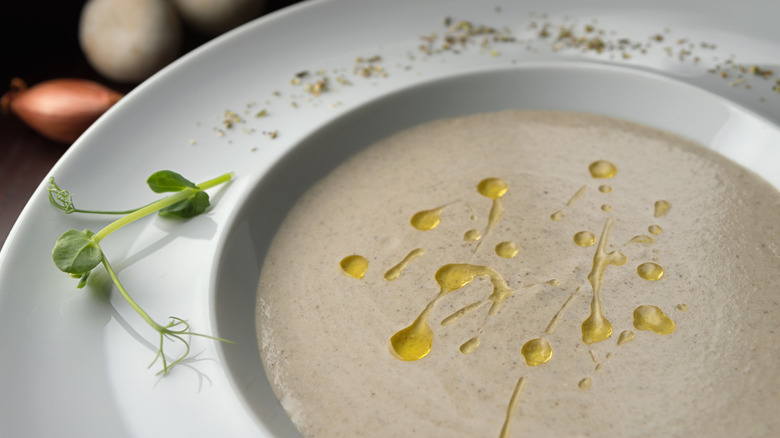 Kirienko Oleg/Shutterstock
A soup served without any creative flair to finish can look a little bland, no matter how tasty it is. A simple way to make a down-to-earth soup look fancy is with a drizzle of olive oil across the surface, added just before serving. It looks artistic and makes you want to plunge a soup spoon in and mix it in. Upgrade your cream of mushroom soup by using a store-bought or homemade infused oil and you'll never want to serve another bowl without it.
Perk up the earthiness of mushrooms and the plainness of cream with a heat-inducing chili oil. The swirl of red oil looks vibrant against the soup, and it adds a nice little kick without being overpowering. You can make your own spicy oil by adding crushed chili peppers and whole ones to hot olive oil and leaving it to sit for a couple of hours at least. Either strain or skim off the oil without the chili bits before drizzling on the soup. For a gourmet touch that elevates umami into another flavor stratosphere, swirl cream of mushroom soup with black truffle-infused olive oil. Truffles are so irresistible and add a magnificent muskiness. Rather than make your own, you might find it easier to treat yourself to a bottle of truffle olive oil instead. Garlic-infused olive oil is tremendous, too. 
6. Add some meat
There are lots of meaty dishes that include mushrooms in the list of ingredients — for example, beef stroganoff. And a splendid way to upgrade cream of mushroom soup is by adding some meat. You can make a traditional turkey barley mushroom soup with shredded, cooked meat, and add this to a soup made with cremini and dried mushrooms. Although there isn't cream in every mushroom soup recipe, it's often added at the end to create a creamy taste. 
Here's a suggestion — add any type of cooked meat leftovers, such as chicken, to creamy mushroom soup. You can make this even easier by eating a store-bought rotisserie chicken and using any meat that's left over to make a soup. You can also cook raw meat like bite-size pieces of chicken thighs in soup, too. Fry these in a stockpot until they are seared before adding thinly sliced cremini mushrooms and some chicken broth. You can also make it with chicken breast, and this can be pre-cooked if you prefer. 
7. Use herbs
If you're a whiz in the kitchen, you've probably got a pretty good selection of dried herbs. And you may have your own home-grown fresh herbs, too, especially if you have a windowsill herb garden. If you've ever tasted herby mushrooms on toast, then you'll already know how adding the right herb to a cream of mushroom soup can enhance the flavor and turn it into a fragrant bowl of yumminess. Herbs elevate the taste of mushrooms and varieties that pair well with herbs include thyme, parsley, and tarragon. Try topping mushroom soup with foaming brown butter and a few crispy sage leaves cooked in the butter to give nutty, peppery, almost-citrusy notes. 
For a superb homemade cream of mushroom soup, sauté mushrooms with garlic, shallot, and fresh thyme. Then, top the soup with some chopped parsley for a flash of brilliant green and a fresh, herby finish. Upgrading soup doesn't have to be complicated — all you really need are fresh herbs. Rosemary, for example, doesn't only pair with lamb — it boosts the flavor of mushroom soup, too. Fresh or dried oregano and basil bring Italian flair to soup-making. Add a small amount of herbs to start and build from there to get the balance just right. If you use sprigs of thyme, take these out of the soup upon serving, as they are too woody to eat. Cilantro and chives are mushroom-soup-friendly, too.
8. Give it a taste of garlic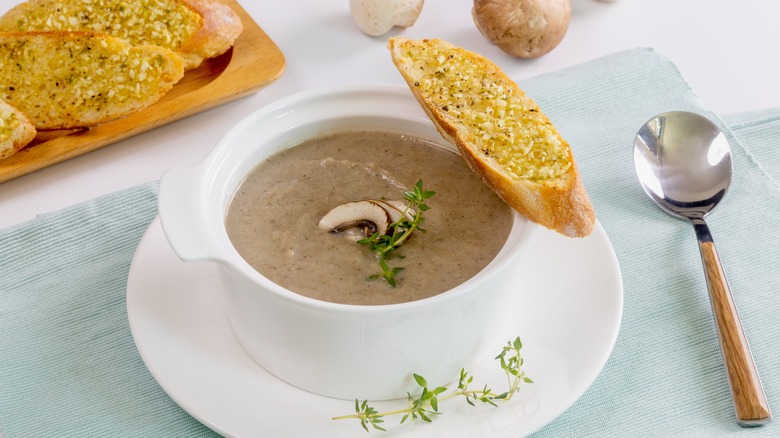 Jaded Art/Shutterstock
Is there any savory dish that doesn't benefit from garlic? It's truly a flavor bomb and it pairs perfectly with mushrooms. Can you even imagine sautéed mushrooms without garlic? Of course not. It's not a big stretch to recognize that cloves of pungent, spicy, and often sweet-tasting garlic can easily improve cream of mushroom soup. Talk about an easy upgrade. Who doesn't have garlic bulbs if they love cooking? 
Plenty of mushroom soup recipes include garlic as it's a must-have flavor enhancer. However, by upping the amount you use you can highlight the taste and turn a cream of mushroom soup into a creamy garlic and mushroom soup instead. Garlic can taste a little bitter if it is fried or cooked in a certain way. If you want some garlicky sweetness, then roast the cloves without peeling first. Another option is to add the cloves to the mushroom soup whilst you're making it and keep them whole and unpeeled to bring out that sweet flavor. 
9. Bring some heat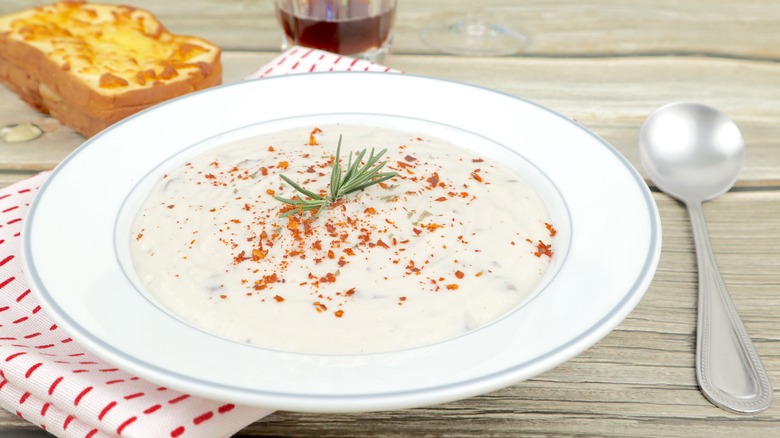 Mr.APotter/Shutterstock
Cream of mushroom soup isn't renowned as being a spicy soup. You might add mushrooms when following a vegetarian hot and sour soup recipe. And you'll certainly throw them into the pot if you're making a Thai-style tom yum soup. Why not upgrade your cream of mushroom soup with a flash of heat as well? It might not seem like the most obvious change to make, but if chili oil makes sense to swirl on the top, then why not some spices, too? 
You can taste the spiciness of cayenne pepper when it's added to the creamy flavors of a mushroom soup. Though you might want to be a little restrained when adding it if you want to bring just a little heat, as opposed to a mighty kick. Paprika is less intense, and you can choose between a hot version or a sweet or smoked one. While you might add cayenne pepper to a soup, you can also sprinkle some on the top of a serving or use paprika to finish instead. Chili powder can range from adding some warmth to your soup to bringing the spicy heat levels way up. And chili flakes are another ingredient that's easy to source and use in soups. Cumin and black pepper can give cream of mushroom soup a subtle spiced taste, too. 
10. Make it with some alcohol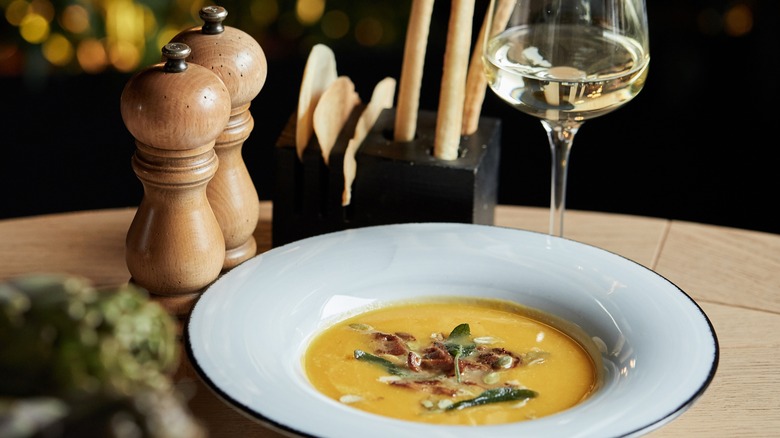 false/Shutterstock
Cooking with alcohol is a great way to upgrade many dishes, including soup. However, it's good to know that the alcohol content doesn't burn off as quickly as you might imagine. But you do get lots of flavor, which complements the woody, earthy notes of cream of mushroom soup. And if you're only using a small amount of alcohol, it's not going to end up being a boozy bowl. For example, you can add just a ⅓ of a cup of Marsala wine – a fortified wine from Sicily — to a pound of mushrooms. Once you've sautéed mushrooms, garlic, shallot, and fresh thyme in olive oil you can add flour to thicken up the soup. This is the stage where you add the Marsala wine and 12 times as much chicken stock before simmering for 10 minutes. The cream goes in right at the end. 
You can also use white wine or dry sherry to make cream of mushroom soup, adding more alcohol. If you add a cup of alcohol, then the rest of the soupy liquid can be made up of the same amount of milk and four cups of chicken stock, plus a ⅓ of a cup of cream. For a richer taste, turn cream of mushroom soup into bourguignon. This denotes a dish that's been made with red wine, onions, and mushrooms. It's traditional to use a Burgundy wine as it isn't too heavy. Add sliced onions to the creamy soup and garnish with pearl onions.
11. Serve with toasted bread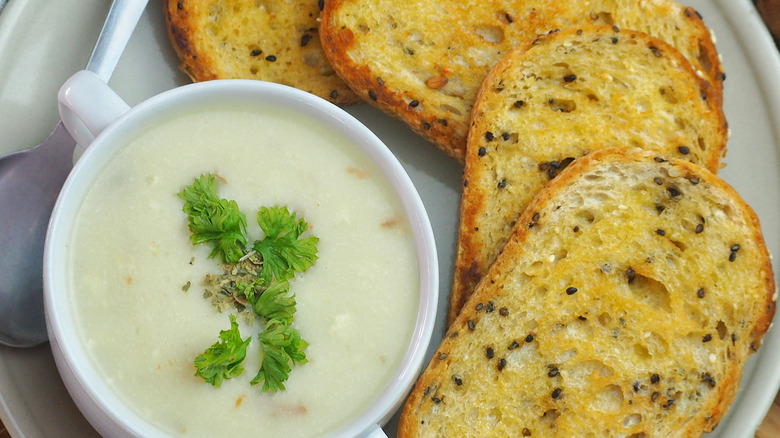 abamjiwa al-hadi/Shutterstock
If the reason you really love soup is so that you can dip a hunk of crusty bread into it, then that's totally understandable. Rather than serving cream of mushroom soup with a couple of boring buttered slices, upgrade it with some flavorful toasted bread. It's a simple way that you can transform your soup without you having to do anything to it. Make a Hasselback-style garlic baguette by cutting without separating the slices. Spread garlic butter with grated Gruyère and Parmesan, plus some chopped parsley. When you rip apart the bread, the melted butter will have soaked into both sides of each slice so it's ridiculously good. 
Or what about a cheesy garlic ciabatta with Parmesan and mozzarella? Or broiled slices of a loaf brushed with olive oil and grated Parmesan and paprika all stuck under the broiler again? Blue cheese toasts are amazing, too. Mix the blue cheese with butter and broil on toasted bread. These are great additions to the soup as large, cheesy croutons.
12. Roast mushrooms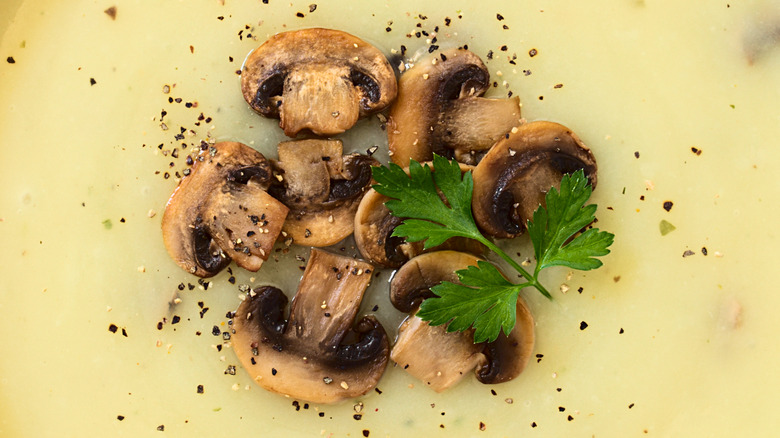 Ildi Papp/Shutterstock
When you roast veggies, it adds a whole other dimension to the flavor. And when you roast mushrooms, it creates a deeper, richer taste, too. Not only that, but roasting brings out the sweetness and a lot of the savory saltiness that's locked in. Used in a cream of mushroom soup, roasted mushrooms add a tremendous umami taste that you're not going to get from lightly frying. Other flavor notes you get from roasted mushrooms are a nuttier taste and even a buttery essence. 
Don't just bung mushrooms on a baking tray in the oven. Instead, cover them with olive oil and add some minced garlic and chopped rosemary so that they are roasting with lots of other flavors. Drizzle on a final glug of oil before roasting them until they brown. You might want to save a few cooked mushrooms to slice and add as an attractive garnish, especially after blending the creamy soup. You can sauté sliced mushrooms and serve these on the soup, even if you're roasting most of the mushrooms to make the soup.
13. Make a creamy vegan mushroom soup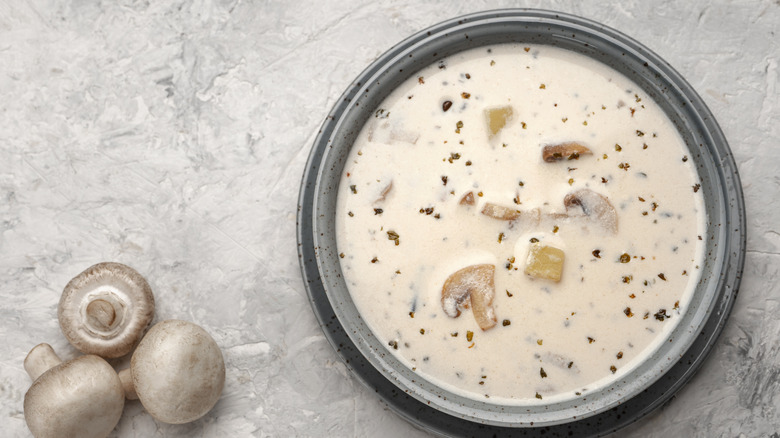 Roman Samsonov/Shutterstock
Cream of mushroom soup isn't usually a delight for you if you're vegan or follow a dairy-free diet. However, there's nothing stopping you from enjoying a creamy, mushroomy bowl of comforting soup if you swap out a few ingredients. In place of cream, you can use coconut milk instead, which can be wonderfully rich tasting. If you want to keep the calories down, then look for low-fat coconut milk. With the explosion of plant-based foods and ingredients, you can also find vegan cream in stores and there are lots of plant-based milk alternatives, such as oat milk. 
Almond milk and unsweetened soy milk can work in a cream of mushroom soup, too. And you can also make your own cashew milk. To do so, blitz cashew nuts in a blender with some vegetable stock. Once you've cooked your mushrooms, garlic, and onion, add in any herbs and white wine. Pour in some stock and bring to a boil before mixing in your blended nut milk.
14. Turn cream of mushroom soup into another dish
A transformational way to upgrade cream of mushroom soup is to turn it into another dish altogether. If you're looking for inspiration, then you could try making an easy chicken a la king. After frying sliced mushrooms, as well as onions and garlic, you actually add in a can of cream of mushroom soup, along with heavy cream and chicken broth. Leftover chicken, pimentos, and peas finish off this super simple soupy meal that's all made on your stovetop.
You can also follow a casserole recipe and make Nixon chicken. To do so, mix a can of mushroom soup with eggs, mayonnaise, and grated cheddar cheese, along with some shredded cooked chicken. Season and add to a greased casserole dish on top of a layer of steamed broccoli florets. The creamy mushroom sauce is perfect with a cheesy tang and some vibrant green vegetables.