The Secret Ingredient Snoop Dogg Uses In His Chicken Wings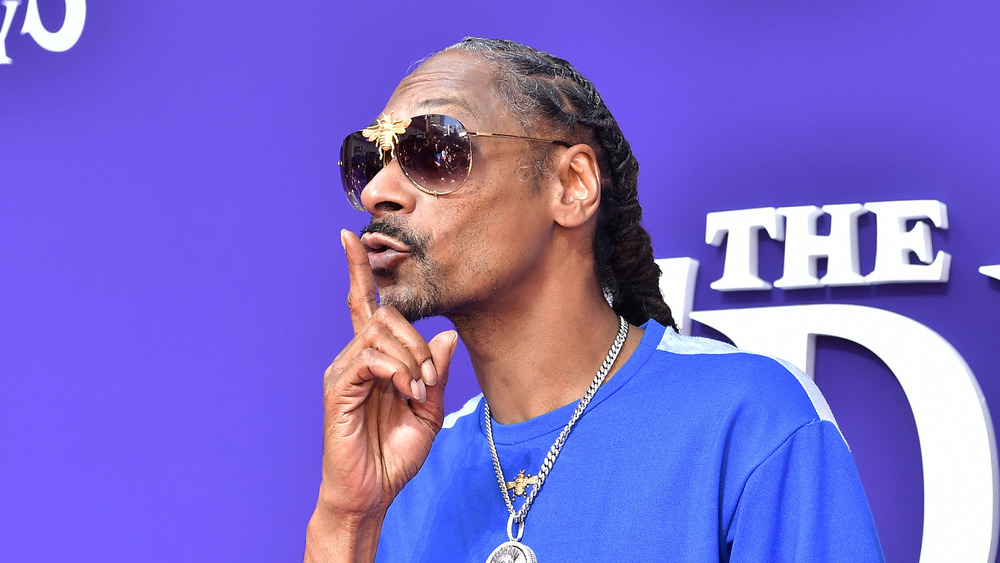 Emma Mcintyre/Getty Images
If Snoop Dogg isn't the first name that comes to mind when you're in search of a great chicken wing recipe, you're missing out. Snoop may be a high-ranking member of hip-hop royalty but he possesses some pretty impressive prowess in the kitchen, too. Fans will recall the uniquely entertaining 2016 cooking show, Martha and Snoop's Potluck Dinner Party, which Snoop co-hosted alongside domestic maven Martha Stewart. But, the Doggfather actually began honing his cooking chops long before the VH1 show came around.
In fact, Snoop Dogg and Martha Stewart first became friends in 2008 when Martha taught the rapper how to make mashed potatoes on The Martha Stewart Show (via YouTube). After all these years, Snoop is still in the kitchen and he even released a cookbook in 2018 titled, From Crook to Cook. That's where you'll find what Food52 called a "game-changing" recipe for chicken wings. What makes them so delicious? It all seems to come down to one special secret ingredient: potato chips.
Choose your potato chips carefully for Snoop Dogg's chicken wings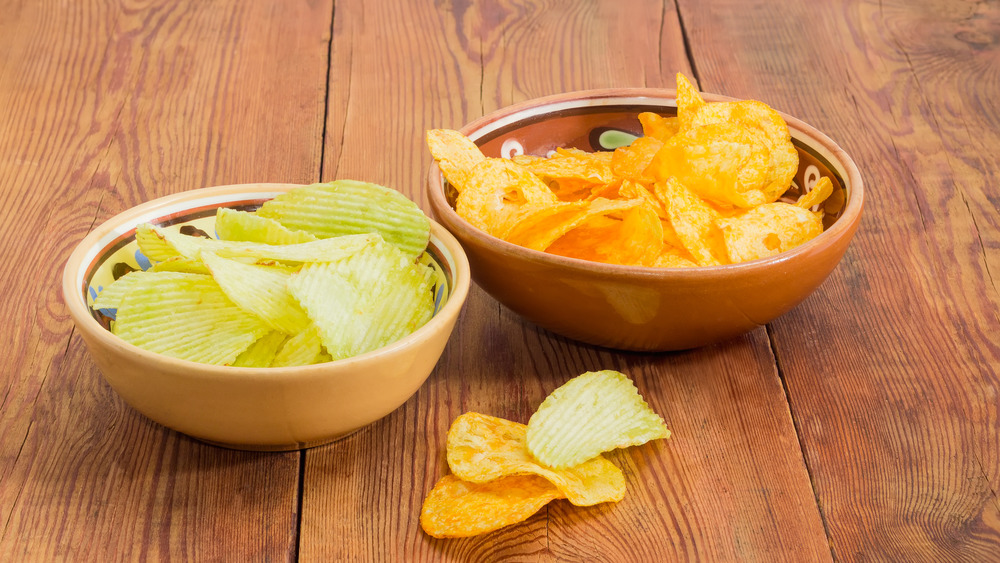 Shutterstock
With potato chips and wings being possibly two of the best remedies for the munchies, and Snoop Dogg being an enthusiastic cannabis advocate (per Haaretz), of course he would put these things together. Honestly, who doesn't love the idea of potato chip-crusted chicken wings though? If you want to try them for yourself, we'll tell you how to do it – just be prepared to fall in love. According to Food52 the recipe starts by brining the chicken in 1/3 cup of sugar and 1/3 cup of kosher salt which have been dissolved in five cups of boiling water along with one bay leaf, a teaspoon of red pepper flakes, and an orange peel. Let it cool, then submerge four pounds of wings in the brine and refrigerate it for ten to 24 hours.
You can put those hours of brining time to good use by pondering what flavor of potato chips you want for your breading. Food52 says Snoop Dogg calls for barbecue chips in his book and they highly recommend that choice. But, you could also try sour cream and onion or salt and vinegar chips, if that's your thing. We'd just suggest steering clear of anything too off-the-wall like salted caramel chips, but we wouldn't be mad at a Nashville hot chicken potato chip in this situation. Pick your favorite and make sure you have 1/4 cup's worth of crushed chips. Although, Food52 says you can add more, and we won't argue with that.
Fry your Snoop Dogg wings and know they're the best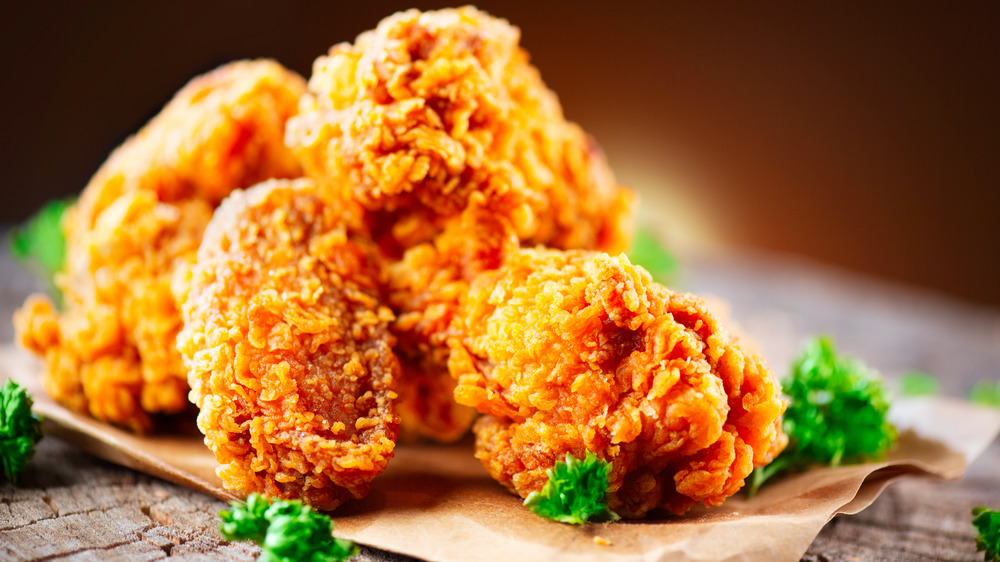 Shutterstock
You're well on your way to Snoop-approved chicken wings now. The next step is to remove the wings from the brine and pat them dry. Then, combine two cups of flour, 1/4 cup of cornmeal, at least 1/4 cup of crushed potato chips, two teaspoons of garlic powder, black pepper, and salt, plus one teaspoon of cayenne, and a 1/2 teaspoon of baking powder. Transfer that mixture to a shallow dish and place two cups of buttermilk in a separate shallow dish nearby.
Working with one wing at a time, dip them in the buttermilk, roll them in the flour/potato chip mixture, then place them on a wire rack. Let the wings dry on the rack for 20 to 30 minutes before frying. Meanwhile, heat one quart of canola oil to 350 degrees and, when you're ready, fry the wings in batches for eight to ten minutes. Once the wings are golden, transfer them to a clean wire rack and season them with salt.
According to Food52, you can serve these wings with hot sauce or even enjoy them over waffles, á la Snoop Dogg. But, we're sure they're perfectly delicious on their own. In fact, they might just be the best. In taste test on YouTube, Tasty pitted Snoop's wings against recipes from chef David Chang, Guy Fieri, Patti LaBelle, and Gordon Ramsay, and (spoiler alert) Snoop Dog's wings beat them all. Those potato chips really must make all the difference!