Instant Pot Snickerdoodle French Toast Casserole Recipe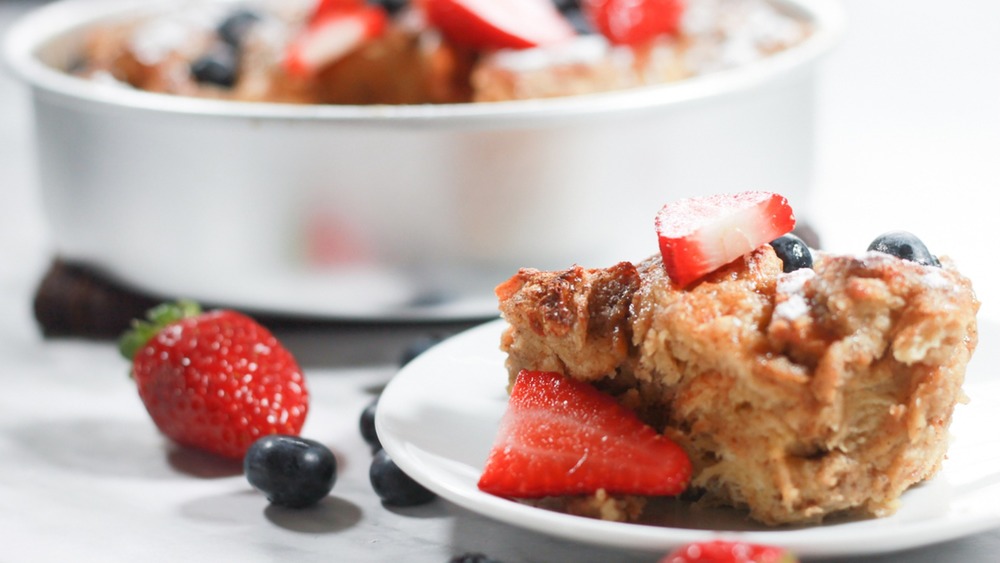 Mashed/MelissaOlivieri
Snickerdoodles, despite, or perhaps because of, the silly name, may just be the quintessential American cookie. They might have been one of the first recipes you ever learned to bake as a kid, but they're also the kind of cookie you'll happily scarf down as an adult, as well. But you know what's just as good, or maybe even better, than a fresh-baked snickerdoodle? French toast, perhaps the most comforting of comfort breakfasts. It's got eggs, it's got milk, it's got bread and butter and... oh, just so much yummy goodness.
Well, believe it or not, one amazing baker got the brilliant idea of marrying these two favorites, and then, as an additional stroke of genius, made this recipe something that could be whipped up with minimum effort in an Instant Pot. Courtesy of Melissa Olivieri, aka The Olive Blogger, we're excited to introduce what's bound to be your new favorite breakfast: Instant Pot snickerdoodle French toast casserole! 
Olivieri says "We love a good French toast in our house, especially for a weekend brunch," but since she wanted to make something a little different than the usual frying pan French toast, she came up with a recipe using what she notes is "everyone's favorite appliance." As to the flavoring, she told us "Snickerdoodles are one of my all time favorite (and super easy) Christmas cookies to bake and enjoy," so she came up with this recipe as an early holiday present you're sure to enjoy.
Cube and dry the bread for this French toast casserole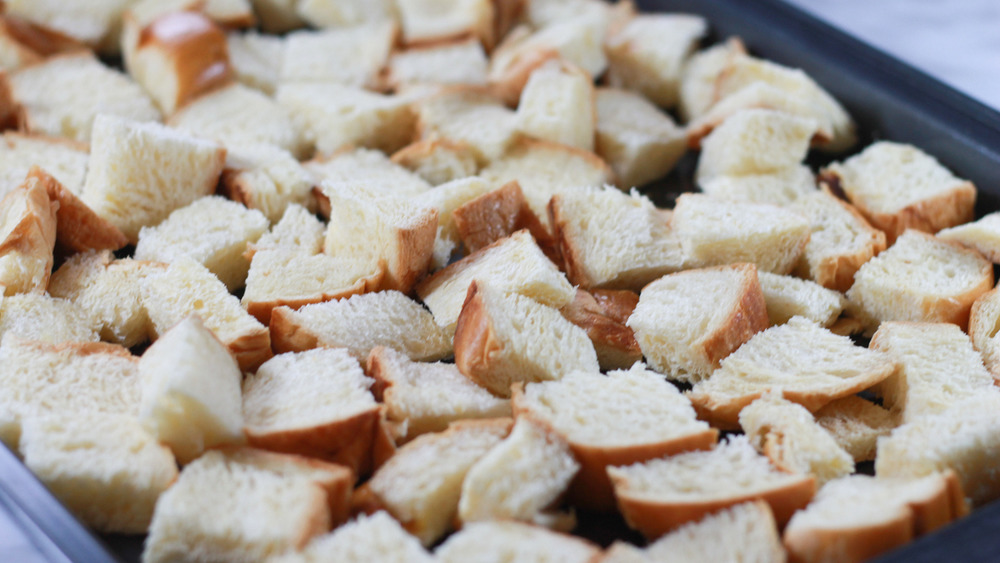 Mashed/MelissaOlivieri
You start off by preheating the oven, and then, as you're waiting for it to get to 350 degrees (doesn't that always seem to take forever?), you'll get the bread ready to cook. Don't try to use just any old bread, though. Such an epic French toast recipe calls for an epic French bread, that being the pricey-but-worth it brioche. Olivieri says "Brioche bread has a really nice sweetness to it and the texture is unmatched by a regular loaf of white bread," and adds that brioche "really gives this dish it's unique texture." She does say, though, that challah bread can also be used for very similar results.
This recipe calls for using an entire loaf of bread — Olivieri, who is Canadian, specifies a 400 gram one, which for us non-metric types translates to 14 ounces. Olivieri does say that "a one-pound loaf would work just fine," but notes that "you may want to add an additional egg to ensure your bread to wet ratio is good and you don't end up with a dry French toast casserole." Dice the brioche in cubes, then spread them out on a baking sheet and place in the preheated oven. Bake the bread crumbs for 15 minutes as this should allow them dry out. If you're a fan of prepping ahead of time, Olivieri allows that "alternatively you can cube the bread and leave it out on the tray overnight to become stale."
Mix up a snickerdoodle-flavored batter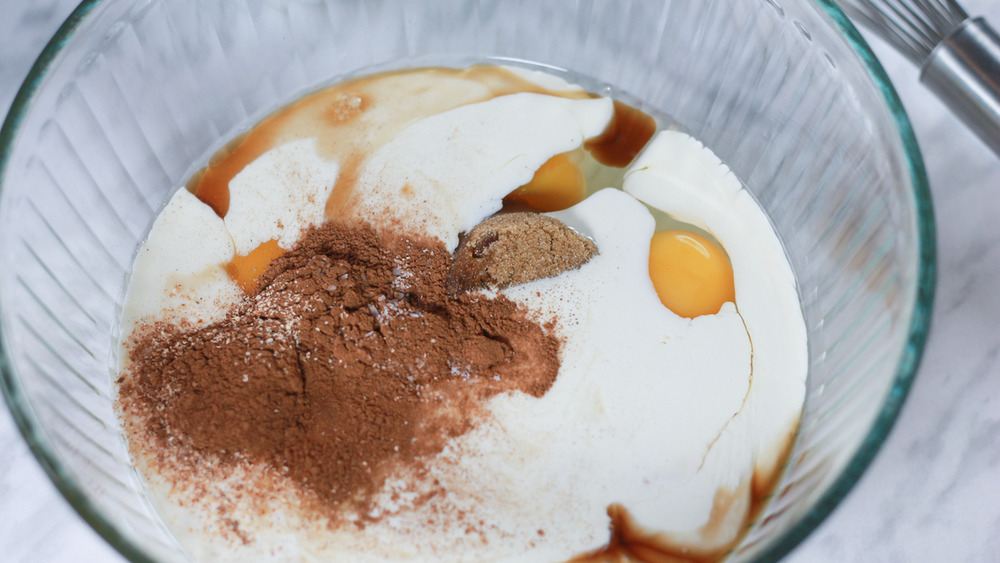 Mashed/MelissaOlivieri
Okay, so with the brioche bread we've covered the French part, and also the toast. The recipe's snickerdoodliness comes with it's flavoring: in order to achieve that classic cookie taste, the two spices you'll be using will be powdered cinnamon and nutmeg as well as a splash of vanilla. To make the batter, first whisk together the eggs, cream, sugar, vanilla, salt, cinnamon, and nutmeg in a large bowl. Then take your by now dried out brioche cubes and add them to the bowl. 
And no, you can't skip the bread-drying step. Olivieri explains that "dried bread is a MUST for a French toast casserole — otherwise you will end up with a soggy, eggy mess." Gently toss the cubes in the batter with a spoon or a spatula, making sure that each little cube is thoroughly coated with the egg mix. Olivieri says an even coating is necessary "so you don't end up with dry pockets or soggy pockets" in your casserole.
Assemble the French toast casserole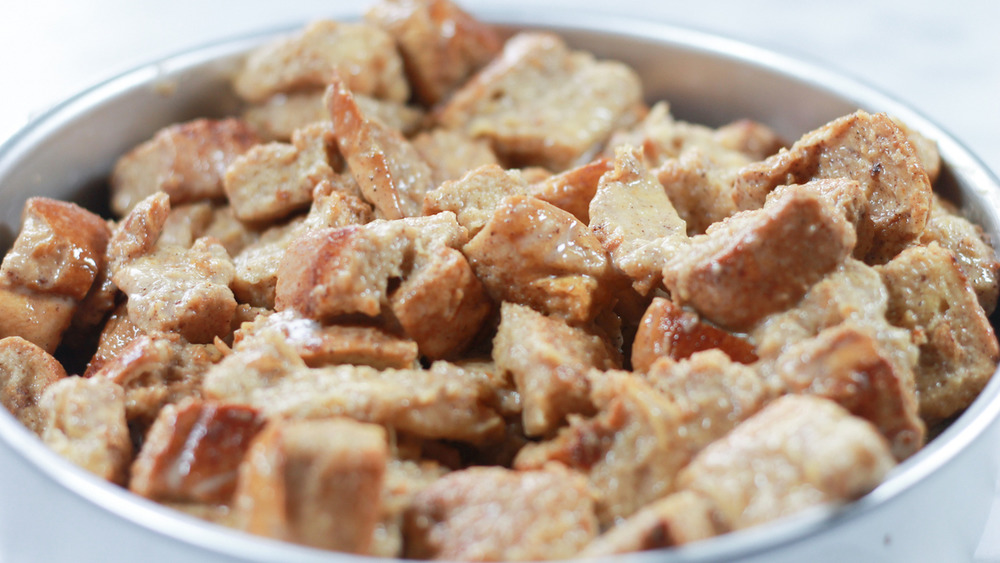 Mashed/MelissaOlivieri
Take an 8-inch round cake pan or baking dish and lightly grease it — but before you get started, double check to make sure it fits inside of your Instant Pot. Olivieri favors using butter or margarine to grease baking pans, saying "I find the sprays just don't do what I want them to." Pan-greasing is a step you can do before you mix up the batter, if you prefer, or do it just before you need it. Once the pan is greased, pour in the bread cubes and batter and spread them out into a nice even layer. Then take a big piece of aluminum foil and wrap the pan so it's tightly covered. The reason why the foil covering is necessary is, as Olivieri tells us, is because "any steam that gets into the casserole will cause it to become mushy from too much moisture."
Prepare the Instant Pot for the French toast casserole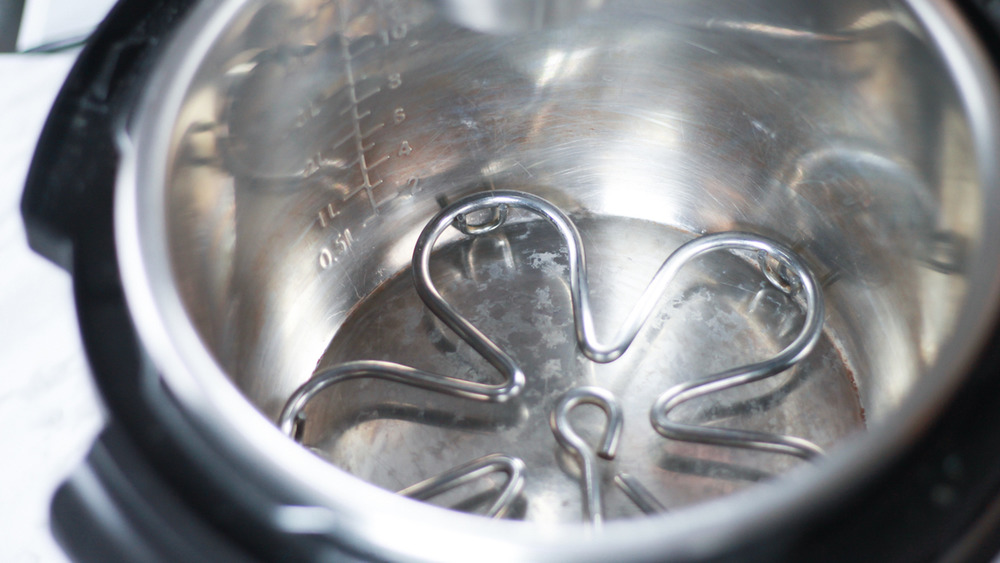 Mashed/MelissaOlivieri
If you happen to have a trivet for your Instant Pot, now's the time you're going to be able to put it to good use. Take your trivet, put it in the bottom of the pot, and then cover it with one cup of water. If you do not own a trivet, that's okay, no need to rush out and buy one — what kitchen stores are even going to be open before breakfast anyway? What you can do instead, Olivieri says, is to "simply ball up some foil and place it in the bottom" of your Instant Pot, then go ahead and add the water.
Cook the French toast casserole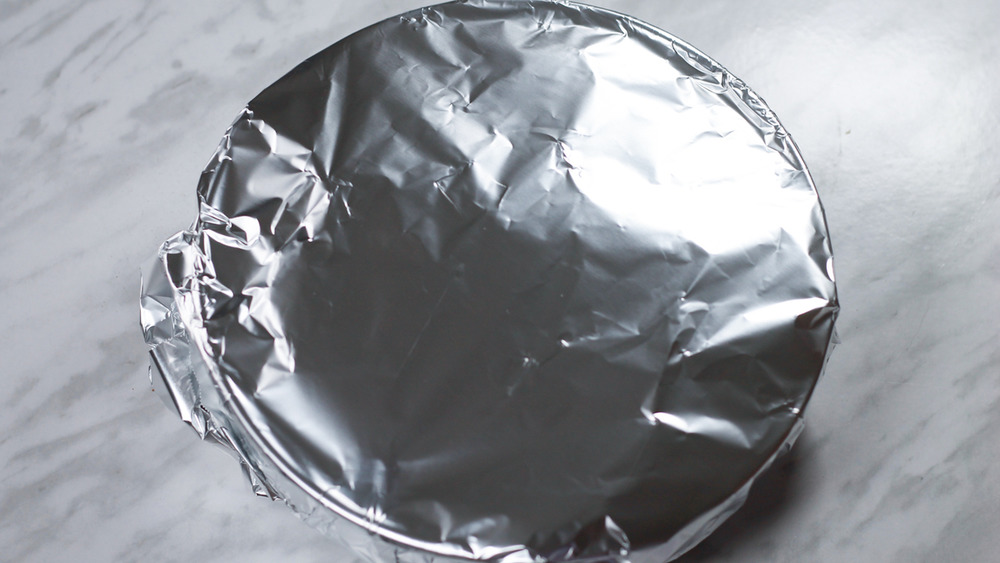 Mashed/MelissaOlivieri
Take your foil-covered pan of French toast casserole-to-be and place it inside the Instant Pot. Place the lid firmly on the pot and then double check to make sure it's tightly sealed. You'll also need to have the valve closed in order for the French toast to cook properly.
Set the Instant Pot to cook on high pressure for 30 minutes, then go off and find something to do. Put on a pot of coffee, maybe slice up some fruit, and dig out your prettiest plates since you'll soon be dishing up an oh-so-indulgent breakfast that's worthy of your finest china.
Take the pan out of the pot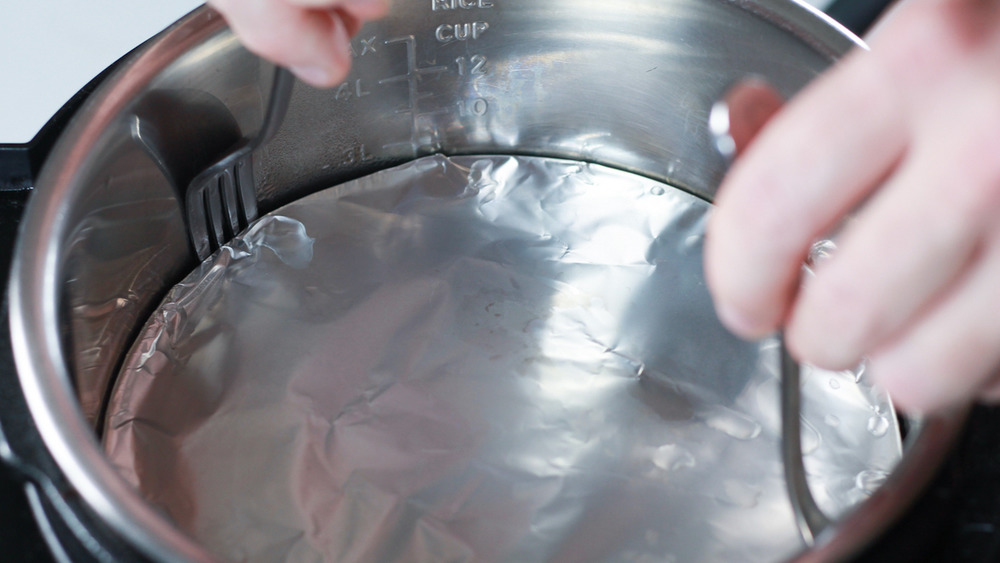 Mashed/MelissaOlivieri
Once the Instant Pot has finished its work and the cooking is done, it's time to let off a little steam. No, not you, the pot! Be very careful, though, since steam burns can be very painful. In order to stay safe, grab an oven mitt, put it on your hand, and use that to turn the Instant Pot's valve in order to do a quick release of steam. (You could also use the wooden spoon hack to keep from burning yourself.) Once all of the steam has dissipated, it should be safe to open the pot, but you should use two forks to lift up and remove the hot pan — unless, of course, your trivet comes equipped with handles. Place the pan on a heat-resistant surface such as a plate and gently peel back the foil.
Put the finishing touches on your snickerdoodle French toast casserole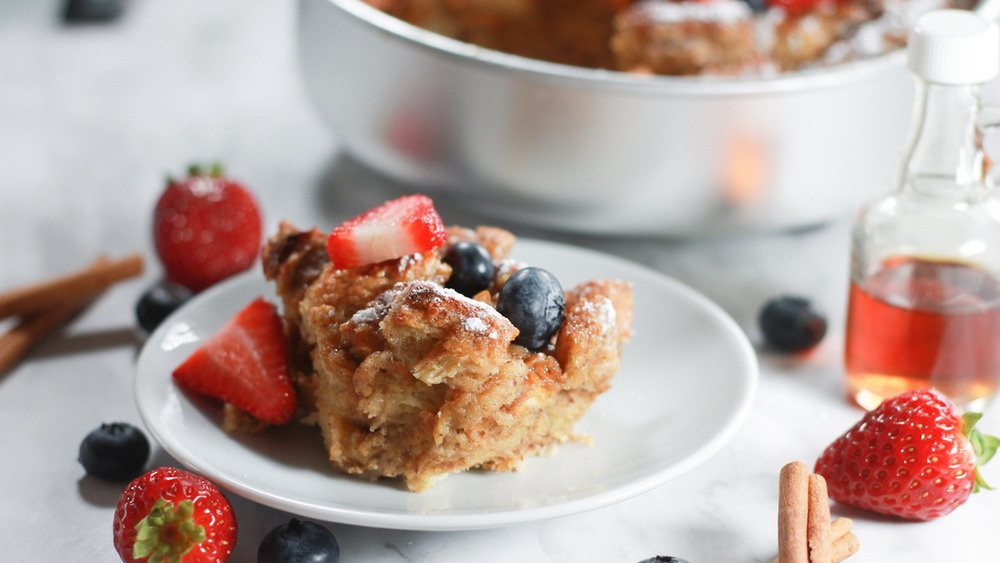 Mashed/MelissaOlivieri
Your work here is almost done and it's nearly time for the reward of a super-yummy morning treat. Olivieri says "at this point you can serve as is," but adds "what I prefer is to put it under a low broil in the oven for 5 minutes to get a nice crust on top before topping with powdered sugar, maple syrup and fresh berries!"
As for leftovers, should there be any (Olivieri says this French toast casserole should serve 4 to 6, but your mileage may vary), you can safely store them in the fridge for up to two days. Olivieri notes that leftover snickerdoodle French toast is "just as tasty reheated!"
You can also cook this French toast casserole in the oven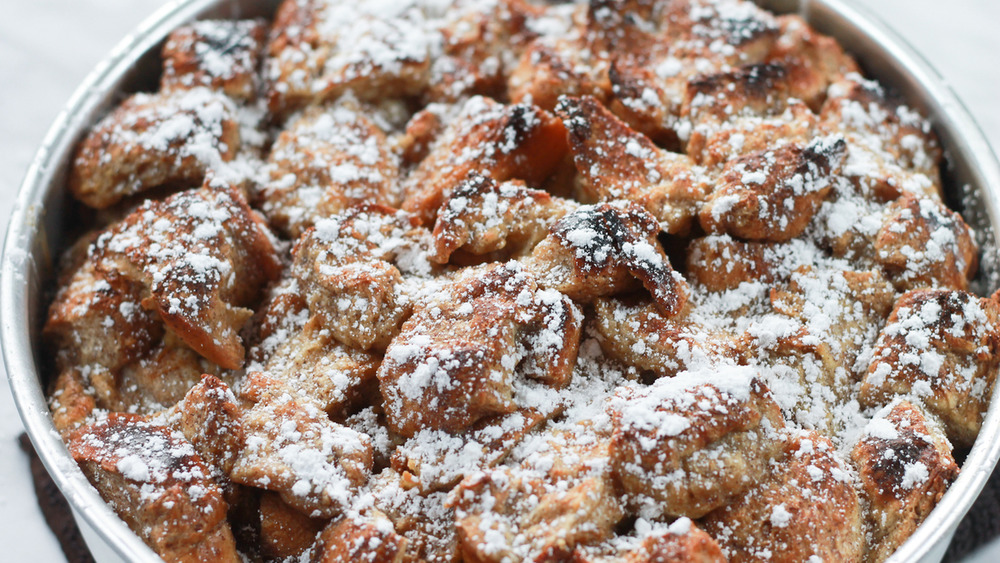 Mashed/MelissaOlivieri
If you don't have an Instant Pot but you still want to experience the amazingness that is snickerdoodle-flavored French toast casserole, you're in luck, since Olivieri says "You can definitely cook this in the oven!" She advises setting the oven temperature to 350 degrees and says to still cover the casserole with foil and bake it for 30 minutes. 
At this point, you can remove the foil and put the pan back in the oven to cook for another 5 to 10 minutes, as this will help the top to crisp up a bit. If you're using an oblong casserole pan rather than an 8-inch round pan, Olivieri cautions that you may need to keep an eye on the cooking time. If the bread mixture is spread out in a thinner layer, it won't need as much time to cook.
Instant Pot Snickerdoodle French Toast Casserole Recipe
French toast is perhaps the most comforting of breakfasts. We put created this French toast casserole that you can bake in the Instant Pot.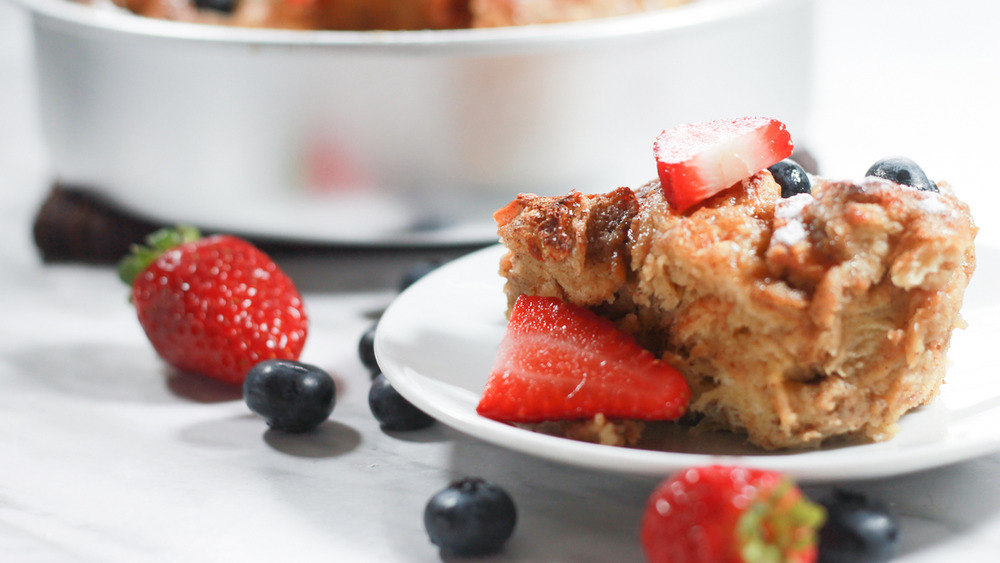 Ingredients
1 loaf brioche bread (400 grams or 14 to 16 ounces)
1 ¼ cup heavy cream
6 large eggs
¼ cup lightly-packed brown sugar
2 teaspoons vanilla extract
1 ½ tablespoons ground cinnamon
¼ teaspoon ground nutmeg
Pinch of salt
Optional Ingredients
Maple syrup, powdered sugar, or fresh berries (for topping)
Directions
Preheat oven to 350 Fahrenheit. Cube brioche bread and spread out onto baking sheet, place in oven for 15 minutes to dry out the bread. (Alternatively, cube the bread and leave it out on the tray overnight to become stale.)
Lightly grease an 8" round cake pan or baking dish and set aside.
In a large bowl whisk together eggs, cream, sugar, vanilla, cinnamon, nutmeg, and salt until well mixed.
Add cubed brioche bread and toss with a spatula or spoon to coat each piece.
Pour into prepared pan and tightly cover with foil.
Place trivet in bottom of Instant Pot. (If you don't have a trivet, ball up some foil and place it in the bottom.) Cover with 1 cup water.
Put foil covered pan into the Instant Pot. Place lid on pot and ensure it is well-sealed and the valve is closed.
Set Instant Pot to cook with high pressure for 30 minutes.
When the Instant Pot is finished cooking, carefully open the valve to release the steam. Remove the pan using two forks and peel back the foil.
Serve as is or broil in the oven for 5 minutes until a crust forms. If desired, top with powdered sugar, maple syrup, and/or fresh berries.
Any leftovers can be stored in the fridge for two days.
Nutrition
| | |
| --- | --- |
| Calories per Serving | 504 |
| Total Fat | 28.0 g |
| Saturated Fat | 14.3 g |
| Trans Fat | 0.0 g |
| Cholesterol | 294.7 mg |
| | |
| --- | --- |
| Total Carbohydrates | 47.7 g |
| Dietary Fiber | 2.9 g |
| Total Sugars | 9.1 g |
| Sodium | 420.4 mg |
| Protein | 15.0 g |