This Is Aldi's Worst Summer Chocolate Flavor, According To Reddit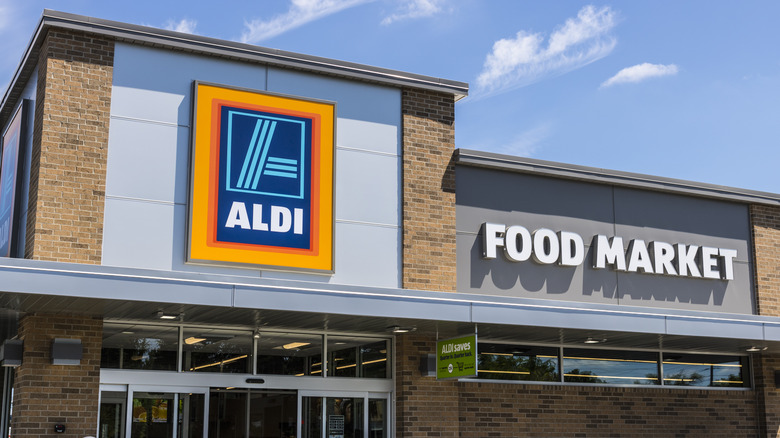 Shutterstock
Aldi, being Aldi, is very big on seasonal stuff. They love themes of all kinds, such as their twice-yearly "German Weeks" that celebrate their European origins, but when it comes to holidays, that's when they really go all out. Over the past year, they've released Easter egg-shaped cheeses, spooky Halloween coffees, and off-the-wall Thanksgiving dinner-flavored chips. Of course, the biggest, or at least longest, holiday season of the year is the one known as "summer." People in California and Florida may not get it, but anyone who lives in a colder climate (such as Aldi's native Germany) knows it's true: Each and every warm day is one worth celebrating since it won't be long before winter once again locks us in its icy 8-month grip.
This year, Aldi has its usual eclectic selection of summer essentials ranging from iced lattes and tropical mimosas to flavored goat cheeses and insulated cooler bags. It's also put a summery spin on one of its stand-by products: Moser Roth chocolate bars. So what does it consider to be summer flavors? According to Reddit, there are three Moser Roth Summer Edition bars: Iced Coffee, Rhubarb Crumble, and Passion Fruit, the first two encased in milk chocolate and the last one in white chocolate. Of the three chocolate bars, Redditors felt pretty positively about two of them, but the third flavor didn't have too many fans.
No one was passionate about the Passion Fruit
The original Reddit poster reviewed all three chocolate bars and wasn't exactly blown away by any of them. They described the trio as "high calorie and overall not worth [it]." That criticism aside, the OP did say the iced coffee flavor was "pretty good," though complained "the coffee flavor is very light ... the cream flavor is strong." The rhubarb-filled bar they found to have "a pleasant tartness" and described the rhubarb taste as "very genuine and true." Other posters agreed that the coffee was okay, if a bit on the sweet side, but the rhubarb was the obvious standout in the bunch. One person described it as a "unique offering," and a number of commenters said they loved it. Aldi shoppers seemed to agree, however, since they cautioned that this flavor sells out quickly.
The one Moser Roth flavor that no one seemed to care for was the passion fruit. The OP said it "tasted like soap or lotion... I spat it out," while one person commented "the filing was so bitter that I made a pucker face each time I had a piece" and another compared the flavor to what you'd get "if suntan lotion came out with a 'passion fruit' scent." Well, you can't get much more summery than suntan lotion, but still ... blech. Back to the drawing board for that passion fruit filling, Aldi.