The Simple Food Trend That Will Take Over 2022, According To Pinterest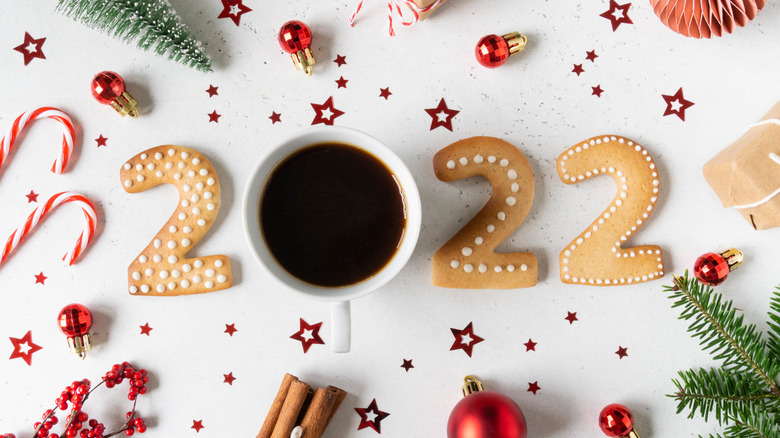 Sentelia/Shutterstock
Another year, another batch of food trends come and gone. 2019 was the year that introduced us to Impossible Foods and saw the first shots fired in the Chicken Sandwich Wars. 2020 brought even more trends to the table, with creative offerings like TikTok tiny food and quarantinis and the lockdown-induced resurgence of classic baking projects like banana bread and sourdough. What, though, could we consider to be 2021's signature food? Maybe that Dalgona candy from "Squid Game," but it's hard to say for sure.
Well, never mind 2021, we've only got a few weeks of it left. It's more fun to guess about what's going to happen in the coming year. Whole Foods is big on the prediction game. For 2021, the store said we'd all be eating pancakes on weekdays, sprinkling our food with applewood-smoked salt, and guzzling hard kombucha. Umm, ok, maybe they'll have better luck next year — apparently, we'll be into yuzu, turmeric, and hibiscus, and may even start foraging for city-grown greens.
Pinterest, however, has a different take on where we'll be headed in 2022. The site's analytics team has put together some stats based on what everyone's pinning, and it looks like their users are ready to explore a new trend that even Whole Foods didn't see coming.
Teatime will be trendy in 2022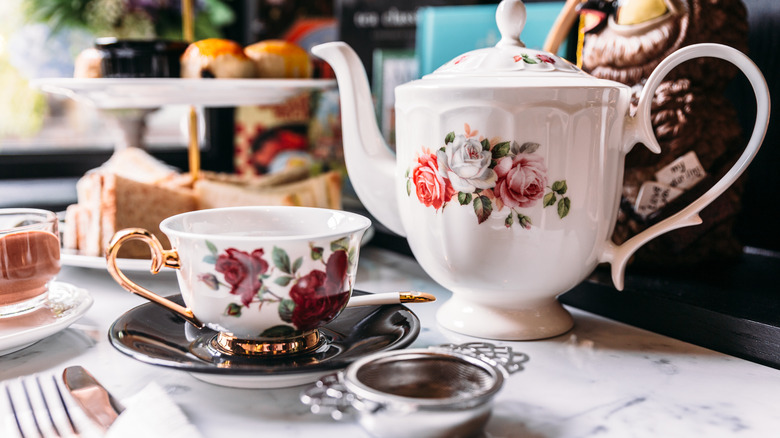 Artit Wongpradu/Shutterstock
The U.S. is thought of as being a country full of coffee drinkers –- after all, didn't we declare independence by chucking a bunch of British tea into Boston Harbor? However, according to the Tea Association of the U.S.A., there's been growing domestic interest in the world's most popular beverage. As of 2019/2020, the U.S. was the world's third largest tea importer (Russia and Pakistan were #1 and #2), and they estimate that 4 out of 5 of us are tea drinkers. Millennials are the ones driving this trend, with 87% of them embracing the beverage. They do point out, though, that about 80% of the tea we consume here is of the iced variety.
According to Pinterest, that may be about to change. The platform boldly declares afternoon tea to be "the new happy hour" and suggests that people may be ditching booze in favor of a cuppa as their afternoon pick-me-up. In evidence, they cite trending search terms including "vintage tea party," "tea party aesthetic," "drinking tea pose," and something called "butterfly pea tea." The most popular search term, showing a 400% increase, is "high tea food ideas," although it's unclear whether the searchers (or pinners) are aware what the term "high tea" actually means. If you plan to start searching yourself, FYI: high tea is an informal meal where you're likely to be served baked beans on toast. Afternoon tea is the fancy-schmancy kind with scones and watercress sandwiches.