Satay-Style Chicken Lettuce Wraps Recipe
Michelle McGlinn/Mashed
Who doesn't love P.F. Chang's famous lettuce wraps? Crumbly chicken, crunchy lettuce, and an excuse to use your hands to eat — it's the perfect meal. In our recipe for chicken lettuce wraps, we've put a spin on the restaurant classic and fired up the grill for satay-style chicken lettuce wraps. Perfect for summer and weeknight-friendly, this recipe is bursting with fresh flavor and comes together easily on a hot grill.
For the best results, you'll want to reserve some time to prep; you can put the chicken in the marinade before work and it'll be ready to go when you come home. But if you have to pull it together later in the day, no biggie — this recipe will still taste fantastic. Whether you make it in advance or spur-of-the-moment, the peanut sauce ties the whole thing together, creating lettuce wraps that are sure to please the whole family.
Gather your satay-style chicken lettuce wrap ingredients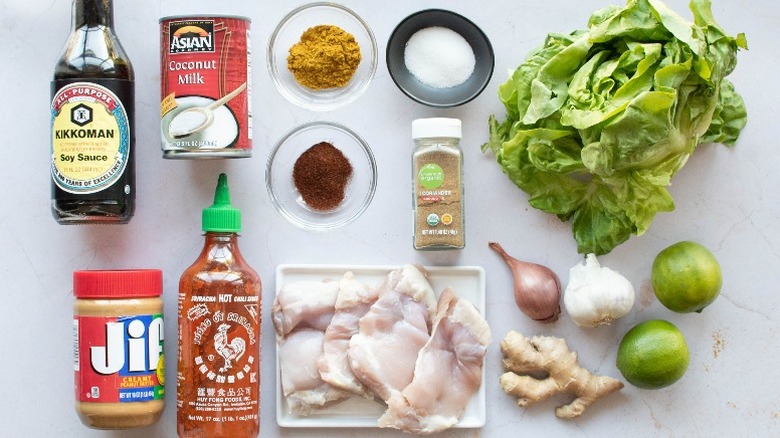 Michelle McGlinn/Mashed
Don't be intimidated by the long ingredient list. Many of the ingredients are shared between the chicken marinade and the delicious peanut dipping sauce. For both, you'll be using soy sauce, coconut milk, garlic, and sugar. From there, just add curry powder, chili powder, coriander, a shallot, and a knob of ginger for the chicken marinade. We recommend using chicken thighs for the best flavor and optimal tenderness, but chicken breasts (or a mix of both) will work great, also.
For the peanut dipping sauce, you'll also need peanut butter, lime juice, Sriracha, and some water. The Sriracha sauce can be substituted for any hot chili sauce — or omitted completely for a mild result.
Finally, you'll need fresh, crisp lettuce leaves. We love wavy green Boston lettuce for lettuce wraps, but you could also use romaine or iceberg if you prefer.
Prep your chicken skewers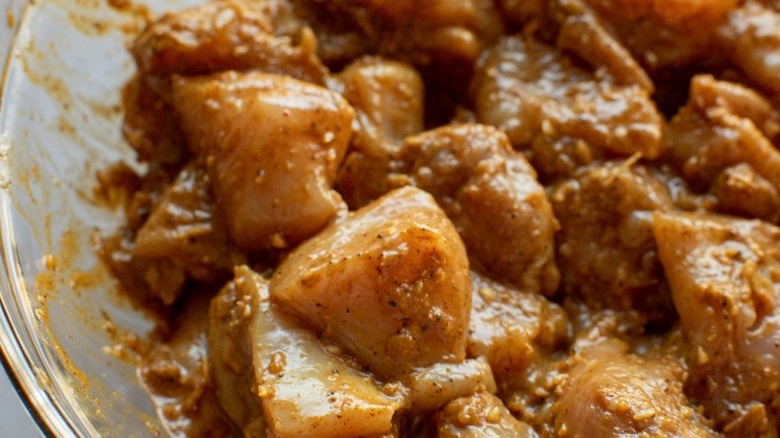 Michelle McGlinn/Mashed
While it's not necessary to marinate your chicken 8 hours in advance, you'll want to allow at least 30 minutes to prep the skewers. If using wooden skewers, start by soaking the wood in water while creating the marinade so that the wood does not burn on the grill. While soaking, blend the marinade ingredients together in a food processor, then massage into the chicken pieces. Allow the flavors to work their way into the chicken while the skewers soak for a minimum of 30 minutes.
Assemble the chicken satay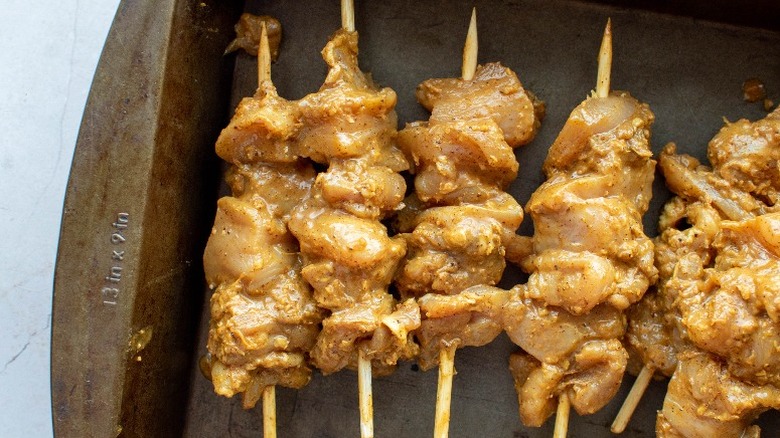 Michelle McGlinn/Mashed
Time for the fun part (other than eating, that is). Grab your soaked skewers and marinated chicken and build your chicken satay. Layer the chicken pieces tightly on each skewer until the skewer is full. We recommend using or cutting your rods to 6 inches so the chicken fits into the lettuce wraps cleanly. On a 6-inch skewer, you should be able to fit six to eight pieces of chicken.
Fire up the grill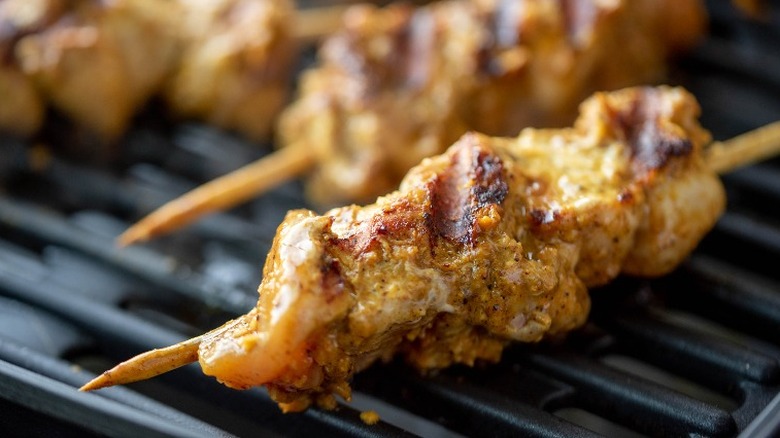 Michelle McGlinn/Mashed
Heat up the grill to 350 F and add your chicken to the direct heat. Cook for about 10 minutes, rotating halfway through to cook evenly on both sides. The chicken pieces are small and should cook quickly; look for an internal temperature of 165 F and dark grill marks on each side.
Don't have a grill? Don't worry. You can roast them in the oven at 400 F (though you may not get those charred spots), or omit the skewers and cook the chicken pieces in a skillet over medium heat until done.
Whisk together the peanut sauce and serve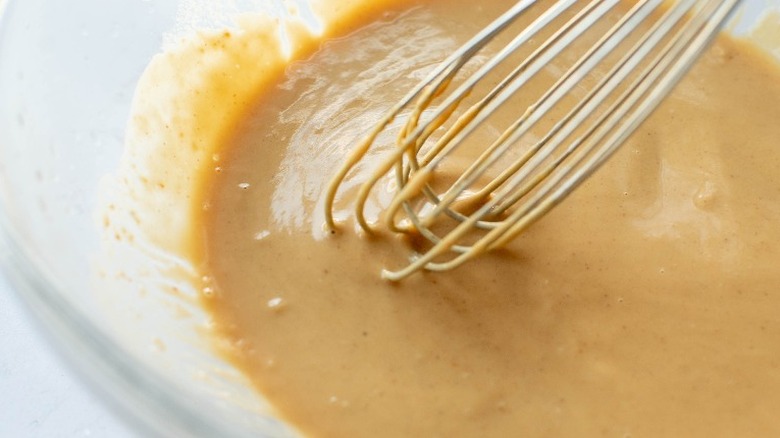 Michelle McGlinn/Mashed
The peanut sauce comes together so quickly that you can make it while the chicken is on the grill. Just whisk together the peanut butter, soy sauce, coconut milk, lime juice, sugar, Sriracha, and garlic until smooth, then whisk in water until saucy. It'll look a little funny at first, but just keep stirring; that silky, delicious sauce is a few whisks away.
Once the chicken is grilled to perfection, serve up the satay in crunchy leaves of lettuce and dip into the finished peanut sauce. Serve alongside steamed rice, perhaps a cucumber salad, and a refreshing iced tea.
Satay-Style Chicken Lettuce Wraps Recipe
Chicken satay meets crispy lettuce wrap in this dish, which works as a filling lunch or hearty appetizer — or serve with rice as a satisfying dinner entrée!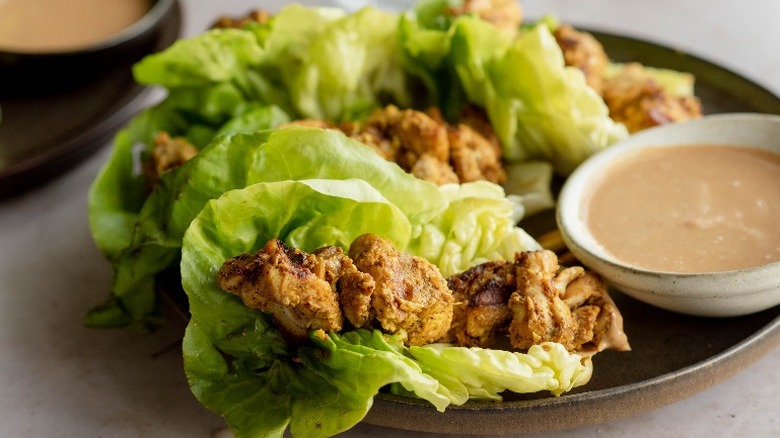 Ingredients
For the chicken
¼ cup coconut milk
2 tablespoons soy sauce
2 teaspoons curry powder
1 teaspoon granulated white sugar
½ teaspoon ground coriander
½ teaspoon chili powder
1 shallot, roughly chopped
4 cloves garlic, peeled and smashed
1-inch knob of ginger, peeled and roughly chopped
1 pound boneless skinless chicken thighs or breasts, cut into 1-inch pieces
For the peanut sauce
3 tablespoons creamy peanut butter
1 tablespoon soy sauce
1 tablespoon coconut milk
juice from 1 lime (about 2 tablespoons)
1 teaspoon granulated white sugar
1 teaspoon Sriracha
1 clove garlic, minced
For assembly
2 heads Boston lettuce, leaves separated
Directions
Combine coconut milk, soy sauce, curry powder, sugar, coriander, chili powder, shallot, garlic, and ginger in a food processor and pulse until smooth.
Put chicken pieces in a large bowl or sealable bag and add the marinade. Combine well, then cover or seal and refrigerate for 30 minutes or up to 8 hours.
As the chicken marinates, soak wooden skewers (is using) for at least 30 minutes or up to 2 hours.
Take chicken out of refrigerator. Pierce chicken pieces onto the soaked skewers, pushing each piece down tightly. Fill each skewer with chicken pieces and set aside.
Heat a grill to medium heat, or 350 F. Add chicken to the hot grill and cook for 8 to 10 minutes, turning halfway through. Chicken is done when internal temperature reaches 165 F.
As the chicken cooks or cools, whisk the peanut butter, soy sauce, coconut milk, sugar, Sriracha, lime juice, and garlic in a mixing bowl until a paste forms. Pour in water (about 2 tablespoons) and whisk until the paste loosens into a sauce.
Remove chicken from the grill and off the skewers, and place into lettuce leaves. Serve alongside peanut sauce.
Nutrition
| | |
| --- | --- |
| Calories per Serving | 295 |
| Total Fat | 15.2 g |
| Saturated Fat | 5.9 g |
| Trans Fat | 0.0 g |
| Cholesterol | 106.6 mg |
| | |
| --- | --- |
| Total Carbohydrates | 13.6 g |
| Dietary Fiber | 3.1 g |
| Total Sugars | 5.6 g |
| Sodium | 819.7 mg |
| Protein | 28.3 g |