Make-At-Home Pad Thai Sauce Recipe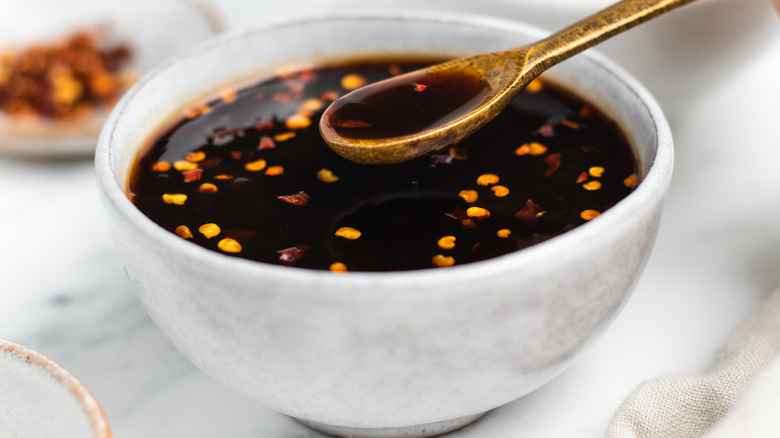 Catherine Brookes/Mashed
When you reach the level of making your own condiments, you know you're a serious cook, although actually some condiments can be seriously easy to make. One such condiment is this homemade pad Thai sauce, something that recipe developer Catherine Brookes says is "much easier to make than you'd think." She also notes that it can be made well in advance of the pad Thai or any other use to which you might like to put it, saying "it's a great one to mix up in advance and store in the fridge."
Pad Thai sauce typically has three distinct elements: a sour flavor that here comes from tamarind paste, some saltiness that is supplied in this recipe by both soy and fish sauce, and some sweetness which here is due in large part to the brown sugar, although there's sweetness from the rice vinegar, as well. While most of these ingredients should be readily available in the supermarket, tamarind paste may be a bit harder to find. Brookes admits she's never tried to make it herself, but it's actually quite easy to DIY this ingredient to use as a substitute if you can get hold of the fruit or the pulp in compressed form.
These are the 6 ingredients you'll need for pad Thai sauce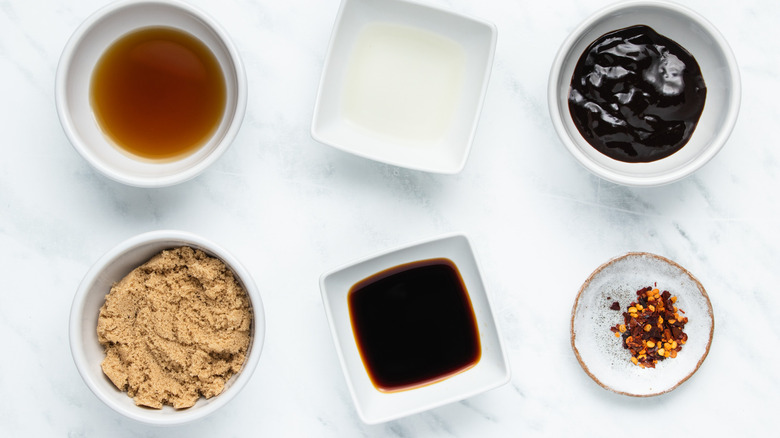 Catherine Brookes/Mashed
We've already mentioned most of the ingredients you'll be using to make this pad thai sauce: there's the tamarind paste (homemade or store-bought), which Brookes says "adds a distinct earthy taste that is characteristic of pad Thai and balances well with the other sweet and salty ingredients." There's also the soy sauce, fish sauce, brown sugar, and rice vinegar, which constitute the aforementioned sweet and salty stuff. The last ingredient on the list is a pinch of crushed red pepper to give this sauce a little heat.
There's no need to cook this sauce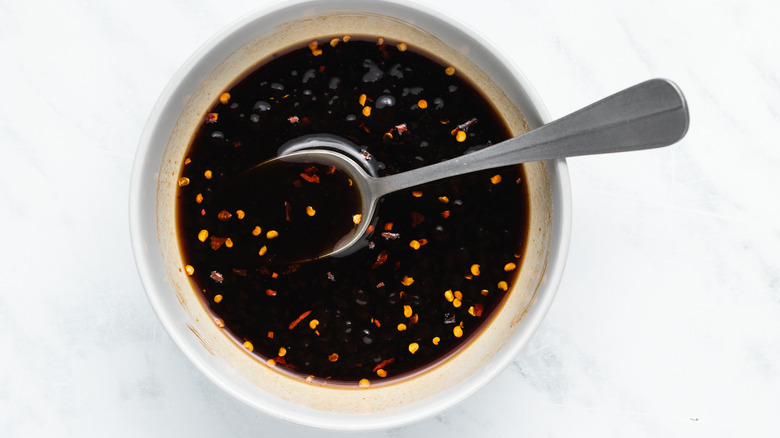 Catherine Brookes/Mashed
What makes this recipe so simple it that once you've assembled all of the necessary ingredients, you're 90% home. Find a suitable container to store the sauce, then just measure the ingredients right into it. Stir or, if the container is a lidded one, shake the sauce until everything comes together. Once the tamarind paste has been absorbed into the other liquids and the sugar dissolves, your sauce is all done.
Here are some additions you can make to your sauce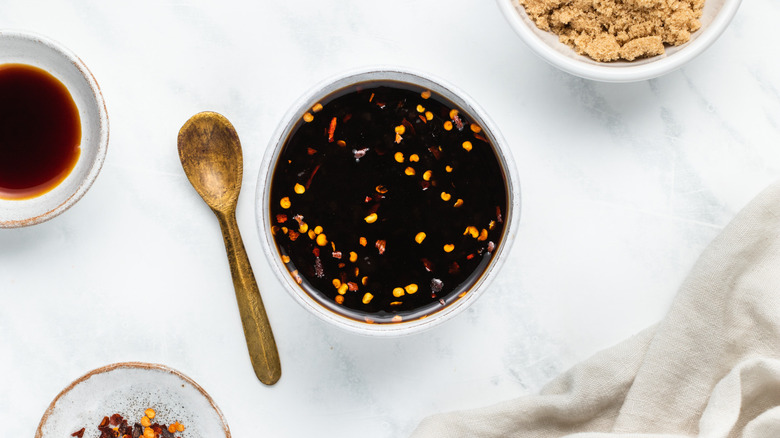 Catherine Brookes/Mashed
You can, of course, make a few tweaks to flavor your pad Thai sauce and customize it to your individual taste. Brookes suggests adding garlic or fresh chilis, and notes, as well, that "some pad Thai sauce recipes also include peanut butter." Chili garlic sauce or sambal oelek could also be used, and in some sauces lime juice is used as a sour element in place of the tamarind. You could also make a vegan version by skipping the fish sauce, although in that case Brookes says, "I would recommend adding an extra tablespoon of soy sauce."
The sauce isn't just for pad Thai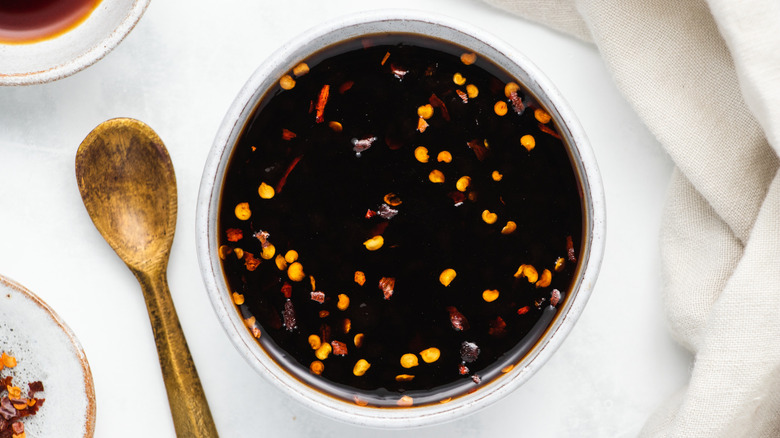 Catherine Brookes/Mashed
While this pad Thai sauce can, of course, be used to sauce pad Thai, that's not all you can do with it. Brookes lists "other general stir fry general, over rice or noodles or for dipping" as some of the uses for this sauce — try it with potstickers or gyoza. You could also use it as a marinade for pork or chicken, or even use it to dress an Asian-style slaw or salad.
Make-At-Home Pad Thai Sauce Recipe
This make-at-home pad Thai sauce comes together easily, with just 6 ingredients, and no cooking involved.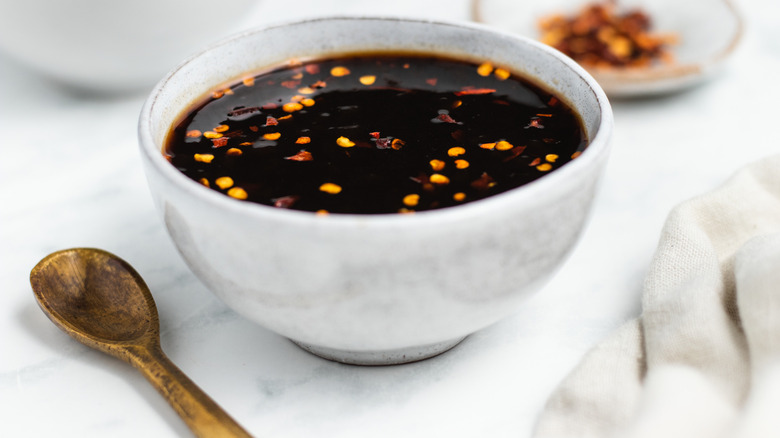 Ingredients
¼ cup brown sugar
1 tablespoon soy sauce
1 tablespoon rice vinegar
2 tablespoons fish sauce
2 tablespoons tamarind paste
¼ teaspoon red pepper flakes
Directions
Add the brown sugar, soy sauce, rice vinegar, fish sauce, tamarind paste, and red pepper flakes to a small bowl or container.
Stir or shake the ingredients to mix, then use the sauce as desired.
Nutrition
| | |
| --- | --- |
| Calories per Serving | 39 |
| Total Fat | 0.0 g |
| Saturated Fat | 0.0 g |
| Trans Fat | 0.0 g |
| Cholesterol | 0.0 mg |
| | |
| --- | --- |
| Total Carbohydrates | 9.4 g |
| Dietary Fiber | 0.2 g |
| Total Sugars | 8.5 g |
| Sodium | 744.0 mg |
| Protein | 0.7 g |