Cheese Croutons Are Tomato Soup's New Best Friend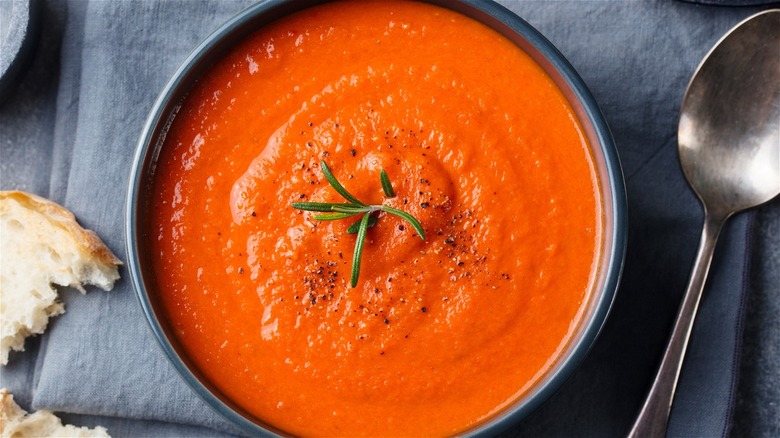 Annapustynnikova/Getty
We may receive a commission on purchases made from links.
Some foods are delicious on their own, like buttermilk biscuits, still hot from the oven, and crispy fried chicken. Pair that same dish with a complimenting food like biscuits and gravy or fried chicken and waffles, and the dynamic duo is infinitely better. There are many such pairings. Some are seasonal, like prosciutto and ripe melon and tomatoes and mozzarella, while others are perennial favorites, like milk and cookies and peanut butter and jelly, which are good any time of year.
As colder temps and snow blanket much of the U.S., comfort foods like soups and stews are on the menu in homes across the nation. For many of us, tomato soup holds a special place in our hearts, conjuring up nostalgic memories of warming up with a bowl of tomato soup after a long day of sledding on a snow day. For over a century, Campbell's soup has been our first introduction to tomato soup since they launched their Beefsteak Tomato condensed soup in 1895. Maybe you're still enjoying that pantry staple, or perhaps you've graduated to making tomato soup from scratch for your own family now.
However you get it to the table, it's one part of the power couple, tomato soup and grilled cheese, two things that are better together. For a new spin on this classic combo, let us introduce cheese croutons, tomato soup's new best friend.
Cheese croutons
Arguably the best part of French onion soup is the cap of melted cheese that caramelizes along the rim of the bowl, causing many of us to put down our spoons and shamelessly attack the side of the bowl with our fingertips, peeling those crispy bits of cheese off and into our mouths. Using that same concept, tomato soup's new BFF gives you crispy, cheesy goodness while eliminating flipping sandwiches (via Kitchn).
Ragged, bite-sized pieces of sourdough or your favorite bread (via Martha Stewart) are tossed in melted butter or olive oil before roasting in the oven until golden brown and crispy, about 15 minutes. When your tomato soup is ready, sprinkle shredded cheddar cheese on top before adding a single layer of your homemade croutons. Avoid overlapping (or snacking) on the croutons to ensure that each one gets its share of cheese. Remember, no one appreciates that naked nacho chip without melted cheese because it was hidden underneath another chip.
Add more shredded cheddar cheese and about ½ cup of grated parmesan cheese to the top of the croutons and broil the entire pot for one to two minutes or until the cheeses have melted—ladle soup into individual bowls, topping each serving with a generous amount of cheesy croutons. Vary the cheese you use to customize the dish to your liking. Goat cheese would be a creamy, tangy alternative to cheddar. Or try adding parmesan crisps by making them or purchasing a bag at the grocery store.