Everything You've Ever Wanted To Know About Aldi's Mama Cozzi's Pizza
Aldi is one of our favorite German imports since the Volkswagen Beetle hit U.S. shores in 1949. And while we certainly love Aldi because the prices don't give us a heart attack when we do our post-payday grocery shopping, prices aren't the only reason we love shopping there. After all, lots of low-priced grocery stores exist, but few of those stores have products that garner our devotion the way that Aldi does. In this case, we're waxing poetic about Aldi's store brand pizza, Mama Cozzi's.
Aside from being the epitome of convenience when you're starving on a Saturday night, those savory pies come in flavors that you only see at food trucks or on the tables of your favorite hole-in-the-wall breakfast diner. And given the fact that Aldi tends to put out enough new pizza flavors to keep even the pickiest eaters coming back for seconds or thirds, it's probably safe to say that Mama Cozzi's will continue to rank high as a fan favorite for decades to come — at least, we hope so. Truly, it's the kind of thing you could ponder until Aldi puts out another flavor of pizza — although, that tends to happen more frequently than you might assume. So, in the meantime, we suggest that you read up on everything you should know about this fan favorite.
It's in the customer hall of fame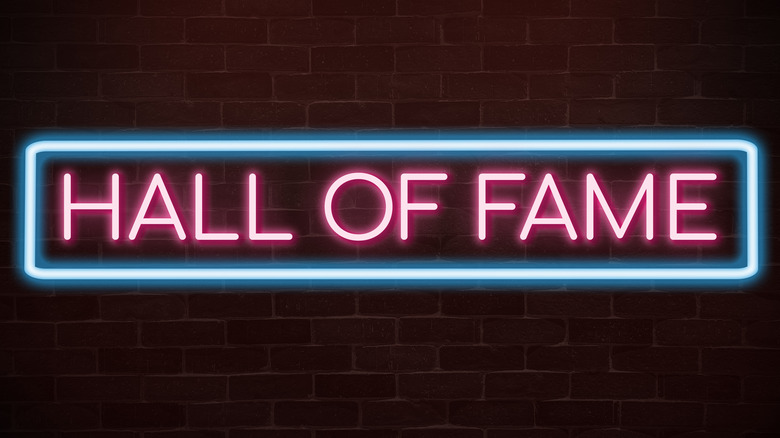 Phubes Juwattana/Getty Images
Each year since 2019, the Aldi grocery store chain has surveyed its most ardent fans to find out what their store favorites are. Since the survey's inception, Aldi's brand pizza, Mama Cozzi's, has garnered some serious street cred as a fan favorite, and even won the overall fan favorite award in 2020. 
The pizza has enjoyed multiple wins as a fan favorite over the years. In the 2022 incarnation of Aldi's fan-favorite awards, Mama Cozzi's pizza was inducted into the store's hall of fame, making it the first product to achieve the distinction. One hundred thousand people participated in the 2022 survey, and they chose the winners from 100 Aldi-exclusive products, with Mama Cozzi's coming out on top. Customers love the pizza because it's tasty, kind to the wallet, and easy to dress up with even more toppings. Mama Cozzi's triumph reminds us to never underestimate the popularity of pizza.
You should plan your pizza night ahead of time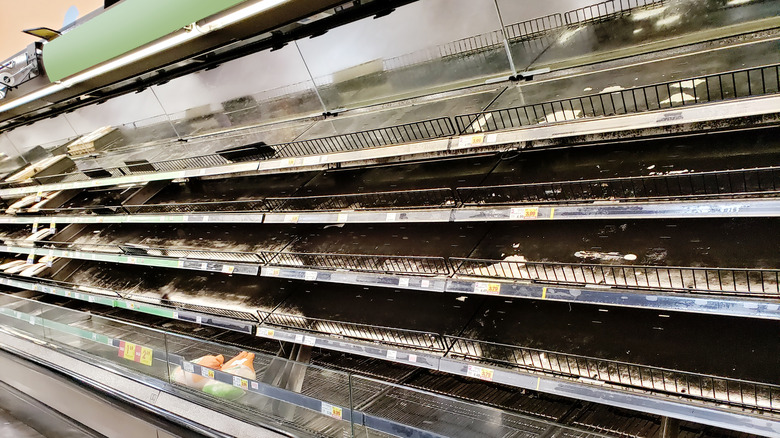 Photoeuphoria/Getty Images
It's Friday night and you're merrily pushing your shopping cart through the aisles of Aldi. All you can think about is the foodie-themed movie you plan to watch on HBO and the Aldi's pizza you intend to eat for dinner during said movie. After all, who wants to cook at the end of a tough week? It isn't until you've entered the pizza aisle that you see the horror of horrors — every last box of Mama Cozzi's pizza is sold out. 
If this little horror scenario makes you shudder, then take note, particularly if you're a fan of Mama Cozzi's pizza as your Friday-night go-to main course. The stores regularly sell out of this popular item on weekend's eve. If you plan on eating one of Aldi's specialty pizzas any time from Friday to Sunday, the time to buy it isn't Friday afternoon at 4:59 p.m. Plan ahead and buy the pizza before the weekend commences, particularly if you prefer pepperoni, the chain's most popular flavor. If you wait too long, odds are doubled that you'll be too late for that incarnation of Mama Cozzi's pizza.
It's better to do the Take & Bake than the frozen pizza
We can say one thing about the Aldi pizza collection: It's so abundant that Aldi stores around the country offer numerous types of pizza, including take-and-bake and frozen styles. If you thought those two pizza types were the same, they're not. While technically they're both pizzas that are made ahead of time that consumers can purchase to cook at home, the take-and-bake variety is closer to something you'd find at a chain like Papa Murphy's. It's not frozen, though it is fresh and uncooked and just waiting for an oven. Frozen Mama Cozzi's is simply frozen, just as its name implies.
We understand the appeal of frozen pizza in a pinch. Usually, it's cheap. You can often buy a frozen pizza for under $5. However, home pizza cooks look at more than just the price tag when they choose a pizza. Taste is also important. That's why some Aldi shoppers avoid the grocery store chain's frozen pizzas if they can help it. Sometimes, the flavor just doesn't come through. If you're a home pizza connoisseur, you're better off buying the take-and-bake version of Mama Cozzi's. But if no other options are available and you're jonesing for some pizza tonight, go ahead and buy the frozen version of Mama Cozzi's pizza. Just be prepared to doctor it up a bit with your own ingredients to liven up the taste a bit.
Seasonal shapes dominate on holidays
During certain holiday seasons, Aldi allows its patrons to take a nostalgic trip back into childhood, where cookies and morning pancakes are shaped like stars, Christmas trees, or even pumpkins depending on the time of year. However, in Aldi's case, the shapely nummies aren't of the cookie or pancake persuasion. Rather, they're frozen pizzas that get the cookie-cutter treatment. For Valentine's Day, Aldi calls in cupid and asks him to bring his heart-shaped pizzas. Come spooky time, it's all about the pumpkins and things that go bump in the night. Around Christmas, it's time to deck the counters with star- and tree-shaped pizza. Aside from offering seasonally inspired shapes, some of these holiday pizzas also come with seasonal ingredients to match the pizza in question. In the case of the pumpkin-shaped pizza, for example, ingredients include a butternut squash sauce in addition to the kinds of fixings you would expect on a pizza, like mozzarella and cheddar cheese.
Finally, it's worth noting that these seasonal treasures are Aldi Finds, which means they're limited-timers. Once the seasonal fare disappears from Aldi stock, it's gone for good. If you'd like to join in the fun the next time the grocery chain offers this type of specialty item, you'll have to head to the frozen foods section of the stores.
Aldi pizza crusts let you make pizza from the ground up
Let's just say this upfront: Mama Cozzi's ready-made pizza crust qualifies as the chain's Swiss army knife ingredient. In other words, it's the fastest way for home gourmands to make an almost-from-scratch pizza, starting from the ground up. Aldi's plain pizza crust comes with nothing on it, just as you would expect of a plain pizza crust. It's like a blank canvas just waiting for your Picasso-like touch to fill up. All you need to do is to buy the ingredients to place on it, like pepperoni, mozzarella cheese, marinara sauce, and mushrooms. A little butter on the crust for some extra crispy crunch, and you've got dinner.
Vegans might be interested in knowing that they can, in fact, use Aldi pizza crust for their animal-friendly mealtime. The crust contains no eggs or cheese, so you're good to go if you prefer to keep your pizza veggie-centric. Aldi's crust gives you the option of adding vegan ingredients that most pizza chains don't offer, like vegan sausage and vegan cheese.
The pizza crust at Aldi doesn't even have to be the basis of your entrée. Cut the crust up, brush it with a generous helping of garlic butter, and bake it alongside the pizza for some breadsticks to go with dinner. Or, if you're hankering for something a little sweet after dinner, you can cut the dough up into cinnamon rolls for a simple dessert. Best of all, it's Aldi-style reasonable — a two-pack of crusts will cost, on average, $5 or less.
One large Mama Cozzi's pizza feeds three to four people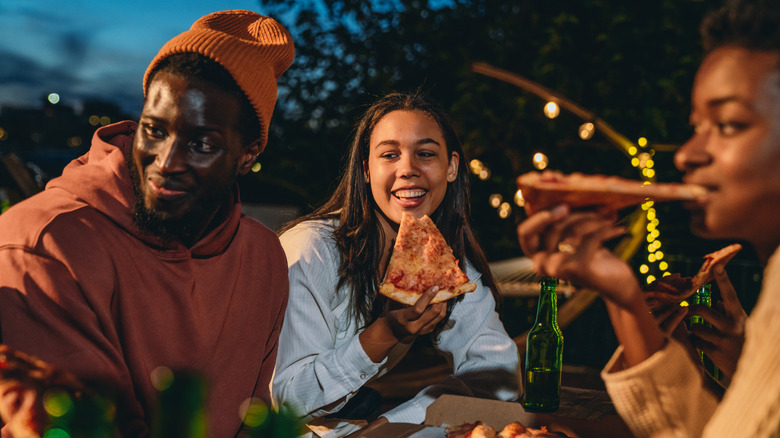 Filippobacci/Getty Images
Super Bowl Sunday. Finals week. Your kid's eighth birthday. What do all of these events have in common? Simple: They represent occasions where you, as a party host, might need to feed a number of people in one sitting. And often, these types of events call for casual food fare. Think pizza on paper plates, and you have the right idea.
Fortunately for Mama Cozzi's pizza lovers, it's pretty simple to figure out how many pies to buy. The chain's large pizza measures 16 inches. As such, depending on how you cut the pizza, you'll get between eight and 12 slices from one 16-inch pizza. On average, you can expect each guest to eat between three and four slices. So, if you've invited 10 people over, it's a matter of simple math. To be safe, let's go with the higher number of slices. That's four slices of pie per person multiplied by 10, which is 40 slices of pizza.
Assuming that the pizzas are cut into eight slices each, you'll need at least five pizzas. Whether you want to order an extra pizza or include other snacks, like chips and dip, depends on the occasion, as well as on how long people will be over. If a party lasts more than five hours, it's likely that people will nibble a little even after dinner is over, so having some extra helps your guests to stave off the post-dinner munchies.
Try pizza calzones, pizza rings, or flatbread for some variety
If you're a single person, you may feel tempted to buy that 16-inch Mama Cozzi's pizza, thinking that you'll eat some now and save the rest. That could happen, or it could die of freezer burn while it waits for you to get in the mood for pizza once again.
Fortunately, Mama Cozzi's has the solution, or rather, solutions. If you're open to a meal that's kind of like pizza but isn't quite pizza, then take a trek through the Aldi aisles and look for products like Mama Cozzi's pizza calzones, pizza rings, or pizza flatbread. If a little self-contained pocket of pizza appeals to you, go with Mama Cozzi's calzones. They're basically Hot Pockets for grown-ups, with popular flavors including meatball and sausage. Mama Cozzi's pizza rings make a pizza-flavored snack by rolling cheese and pepperoni in a ring. They come with marinara sauce for dipping, completing the pizza taste. 
Finally, Mama Cozzi's flatbread pizza features specialty bread as the crust and is the perfect serving size for one person. For the most unique taste experience, try the Southwest-style chicken and BBQ-flavored flatbread.
You can even eat one for breakfast
In parts of the world where roadside diners exist as an integral part of the cultural landscape, biscuits and gravy, plus a big mug of black coffee fuel up the tummies of travelers and locals alike. They're just the thing needed to stave off hunger until lunch and beyond. This popular breakfast has a drawback, though; thick white sausage gravy doesn't travel well, making it necessary to sit down for breakfast even if time doesn't permit.
Mama Cozzi's has remedied this breakfast tragedy by making biscuits and white sausage gravy both portable and delicious. But before you get too excited, we should point out that you won't find a traditional serving of biscuits and gravy in the Aldi frozen foods section. Instead, you'll find biscuits and gravy in the form that Mama Cozzi's does best — in pizza form.
One of Mama Cozzi's takes on breakfast pizza includes a buttery biscuit dough crust topped with sausage, country gravy, and plenty of mozzarella and cheddar cheese. Another breakfast style still includes the biscuits and gravy but brings green pepper and onions into the mix and adds a top-off of bacon crumbles and pork belly instead of sausage. Both ring up at the register for about $5, give or take.
It tastes great grilled in the summertime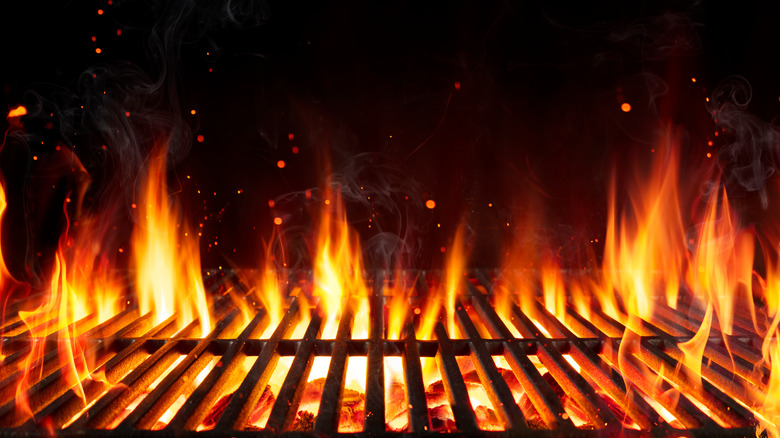 Romolo Tavani/Shutterstock
When the weather turns hot, no one wants to stand in the hot kitchen, cooking, even if what's cooking is supremely yummy. Fortunately, the remedy for making dinner on days that feel only slightly cooler than Hades' front porch — the standard barbecue grill — sits right outside. What's more, grilling has come a long way. Once the domain of burgers and dogs and, of late, summer veggies, grilling has reached new heights in recent years with the invention of fancy schmancy grill appendages like grill-top pizza ovens.
All of this is to say that if you wish to include Mama Cozzi's pizzas on your list of items to grill, you needn't wait any further to make that happen. Aldi carries a grill-top pizza oven — the Gardenline BBQ Pizza Oven. It has an open mouth like a brick oven pizza oven, making sliding the pizza in and out of the oven a pretty simple affair.
However, it's possible to grill your pizza even if you don't have an oven. Placing a pizza tin on the grill also does the trick nicely. The potential to create intense heat makes cooking pizza on the grill possible because, in that respect, it mimics the pizza oven experience by cooking pizza at high temperatures without trapping the cook in the brutally hot kitchen. The crispy crust and bubbling cheese, plus the tasty toppings, make grilling your pizza a nice summer alternative.
It can be a cheap dinner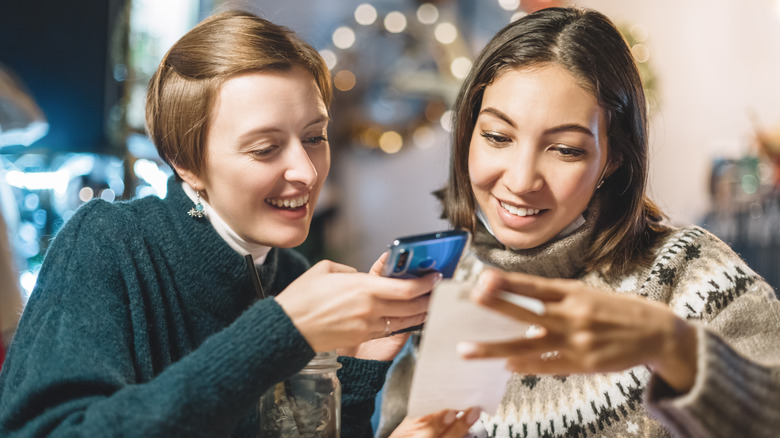 frantic00/Shutterstock
Inflation has hit people hard in the grocery bag in recent years. For many families, that has meant special treats, like going out for dinner at the local pizza parlor, are off-limits for a while. That's the bad news. The good news is that while dinner out may be out of the question, pizza at home doesn't have to be, particularly for people who know where to find a tasty but bargain-priced pizza.
For Aldi shoppers, that often means heading to the Mama Cozzi's aisle and picking out their favorite flavor or flavors of pizza. Mama Cozzi's pizza, whether you get it frozen or as a take-and-bake, isn't the blow to the wallet that the pizza parlor can be. Both the take-and-bake and the frozen pizza versions come in at under $10 for the pie, with the average being between $5 and $7 bucks. A 16-inch Mama Cozzi's pizza feeds two or three people. By comparison, a 14-inch Pizza Hut pizza comes in at nearly $12 for less pie. A 14- to 16-inch Domino's pizza can be as much as or more, depending on the toppings. Sometimes, staying home is a more budget-friendly way to go.
There are up to five dozen different flavors
Variety is the spice of life, so the old saying goes. It's certainly true when it comes to finding pizza flavors you adore, particularly if you find yourself wandering the aisles of Aldi, perusing the Mama Cozzi's pizza selection. Naturally, you'll find some classics there, like pepperoni, if you feel nostalgic for the pizza offerings you grew up with.
But Mama Cozzi's isn't limited to staple flavors like pepperoni or sausage and black olive. The chain has a reputation for making some memorable specialty flavors. In 2021, Aldi celebrated its appreciation of all things street by rolling out a roasted street corn pizza flavor, which included roasted street corn, cheddar cheese, red onions, and jalapeño peppers. Occasionally, the chain even breaks fans' hearts by introducing delectable options like Mexican-style pizza, only to eventually discontinue them.
That's the thing about Mama Cozzi's pizza. Some kinds, like the pepperoni, are here to stay, while others may come and go, never to return. In all, Aldi has introduced around five dozen kinds of pizza, though fewer than 20 flavors make regular appearances. In light of that, pizza fans' best options include trying as many of the flavors as possible while they last because you never know if they'll disappear. Now, that's a foodie mission we can get behind.
Go gluten-free with Mama Cozzi's cauliflower crust
Foodie trends come and go, and in recent years, gluten intolerance has gotten a good deal of press. But going gluten-free isn't just a fad for everybody — the Cleveland Clinic reports that about 6% of the population has some sensitivity to gluten. This puts the kibosh on enjoying foods like pasta and pizza due to the gluten content. Aside from this, those who adhere to the keto diet must also shy away from carby pizza crusts, too.
These two factors have led to a plethora of gluten-free and keto cookbooks and restaurant menu changes to accommodate those who avoid gluten. Fortunately for pizza lovers, cauliflower crust is a thing, and if it's made right, it can taste better than the gluten-based crust pizza lovers have been forced to give up.
Here again, Aldi comes to the rescue with its cauliflower crust pizza by Mama Cozzi's. As far as flavors go, Mama Cozzi's cauliflower pizza comes in three flavors: veggie, cheese, and uncured pepperoni, though home gourmands may enjoy adding additional toppings like peppers, olives, and red onions. The Mama Cozzi's cauliflower pizza option works best if it's baked in a pan. However, if that's the only drawback, we'd say it's still a pretty good deal for keto eaters and gluten avoiders alike.