Best Frose Recipe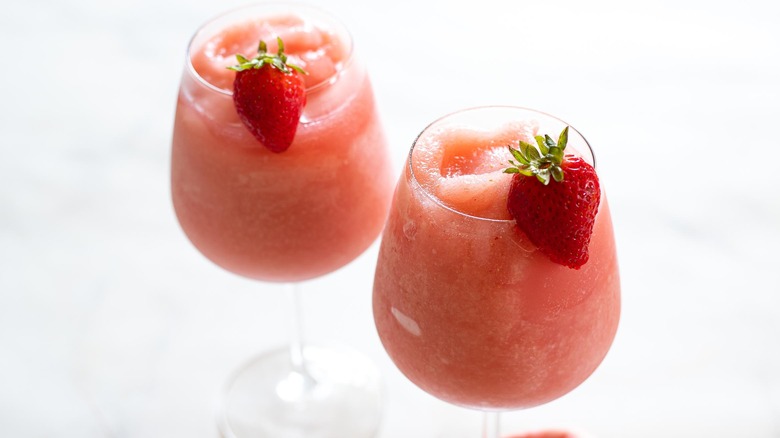 Kit Hondrum/Mashed
If you are in the mood for a nice glass of rosé, you may want to think again. While rosé on its own is delicious enough, there's a great way to take it to a whole new level by simply adding some frozen fruit and simple ingredients that give it a frosty twist. Recipe developer Kit Hondrum came up with this incredible recipe that we love so much. "I love this frosé as a year-round treat, but it's really nice when the weather is hot!" she shares.
Did we mention that this will also make you feel like you're a master mixologist? There are so many events at which you could serve this rosé. "This recipe is super easy to make and perfect for a party!" Hondrum raves. We think that frosé would be great for a girls' night in or at a bachelorette bash. The possibilities are truly endless. "I love how refreshing this cocktail is and how it's the perfect sweetness. Perfect for a hot day!" Hondrum adds.
Keep reading to find out how to make this wonderful drink that you'll come back to again and again.
Gather the ingredients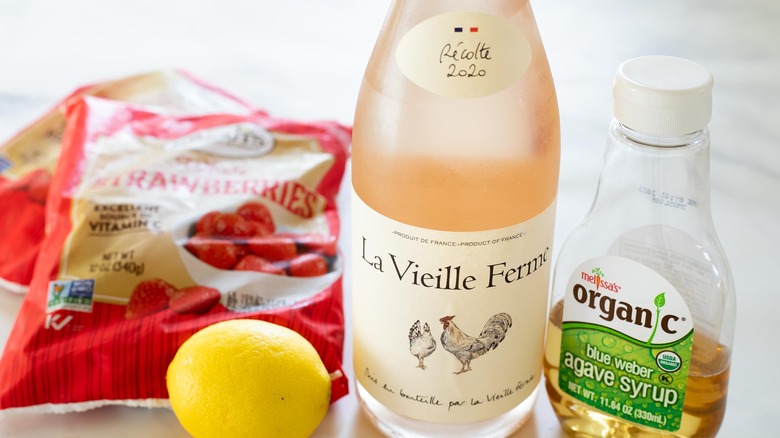 Kit Hondrum/Mashed
Before you do anything else, gather all of the ingredients to put this wine drink together. It's super simple and requires just four ingredients. You will need to pop by the liquor aisle and grab a bottle of chilled rosé to start. Then, be sure to get a bag of frozen strawberries. This adds a lovely slushy element to the frosé. "You could try with frozen raspberries," Hondrum notes. "You really want the flavor of the rosé to shine here, so I wouldn't try it with anything other than strawberries or raspberries."
The remaining two items help with the flavor. One of these ingredients is agave syrup, and the other is lemon juice. That's all you need! Once you have everything together, you can get started.
Freeze the rosé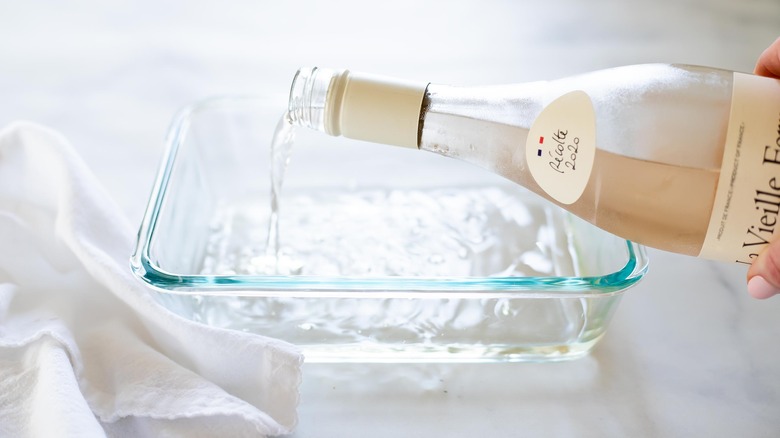 Kit Hondrum/Mashed
Grab a baking dish with a lid, and make sure it's pretty shallow. Then, pour three-quarters of a bottle of the chilled rosé into the container. Cover it with a lid, and then pop it in your freezer. You want to let it sit and freeze for six hours minimum. You can also freeze it overnight if you're going to make it ahead of time.
Please note that since the rosé is an alcoholic beverage, it will not freeze completely. When it's technically frozen, it just reaches a slushy consistency, which is perfect for the recipe. "Any rosé that you would enjoy drinking" works for this recipe, Hondrum says. "I like drier rosés, so I used one that was really dry."
Blend the other ingredients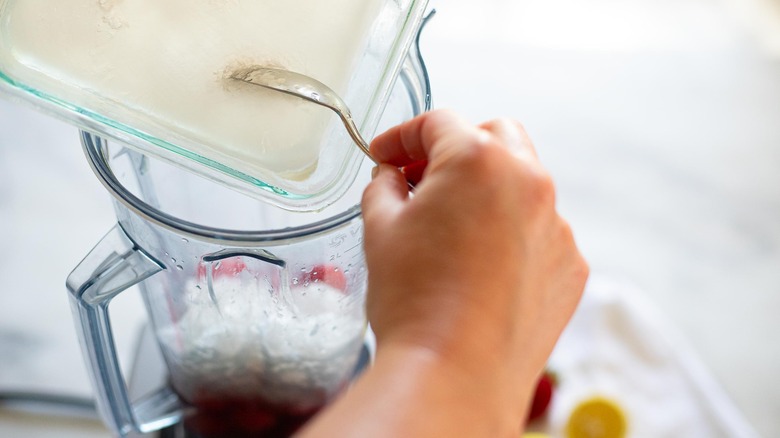 Kit Hondrum/Mashed
Once your rosé is done chilling in the freezer, you can tend to a few other parts of the recipe. Take out a high-powered blender, and toss in the frozen strawberries first. Then, add agave syrup and lemon juice. Next, grab the rosé from the freezer and scrape it into the blender.
Remember that other quarter of the bottle of chilled rosé you left out of the freezer? Go ahead and dump that into the blender as well. Now, all of your ingredients should be ready to go. "I use a Vitamix blender with a tamper attachment," Hondrum shares.
Blend the ingredients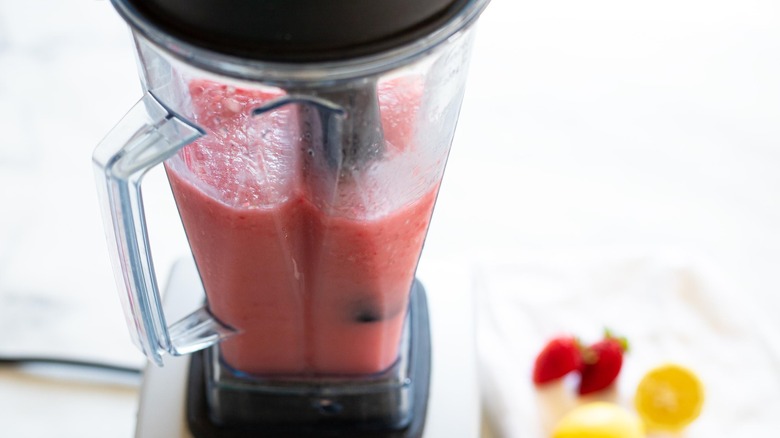 Kit Hondrum/Mashed
Turn the blender on high and mix the ingredients until they are well combined. It should only take about a minute or so until everything is well incorporated. If your blender has a tamper on it, be sure to use it to push the ingredients down so everything mixes well. If you don't have a tamper on the blender, then you will likely need to stop while you're blending and scrape down the sides to get a good consistency.
"If you're in a hurry, this recipe can also be made using an ice cream maker!" Hondrum shares. "Just blend the chilled rosé with the other ingredients, and run it through a chilled ice cream machine."
Pour into wine glasses and enjoy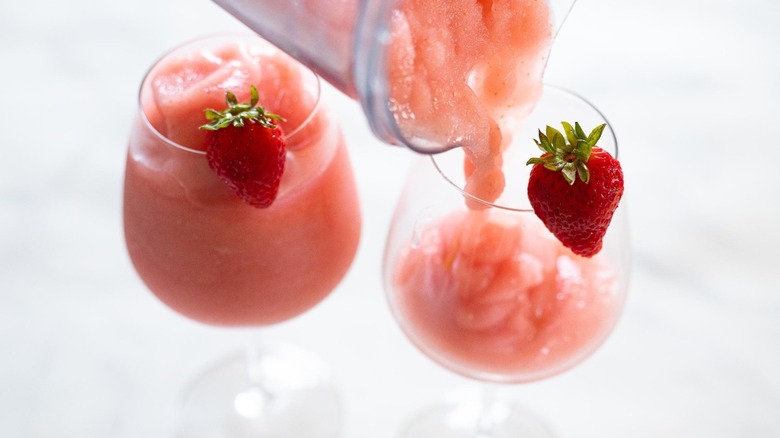 Kit Hondrum/Mashed
Once you finish blending, grab a few large wine glasses and pour an equal amount into each glass. Feel free to garnish with fresh fruit or anything else that you see fit. "For a fun presentation, garnish with strawberries on the rim or serve in a fruit bowl!" Hondrum says. 
"This is best consumed right away but can be stored in the freezer in an airtight container," Hondrum notes. "When it comes out of the freezer, it will be a sorbet consistency (which is also really nice!). Just leave at room temperature for about 15 minutes to get it back to frosé consistency, or eat it like sorbet."
Cheers to another great cocktail!
Best Frose Recipe
We think that frosé would be great for a girls' night in or at a bachelorette bash. The possibilities are truly endless.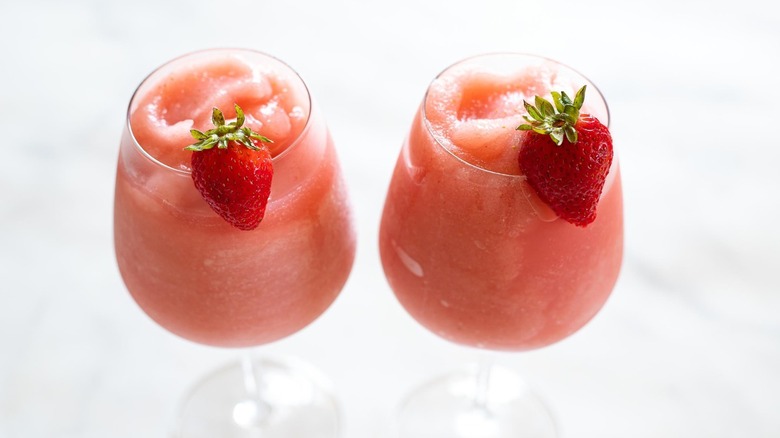 Ingredients
1 bottle rosé wine, chilled
2 cups frozen strawberries
1 tablespoon agave syrup
Juice of ½ lemon
Directions
Pour ¾ bottle of chilled rosé into a shallow baking dish and cover with a lid. Freeze for at least 6 hours or overnight. Due to the alcohol content, it won't freeze solid but will be a slushy consistency.
Place strawberries, agave syrup, and lemon juice in a high-powered blender. Scrape in the frozen rosé. Pour in the other ¼ bottle of chilled rosé.
Blend on high until well-combined (about 1 minute). Use a tamper if your blender has one. If not, then you'll likely need to stop and scrape down the sides to get a uniform consistency.
Pour into large wine glasses and serve immediately.