Classic Ranch Water Recipe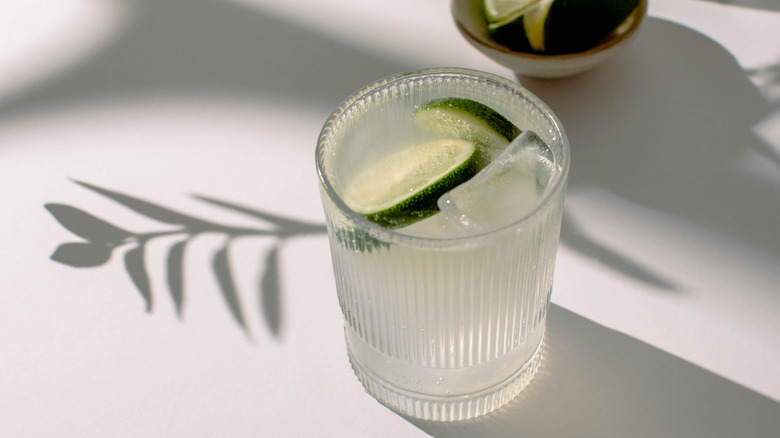 Michelle McGlinn/Mashed
If you're looking for the ultimate warm weather cocktail, you've found it with this ranch water. But where was this drink first found? It's a delicious mystery, according to chef and recipe developer Michelle McGlinn. "The drink is associated with being from Texas for sure, but the origins of ranch water are not clear," she says. "There are some fun folk tales, one popular one involving a rancher who, guided by the spirit of the drink he concocted, walked over 50 miles by foot (guided by stars) and woke up under a piñon tree." 
The true backstory, she concedes, is probably simpler than that. Most likely, someone added some Topo Chico to a margarita and liked the result. "But it's fun to think of the possibilities!"
Now, how did McGlinn herself, a Chicago native, become a fan of this Southwestern sipper? "I house-sat for a couple who would motorcycle out to New Mexico for the winter, [and] they were super cool Southwesterners [who] I envied and admired. I always wondered why they had so many Topo Chicos in their house — and an impressive supply of tequila — until they shared that they sip on ranch waters. New Mexico is one of my favorite places and, while it's not Texas, ranch waters are fairly common there (especially in the cool, hipster bars), and I had some fabulous renditions while there."
Thirsty yet? Let's mix!
Gather your classic ranch water ingredients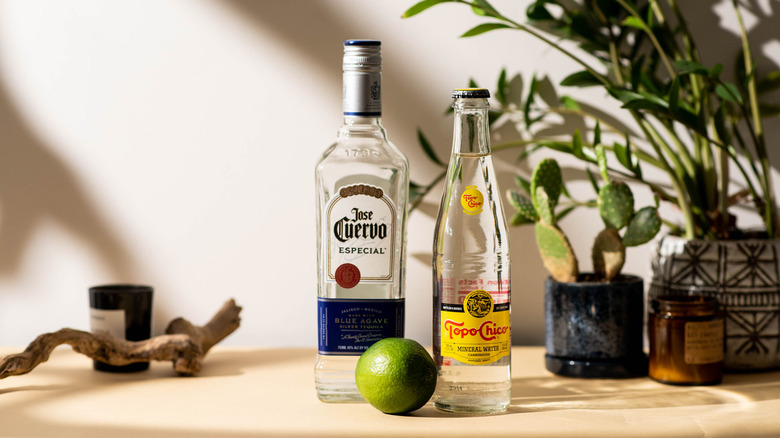 Michelle McGlinn/Mashed
It doesn't take much to make a great ranch water cocktail. Just grab some tequila blanco, two ounces fresh lime juice (which is what you'll get from about two average-sized limes), some nice cold Topo Chico to top off the drink, and some limes wedges for the garnish. Oh, and some ice.
"If you want to switch it up from a blanco or silver tequila, you can try mezcal for a smoky flavor, or a nice oaky reposado," says McGlinn.
Make the cocktail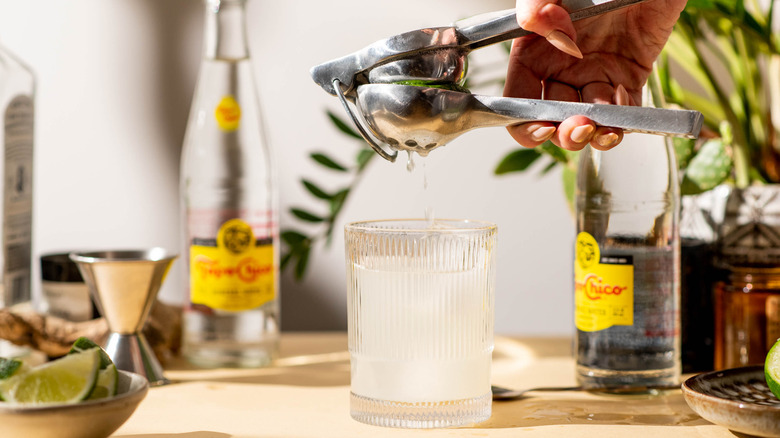 Michelle McGlinn/Mashed
Grab yourself a rocks glass and add 2 or 3 large ice cubes to it. Then pour in the tequila and the fresh lime juice. Top up the glass with Topo Chico to taste, and garnish it with lime wedges. And that's it! Now sip and enjoy — no long day of work on the ranch required. (Though that would only make the drink taste better!)
What is Topo Chico, anyway?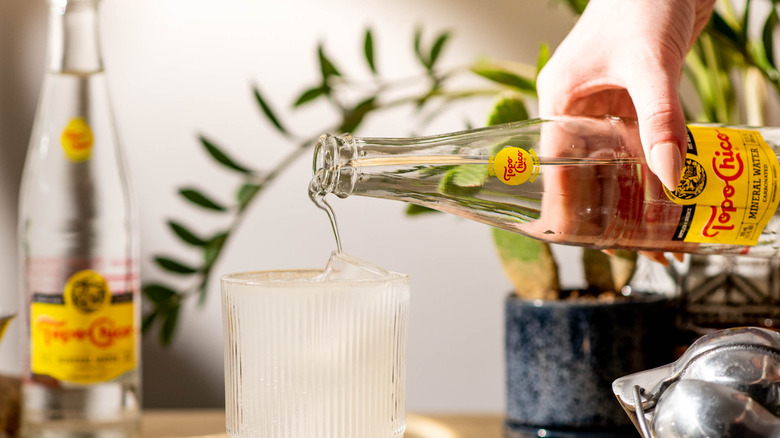 Michelle McGlinn/Mashed
Topo Chico is one of those things you just have to experience yourself to understand and appreciate. It's a naturally sparkling mineral water with a soft, easy mouthfeel. It's a bit salty; it's a bit citrusy. It's amazing all around, and it's what takes a ranch water cocktail up to the proverbial 11.
Now, can you use a substitute for this cocktail? Yes, if you must. But you really shouldn't. As McGlinn says: "In the Southwest, they would swear by using Topo Chico ... It's really an important part of the drink, both for cultural and quality purposes!"
Classic Ranch Water Recipe
This Southwestern sipper is just three ingredients (plus ice), but it's the ultimate refreshment after a long day on the ranch (or office, or couch).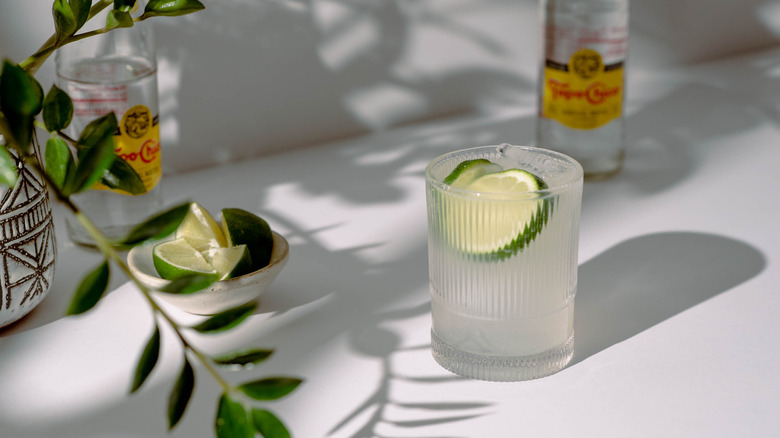 Ingredients
3 ounces tequila blanco
2 ounces fresh lime juice
5 ounces Topo Chico mineral water (or more, to taste)
Lime wedges (for garnish)
Directions
Add 2 to 3 ice cubes to a glass.
Pour tequila and lime juice into glass.
Top with Topo Chico to taste.
Garnish with lime wedges.
Nutrition
| | |
| --- | --- |
| Calories per Serving | 213 |
| Total Fat | 0.1 g |
| Saturated Fat | 0.0 g |
| Trans Fat | 0.0 |
| Cholesterol | 0.0 mg |
| | |
| --- | --- |
| Total Carbohydrates | 5.7 g |
| Dietary Fiber | 0.5 g |
| Total Sugars | 1.1 g |
| Sodium | 7.8 mg |
| Protein | 0.3 g |