Unique Things You Should Always Make In Your Air Fryer
You've got the basics down when it comes to whipping up foods in your air fryer. French fries? Obviously. Fried mozzarella sticks? You bet. Fried chicken? Check. Beer-battered shrimp? Clearly, that's a yes. You're not a novice when it comes to making slightly healthier (i.e., using less oil) foods in the handy, countertop contraption. 
But just like most things in life, there's always more to learn and new recipes to investigate. And really, there are lots of foods and recipes you can make in your air fryer that you probably haven't even thought of yet. Sure, you may realize the air fryer can be used as an alternative for roasting veggies (it offers that nice crispy finish!), or you may be generally aware that anything that's typically fried (like donuts or egg rolls) can be brought to life in the air fryer, too. But what about .. bananas? Or pasta? Or even cookies? Here's the thing: There are lots of ways to use your air fryer, and there are some foods you shouldn't ignore. The next time you're planning your weekly menu, add these unique air fryer ideas to your list.  
Air fryer bananas
You may not have thought of putting a banana in the air fryer, but the concept isn't all that different than whipping up fried plantains as a sweet side for a morning meal. And really, it's an easy way to get a serving of fruit. 
Simply heat your air fryer to 350 F, slice your bananas into length-wise pieces, brush with vegetable oil, and sprinkle with coconut sugar. You'll cook the sliced bananas for about 12 minutes in the air fryer, and just like that, they're ready to serve. The sugar in the bananas and the coconut sugar, along with the oil, create a "caramelized" effect that makes them particularly sticky and delicious. 
And while they make an excellent breakfast accompaniment (layer a few on top of slices of peanut butter toast, or as a topping on your oatmeal), they also make a good dessert. You can even turn them into a "fried" banana split by topping them with ice cream, a drizzle of chocolate, and a few cherries.
Air fryer meatloaf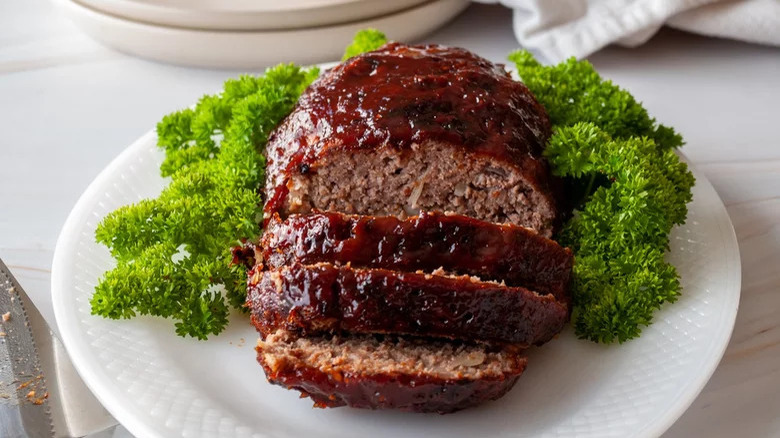 Laura Sampson/Mashed Staff
Meatloaf isn't necessarily a dish that makes your weekly roundup of favorite recipes, but when you're getting a hankering for a nostalgic dinner, it's easy (and surprisingly tasty) to make a loaf in your air fryer. 
The prep isn't all that different than making meatloaf in your oven. You simply mix together the loaf ingredients — ground beef (or another ground mat), an egg, panko breadcrumbs, milk, spices, and diced onion — form it into a loaf-like shape, and cook it in your air fryer for 25 minutes at 350 F. Then, add a glaze of barbecue sauce and ketchup, and cook for five more minutes to allow the outside of the loaf to get a little crispy and sticky (thanks to the sugar in the glaze). The air circulation in the air fryer helps deliver that slightly crisp texture on the outside with the moist, perfectly-cooked beef on the inside. 
When it's ready to go, simply slice it up and serve with mashed potatoes and green veggies. Or, if you're inclined, use the slices to make meatloaf sandwiches. You won't be disappointed. 
Air fryer green beans
Green beans are easy enough to steam or stir fry, but if you've never considered how perfectly suited they are for frying? It's time to whip up a batch of air fryer green beans. 
Due to the beans' narrow and long shape, they're not all that different than french fries. So when you season them with salt, garlic, vegetable oil, and maybe a little pepper, then pop them in the air fryer at 380 F for eight minutes, what you end up with is a crunchy, but perfectly cooked and fresh-tasting green bean. They're flavorful without losing their texture or masking their taste with other ingredients (as sometimes happens in casseroles). 
One thing to keep in mind when whipping up a batch is that you need to shake the basket of the air fryer about halfway through the cooking process to help the batch cook evenly and to prevent sticking. 
Air fryer french toast
Again, French toast isn't necessarily something you'd think about putting in the air fryer. And yet, you know the perfect French toast is served with slightly crunchy, crispy edges, and that nice, soft interior. So, clearly, it's air fryer material. 
And luckily, it's incredibly easy to make. You need all the basic ingredients you'd expect in a French toast recipe — bread, eggs, milk, butter, and vanilla extract — then simply dip the slices of bread in a mix of the other ingredients, and air fry at 335 F for six minutes. You might want to flip the slices of bread halfway through the fry for a more even finish. Otherwise, the only tip to make the process easier is to line the air fryer with parchment paper to help prevent the French toast from sticking to the appliance. 
When it's ready to go, serve with a dash of cinnamon or powdered sugar, a drizzle of maple syrup, or fresh sliced fruit or berries. The result is even better than a pan-fried version.
Air fryer frittata
Most people don't think about making their morning frittata in the air fryer. And yet, once your air fryer is preheated to 375 F, it only takes 15 minutes to make, and delivers a veggie-filled breakfast that's evenly cooked and just slightly crispy around the edges. All you need is eggs and the fillings of your choice. For instance, mushrooms, bell peppers, onions, tomatoes, and salt and pepper. And of course, you can also add pre-cooked bacon, sausage, or other breakfast meats as well. 
Here's the thing, though — you don't want to just add all the ingredients directly to your air fryer. That would be a mess you don't want to clean up. Instead, use a circular pan that fits inside your air fryer and spray it with non-stick spray before adding the pre-mixed ingredients. Then, simply allow the frittata to cook for 15 minutes and it's ready to serve. 
Air fryer apple pie
Okay, so cooking a full-fledged apple pie in your air fryer might be a little tricky, but whipping up the handheld version is surprisingly simple. And given that the handheld pies are typically deep-fried to get that nice, crispy, and flaky crust, using your air fryer can help cut down on some of the added fat without skimping on flavor. 
All you need is pre-made pie crusts, apple pie filling, cinnamon, sugar, an egg, and a little bit of water. Simply roll out the pie crusts and cut them into squares that are roughly 5-inches wide. Dollop apple pie filling in the middle and fold them over diagonally, pinching the edges together to make your apple pies. Then, use the egg and a little bit of water to make an egg wash, brushing it over the top of the crust. Cut small slices in the crust to allow for venting (and to make the pies look pretty), and sprinkle cinnamon and sugar over the top. Finally, pop them in a preheated air fryer at 350 F for 10 to 12 minutes. Just like that, you've got tasty hand-held apple pies. And yes, you can follow the same steps to make pretty much any pie you want. 
Air fryer mac and cheese
Mac and cheese isn't typically one of those foods you think of when you think of "fried foods." Usually, it's thought of as a creamy, cheesy comfort dish. But really, baked pastas (especially cheesy ones), are popular because of the slightly crunchy texture that develops around the edges. And when you air fry your mac and cheese, you get that delicious, crunchy cheese coating in addition to the soft, creamy pasta you know and love. And the beautiful thing about air fryer mac and cheese is that you're making your meal from scratch, which delivers an even better flavor sensation than if you were making it from a box. 
All you have to do is mix together dry pasta, chicken broth, cheeses of your choice (cheddar and Parmesan are good options), heavy cream, butter, and any seasonings of your choice, and put them in an oven-safe container that fits inside your air fryer. Cook the whole thing at 350 F for 20 minutes, stirring halfway through. After 20 minutes, top the pasta with panko breadcrumbs and a little more cheese (to give the final dish that nice crunchy crust layer), then cook for five more minutes at 400 F in the air fryer. What results is a delicious, cheesy mac and cheese that you'd never achieve if you were making it from a box. 
Air fryer hard boiled eggs
There are lots of ways to make hard-boiled eggs — so why not add an air fryer to the list of possible options? And really, the process couldn't be easier. Simply preheat your air fryer to 250 F. While it's preheating, soak the eggs in a bath of lukewarm water. This can help prevent cold eggs taken straight from the fridge from cracking during the cooking process. When the air fryer is ready, simply remove the eggs from the water and place them in the fryer. Let them cook for about 17 to 18 minutes before removing them and placing them in an ice bath for a few minutes to cool down and make them easier to peel. 
While you can cook a decent number of eggs in your air fryer (depending on its capacity), just keep in mind that you don't want to pack the eggs too close to each other as that can prevent the hot air from circulating evenly. Otherwise, this cooking method couldn't be easier!
Air fryer broccoli
If you've ever whipped up a batch of roasted broccoli, the air fryer-version is every bit as good as the original and takes a little less time to make. And if you haven't ever tried roasted broccoli, well, you're in for a treat. Because regardless of whether you typically like broccoli, the roasted or air fried version amps up the flavor and texture, giving you a healthy veggie serving (or two, or three) that tastes like a fried treat, but without the extra oils and added fats. Plus, air fryer broccoli is incredibly easy to make. 
Simply toss the broccoli florets with salt, pepper, garlic powder, and olive oil. Use a vegetable spray to spray the bottom of your air fryer to keep the veggies from sticking. Preheat the device to 380 F, add the broccoli, and cook for eight minutes, shaking the basket halfway through. Just like that, you've got a healthy and delicious side dish that's crispy on the outside and soft on the inside. Make two or three batches at once so you can feed a crowd. 
Air fryer bagels
If you've never made homemade bagels before, it probably hasn't crossed your mind that you could make a version of mini bagels in your air fryer. But with the right ingredients and about 25 minutes of your time, you can whip up a batch of mini bagels that pair perfectly with a hot cup of coffee and a smear of cream cheese. 
All you need is flour, baking powder, salt, Greek yogurt, and an egg. Combine the dry ingredients, mixing them with a fork. Then, add the yogurt, continuing to mix with the fork until a dough forms. Use your hands to knead the dough, then divide it into pieces so that you can create half-inch thick "ropes" of dough that you can form into the round bagels a couple of inches in diameter. Beat the egg and use it as an egg wash, brushing the tops of the bagels to help give them a nice sheen. Finally, cook the mini bagels in your air fryer at 280 F for about 12 to 15 minutes, aiming to achieve a nice golden-brown color. Let them rest for 15 minutes before enjoying. 
Air fryer grilled cheese
Who knew you could make sandwiches in the air fryer? And honestly, how delicious does an air fryer grilled cheese sandwich sound? Because you know it's going to perfectly melt the cheese while crisping up the edges of the bread in exactly the way you want it to. And the thing is, the steps to make your sandwich are simple: preheat your air fryer to 400 F, butter both sides of two slices of bread, add shredded cheese between the slices, and cook the sandwich for 10 minutes on top of a trivet placed in the small appliance. Just flip the sandwich halfway through to get a nicely toast on both sides of the bread. 
And here's the thing: once you've mastered the basic recipe, you can get as creative as you want with the cheese or other sandwich fillings you choose to use. Why not use three different types of cheese (cheddar, mozzarella, and gouda would be delicious), or why not add slices to tomato or sauteed onions? The ways to "gourmet-ify" your grilled cheese are practically endless. And couldn't be easier. 
Air fryer ribs
You know you can cook up fried meats, like fried chicken, fried shrimp, or even chicken fried steak in your air fryer, but have you considered the fact that you can air fry ribs to absolute perfection as well? To get that country-style flavor, all you need is pork seasoning and barbecue sauce. 
Simply preheat your air fryer to 370 F, then rub your ribs with the pork seasoning. Lay the ribs in an even layer in the air fryer basket (spray with non-stick cooking spray first), then cook for 10 minutes. Flip the ribs over to cook for an additional 10 minutes before brushing them with your favorite barbecue sauce, coating them fully. Turn up the heat on your air fryer to 400 F, and return the coated ribs back to the air fryer for eight to 10 more minutes. You want the barbecue to turn into a caramelized, slightly sticky (and mouth-wateringly delicious) glaze, with the edges of the ribs just crisping up. Just like that, you've got a batch of delicious ribs ready to enjoy for dinner in about 30 minutes flat. Never underestimate the power of the air fryer when it comes to cooking delicious and tender meats. 
Air fryer pasta skewers
Okay, have you ever even considered eating pasta on a stick? The air fryer makes pasta skewers possible because it turns cooked pasta into a slightly crunchy treat that you can enjoy topped with all the pasta basics — tomato sauce, cheese, and seasonings like fresh basil, oregano, or rosemary. 
To make skewers of your own, start with cooked pasta (rigatoni or something similar is your best bet). String about 11 pieces of the pasta on a skewer, then brush the pasta with tomato sauce on both sides, and sprinkle with your favorite cheeses (Parmesan and mozzarella are good options). If you're so inclined, you could skewer pieces of cooked sausage or pieces of tomato or onion between the pieces of pasta to create a kabob-like effect. Once you've created a few of these pasta skewers, simply place them in the air fryer at 400 F for five minutes. When you remove them, they'll deliver an almost pizza-like effect of a crunchy (but still soft) crust topped with perfectly melted cheese. Finally, sprinkle the top of the skewers with the freshly chopped herbs of your choice. and if you'd like, add a dash of salt, pepper, or even red pepper flakes for a spicier finish. 
Air fryer crab rangoon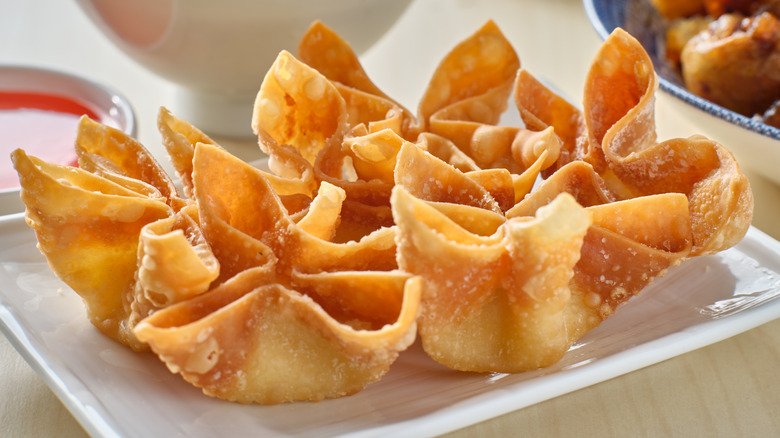 Joshua Resnick/Shutterstock
Crab rangoon is a Chinese-American appetizer made popular in the 1950s, and undoubtedly one of the ultimate finger foods for parties and get-togethers. Everyone loves crab rangoon — even the people of TikTok. Traditionally, the dish is cooked in oil — lots of hot, hot oil — in order to deep-fry wonton skins stuffed with a mixture of cream cheese, scallion, and imitation crab meat. A host of problems can occur with this cooking technique — the oil can be too hot and burn your little crabby pillows, the wontons themselves can actually burst open, and most importantly, you run the risk of burning yourself because, you know, oil spatters.
Using an air fryer to make crab rangoon takes all the trepidation out of making these tasty little morsels. Simply mix the crab rangoon filling — cream cheese, surimi, scallions, and soy sauce — then fill your wonton wrappers. Preheat your air fryer to 350 F, making sure to spray the inside basket with nonstick spray. Place the crab rangoon pieces in the basket and spray the tops with the nonstick spray, cooking for eight to 10 minutes (or until golden brown). Finally, transfer them to a paper-towel lined plate to cool and serve the hot bites with a sweet chili dipping sauce.
Air fryer potato croquettes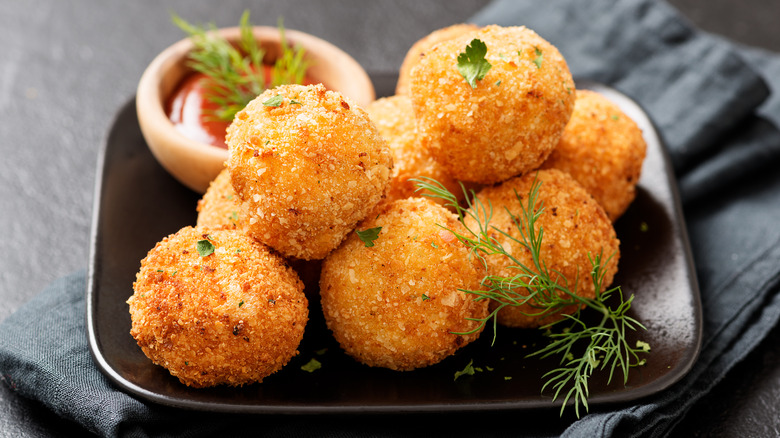 nelea33/Shutterstock
Nope, they're not meatballs, they're fried mashed potato balls. Croquettes originate from the land that also brought us crêpes, croissants, cassoulet, coq au vin ... and escargots. (That's France by the way). Croquettes are tasty breaded morsels that are filled with a variety of different ingredients (usually savory). In this case, it's mashed potatoes mixed with bacon, cheese, scallion, and spices, coated with breadcrumbs and Parmesan cheese. 
Making potato croquettes is a good way to use up any leftover mashed potatoes (so keep this in mind when food-heavy holidays come around). Making these decadent potato bites is a fairly time-consuming process, but using an air fryer cuts down on the actual cooking time. Once you've mixed the core ingredients (mashed potatoes, butter, cheddar, Parmesan, scallion, garlic powder, and egg), shape the mixture into balls with your hands (or an ice cream scooper) and roll them in breadcrumbs. Spray the inside of your air fryer with nonstick spray and then add five or six croquettes at a time, making sure to spray the tops as well. Cook them at 400 F for about 5 minutes. The result is a warm, crispy, potato, bacon, and cheese-filled nom nom (and some very happy bellies).
Air fryer bacon-wrapped avocado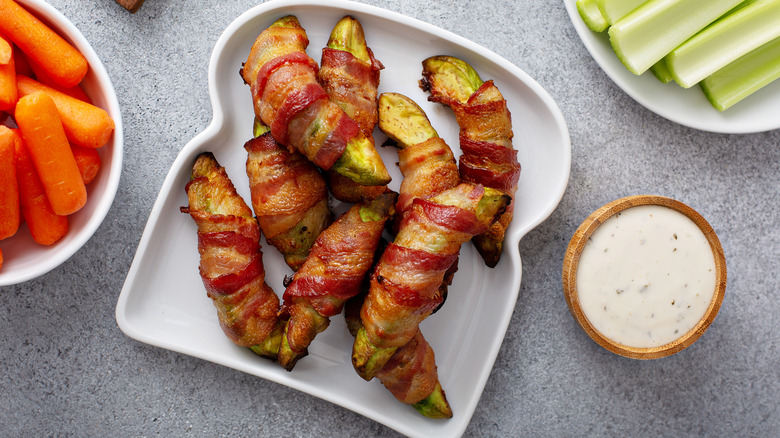 Elena Veselova/Shutterstock
Avocados are naturally high in all the good stuff your body needs like fiber, folate, potassium, and healthy fats. Bacon just makes everything taste better. That's why this pairing is a match made in heaven. On its own, bacon can sometimes be a bit salty, but the creaminess of the avocado balances it out (not to mention the combination is the perfect texture pairing). Bacon-wrapped avocado — also called bacon-wrapped avocado fries — are a great treat for parties, family meals, or, you know, self-care. 
Cooking bacon-avocado fries can take up to 45 minutes in the oven — that's a long time to wait for a few moments of taste satisfaction. The standard method requires you to flip the wedges halfway through the designated cooking time, which means that these little bacon-avo bombs can sometimes cook inconsistently. That's why using an air fryer is a foolproof hack.
First, preheat your air fryer to 400 F and then prep the ingredients; slice your avocado into wedges and wrap each one with bacon. After you've assembled the slices of heaven, place them on the tray in a single layer and cook them for 10 to 15 minutes, or until the bacon is nice and crispy. Once they're done, allow them to cool slightly on a parchment or paper-towel lined plate. These decadent fries can be served as is or with a creamy dipping sauce; try combining mayonnaise, sriracha, and lime juice for a tangy kick.
Air fryer roasted chickpeas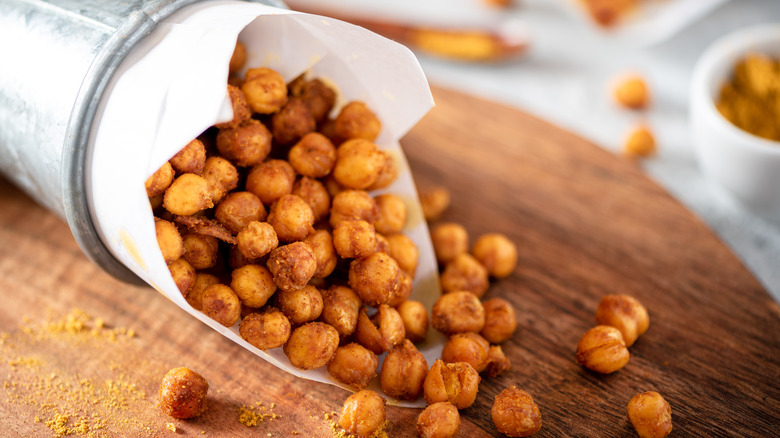 Svetlana Monyakova/Shutterstock
Chickpeas make the best grab-and-go snack. This ubiquitous legume is packed with vitamins, minerals, fiber, and protein, and while it's nice to enjoy hummus — which literally translates to chickpea — with pita or vegetable crudités as a healthy and tasty snack, roasting chickpeas might just become your new favorite way to eat them.
The traditional cooking method requires roasting your chickpeas for over 20 minutes in an oven heated to 475 F. The nouveau air fryer version turns the legumes extra crispy and ultra flavorful in record time. Simply heat your air fryer to 390 F, then toss your chickpeas with a bit of extra virgin olive oil, salt, pepper, and your favorite spice blends — za'atar, fajita, or curry work great. Make sure that the chickpeas are coated evenly, then dump them in the fryer basket. 
Cook the legumes for 10 to 15 minutes (depending on how crispy you want them), making sure to agitate the basket a few times so that each little chickpea is exposed to the circulating air. When they're done, add more salt and pepper to taste, and be sure to let them cool before you nosh down on them. Patience, young grasshopper. Good things come to those who wait.
Air fryer cheese ravioli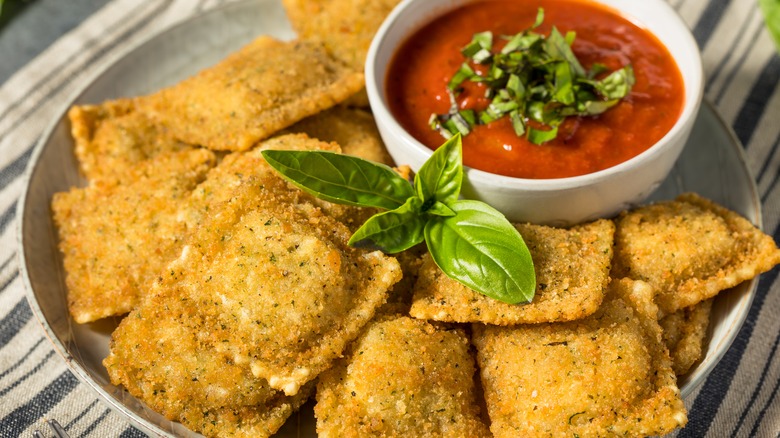 Brent Hofacker/Shutterstock
Ravioli cooked in an air fryer. Now, that's a rather unorthodox concept. As bizarre as it sounds, it's a healthy take on the typical pan-fried cooking method (and also pretty burn-proof). Pan-fried ravioli are crispy on the outside and hot n' cheesy on the inside, plus they make the perfect appetizer or party food, just like their foodie cohort crab rangoon.
First, preheat your air fryer to 400 F, then move on to breading the frozen ravioli. Dip each one in egg and then coat them with a mixture of panko bread crumbs, Parmesan cheese, garlic powder, and salt. Add the ravioli in a single layer, making sure that there's enough space for each ravioli to breathe — basically don't crowd them in the basket. Spray them with cooking oil and then cook them for seven minutes. If you don't mind the additional step, flip the ravioli at the three or four minute mark to make them extra crispy. Once they're done cooking, serve the crispy ravioli with a marinara dipping sauce. They'll disappear quickly, so make sure you've got another batch going once these are served. It'll spare you the food fight.  
Air fryer char siu pork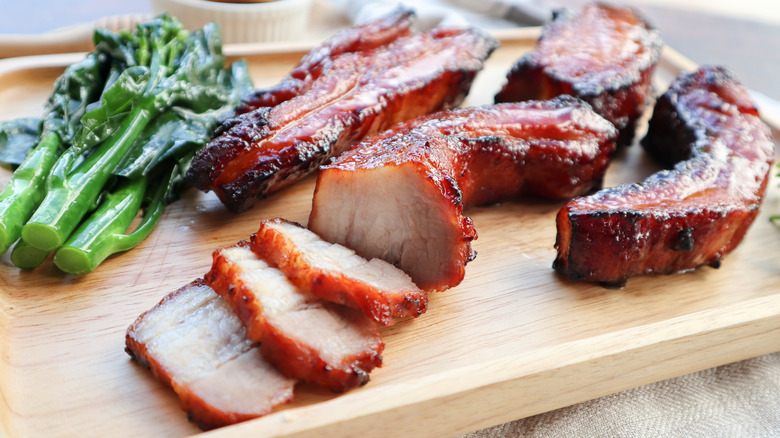 Be Saowaluck/Shutterstock
Char siu is a type of Cantonese barbecue pork characterized by a complementary sweet and salty taste profile and bright red (almost pink) hue. The marinade itself consists of 12 different ingredients: white sugar, salt, Chinese five-spice, white pepper, sesame oil, rice wine, soy sauce, hoisin sauce, molasses or brown sugar, garlic, honey, and red food coloring (which is optional). It's a pretty labor-intensive dish, but with the amazing air fryer, it's quickly and easily replicable (and tastes just as delicious).
While this dish still requires a lengthy marinating time (it's necessary and totally worth it), you can cut your prep time down by using a store-bought marinade. Of course, you can still make a traditional marinade if desired. Pork butt or shoulder is typically used, and the meat is first broken down into pieces. Trim any excess fat off and let the meat marinate for at least 8 hours. When you're ready to cook, preheat your magical air fryer to 400 F, add the meat, and baste it with the char siu marinade. 
Spray cooking oil over top and then cook it for 10 minutes. Flip the meat over and repeat the process, cooking for another 10 minutes. You can serve it with steamed sticky rice and sautéed vegetables, or simply cube it and use the marinade as a dipping sauce for the perfect barbecue bite.
Air fryer peanut butter cookies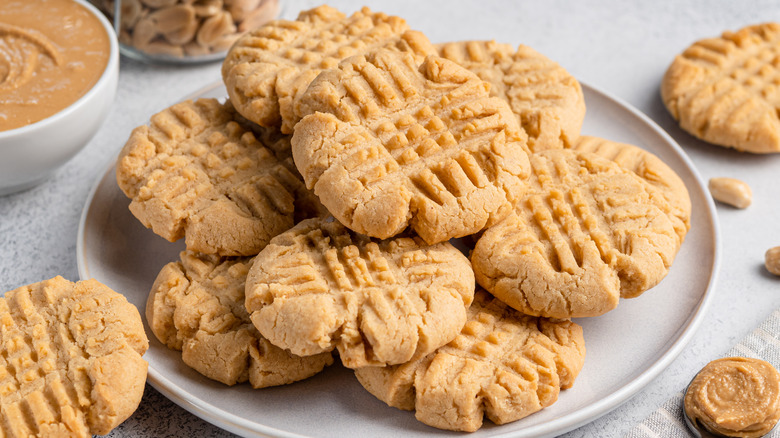 Alena Kos/Shutterstock
Baked goods are probably not something you would consider making in an air fryer, but it's totally doable (and even better, they can be made in a fraction of the time). Peanut butter cookies are, in general, pretty darn easy to make. The simplest variation contains only three ingredients — peanut butter, sugar, and egg — and cooks in about 10 minutes, depending on your oven. 
One hitch about baking peanut butter cookies in an oven is that not all ranges are created equal. A 10-minute cook time in one oven could easily be eight minutes in another. With peanut butter cookies, it's also tough to see if they're cooked all the way through. Air fryers are basically compact convection ovens and they cook food by circulating super hot air inside the cooking chamber ... almost like a normal oven. The advantage is that food already begins to crisp (or brown) starting at around 320 F. 
Using an air fryer to bake peanut butter cookies cuts the cook-time almost in half. First, mix your peanut butter, sugar, and egg, and once you're done mixing your ingredients, place a piece of parchment paper on the bottom of your air fryer basket. Measure out even dollops of dough, place them on the parchment paper, and then turn your air fryer to 400 F. Be sure to check the cookies at the four-minute mark. If you cook them for more than five minutes, they'll become crumbly and overdone.
Air fryer granola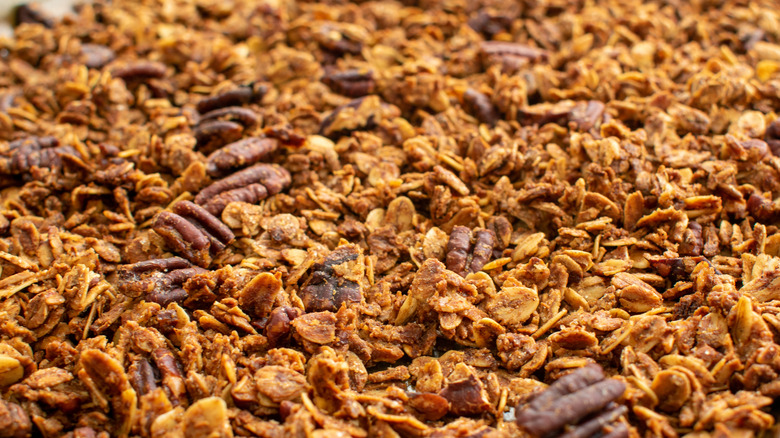 Candice Bell/Shutterstock
Ah, yes. The typical snack for mountaineers, hikers, and the people of Northern California. All kidding aside, granola is a common breakfast food served with milk or yogurt (but also a great snack because of its health benefits and portability). It's usually made up of a combination of oats, dried fruit, nuts, and a natural sweetener like honey.
Granola recipes are usually baked in an oven between 325 F and 350 F, and using an air fryer cuts the cooking time down to just 10 minutes. Granted, you're not going to get a whole sheet pan of granola, but if you run out, then just make some more. No biggie. This is a pretty simple recipe, calling for rolled oats, almonds, honey, cinnamon, vanilla extract, coconut oil, and salt. Once you've mixed the ingredients together, line the air fryer basket with parchment paper and add an even layer of the mixture on top. 
With your air fryer at 350 F, cook the granola for 10 minutes, stirring it a couple of times to make sure everything is toasting equally. Once the 10 minutes are up, the granola should be nice and golden. Let it cool down before storing it in an airtight container or, you know, enjoying it all right then and there. It's called quality assurance — you can always make more.
Air fryer s'mores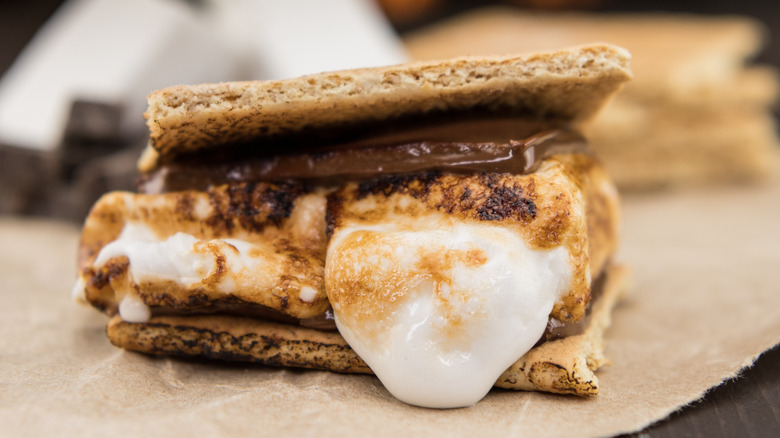 Kelly vanDellen/Shutterstock
Sometimes all you want is an individual portion of the ooey-gooey treat. Don't you hate it when you've got a hankering for a s'more, but there's no bonfire around? (A microwave certainly isn't going to cut it.) Having an air fryer in your kitchen — even if for just this reason — makes it totally worth it. An air fryer is like having instant access to an open flame without actually having the fire. If you have access to a fire pit — wood or gas —sure, you can go that route. But that's a lot of prep work for a little sweet treat (and a lot of cleaning). 
First, assemble your s'mores inside your air fryer, placing the graham cracker first, followed by the marshmallow. Fry it at 390 F for seven to eight minutes, or until you see the marshmallows begin to puff up and turn golden brown (around the four-minute mark). Carefully remove them from the basket and then top them off with a bar of chocolate and the remaining graham cracker. Sit back and enjoy your little homage to summer.
Air fryer dried herbs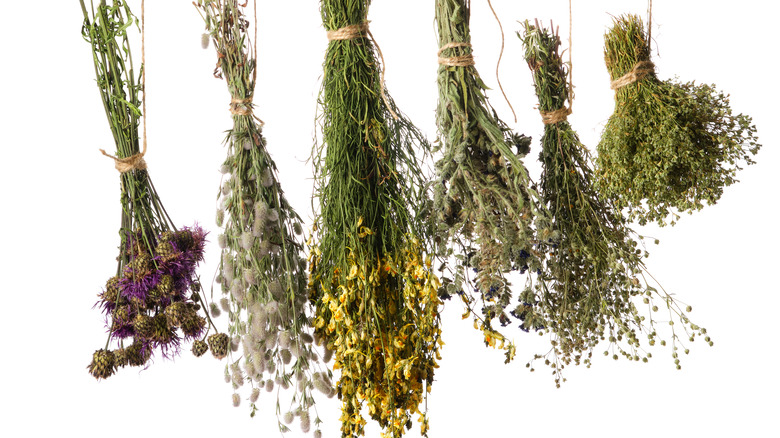 Chamille White/Shutterstock
If you're a hands-on type of home chef who enjoys growing and using fresh herbs and flowers from your own garden, then you've probably also tried your hand at drying them at home. It seems like a relatively simple process, but there are a host of variables that can ruin your precious herb bundles, including too much or too little humidity, damage from sun exposure, or mold.
Using an air fryer is a great option for drying herbs, and it has the added benefit of protecting your bundles from pests that may want to nest and lay eggs (or worse). It also saves you oodles of time — air-drying herbs can take anywhere from five to 10 days, depending on the plant you're drying. It takes only minutes with an air fryer. First, preheat your air fryer to 350 F, then wash and pat dry the herbs you're using. Place them in a single layer in the air fryer basket, with a metal rack on top to prevent them from flying around. (Alternatively, you can tie your herbs in bundles.) Air fry them for three to four minutes, or until the leaves (or flowers) crumble in your hand. Allow them to cool before storing them in an airtight container.